This holiday season, don't forget to spoil your cat with fun and festive toys! When selecting toys for your cat, keep in mind your cat's play style and toy preferences in order to find the right toys to delight your kitty. Holiday-themed toys are a fun way to spoil the best cats on your list during the season with goodies in their stocking, under the tree, or just because. Holiday-themed cat toys let you include your pets in the magic of the season, and these cat toys can also double as festive decor for a cat lover's holiday home.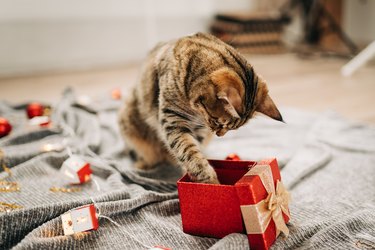 1. Christmas Tree Cat Scratcher
Tired of your cat bothering your Christmas tree? Give kitty their own tree this year! This sisal cat scratcher is a story festive toy to treat your cat to. The unique Christmas tree shape of this scratcher encourages cats to climb and claw at the scratching post. The scratcher is made with quality sisal for durability as cats play. This scratcher encourages cats to actively play, but also doubles as a pleasing decor piece for your home. This Christmas tree scratcher features built-in decorations to engage your cat in play and stands 23.2 inches tall and 11.8 inches wide.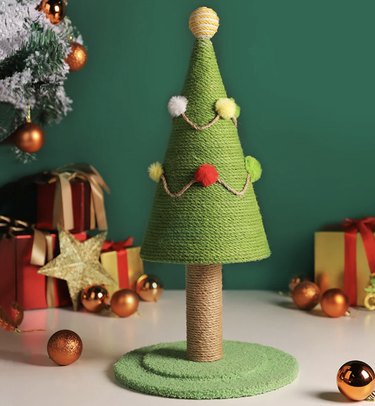 2. Frisco Holiday Santa Hat & Mistletoe Cat Tracks Cat Toy
If you have a cat who enjoys batting at toys, this holiday toy will delight your kitty. This ball cat toy has three levels of tracks to keep your cat entertained. This toy comes with two interchangeable Christmas-themed teaser toys, one Santa hat and one mistletoe teaser wand that can be attached to the top of the cat track toy to entice and engage cats in play. Bringing together the fun of a wand cat toy with a ball puzzle, cats can be swatting at the teaser wand as they also pounce on the ball cat toy base. With a ball into each level of the track for cats to pounce and bat at, the track toy provides your cat with hours of play with this interactive cat toy.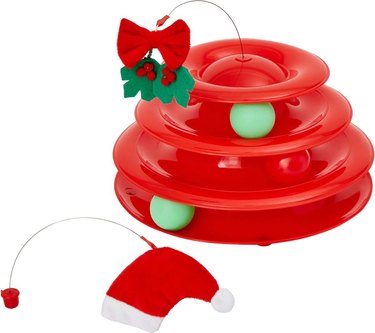 3. Frisco Holiday Christmas Lights Plush Cat Toy With Catnip, 3 Count
Your cat will love unwrapping these three plush catnip toys designed to look like Christmas lights. The toys are covered in shaggy polyester fabric that encourages cats to grip and bite. This set of plush holiday bulbs comes in three colors: red, green, and yellow. The plush toys are stuffed with catnip to encourage cats to interact with the toys and return for ongoing play. Treat your cat to this whole cat toy set of lights or split them up to give kitten toys to multiple cats.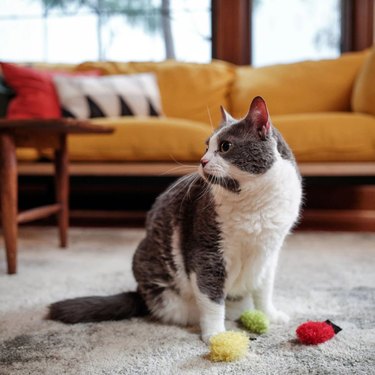 4. Frisco Holiday Scratch & Play Cardboard Scratcher Cat Toy With Catnip
Keep your cat occupied this season with their own festive puzzle. This toy combines the fun of a scratcher with a rolling ball track. The toy is made from corrugated cardboard which is a surface that encourages cats to scratch. This game comes in a festive Santa and snow design with nine holes cut into the top for an interior ball cat toy, as well. Drop the ball inside and your cat will entertain themself batting around the toy and trying to pull out the ball. For extra fun, you can add cat treats. This two-in-one game is a great way to entertain your cat during the busy holiday season. The puzzle also comes with a packet of catnip, which can be sprinkled into the scratcher/puzzle to give your cat extra encouragement to play.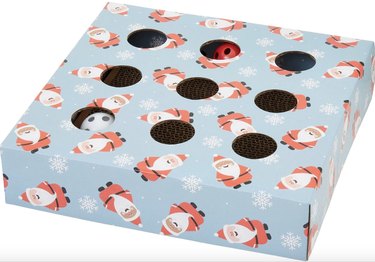 5. Christmas Tree Cat Pillow
If your cat's idea of a fun game looks more like a nap, this cat Christmas tree pillow is an ideal gift to treat your cat to this year. The plush tree is made from a soft waffle designer fabric that entices cats to both cuddle and play. This pillow doubles as a fun toy for cats who enjoy hugging, grabbing, and clawing at their toys.
6. LUCKITTY Collapsible Cat Tunnel With Plush Ball
Keep your cats occupied this holiday season with a festive Christmas patterned tunnel. This tunnel has a plush ball built into the tunnel for cats to paw at while they are playing in the tunnel. The tunnel also has a hole in the middle for cats to pop out of. The tunnel is made from a soft and durable waterproof fabric. The cat tunnel has a strong spring structured frame which can be popped open and then collapsed for easy storage when your cat isn't playing. These tunnels are sold separately, but if you purchase multiple, they can be attached together to create a larger play space for your cat.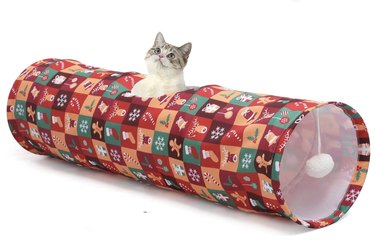 7. Blackhole Catch The Tail Cat Toy
Entertain your cat this holiday season with this festive mouse under the blanket toy. The blanket has a gingerbread design and has three speeds: slow, fast, and random. The battery-operated toy has movement built into the cloth inspire cats to chase. This will inspire your cat to pounce and play with the fabric to try to catch the hidden toy. Also included are built-in legs that fold out under the toy to hold it in place while your cat plays.
8. Frisco Holiday Lumps of Coal Plush Cat Toy With Catnip, 3-Count
Have a kitty who enjoys being a little naughty? Treat them to a plush lump of coal this year. The "coal" balls in this play set are covered in shaggy polyester fabric that are fun for cats to pounce, chase, and sink their teeth and claws into. The balls of coal are fun for cats to chase and play with. The set of three coal balls come in a festive bag that says "coal" on the front. They're perfect to wrap under the tree or drop into a cat stocking to open on Christmas morning.
9. Frisco Holiday Gingerbread House Cardboard Cat House Cat Toy
For cats who enjoy quiet playtime, this cardboard gingerbread house gives your cat a quiet place to hang out during the holiday festivities. The gingerbread house design is made with corrugated cardboard, and the floor of the house doubles as a scratching surface for cats to sink their claws into. The cardboard house is easy for cat parents to build. For added fun, you can give your cat catnip and other toys inside their gingerbread house to provide your cat with a private play space. It also doubles as a festive pet bed for cats who are ready for a quiet nap during the holiday season busyness.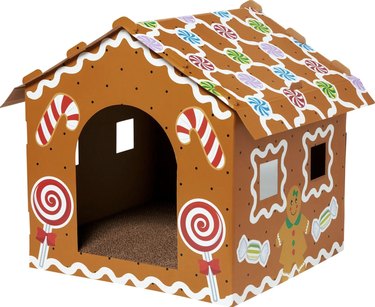 10. Frisco Holiday 12 Days of Christmas Cardboard Advent Calendar with Toys for Cats
Spoil your cat with a toy-a-day in this twelve-day Christmas countdown. Each day, your cat can open a new festive toy. This advent calendar comes packaged in a festive gift box, and has twelve different cat toys hidden inside to treat your cat to. Included inside the gift set is a variety pack of different toys, including catnip and crinkle paper and jingle toy designs to inspire cats to play. The toys included in this set are a star, candle, elf feet, elf hat, and Santa, making it the perfect cat gift for a kitty's first Christmas or a cat who loves Christmas toys.
11. EXPAWLORER Christmas Cat Toys Catnip Kicker, 4-Pack
Built extra-long for cats who love to grab and kick, this cat catnip cat toy pillow is made from quality polyester material that holds up to cats scratching, biting, and grabbing. This cat kicker toy comes in fun Christmas patterns, making it a festive gift for your cat this holiday season. Organic catnip is included in the Christmas toy to encourage your furry friend to grab, bite, and play. At a massive 14.3 inches long, this cat pillow toy is ideal for cats of all sizes who love to tackle and wrestle with their toys.