The insides and outsides of most homes get decorated for the winter holidays, but what about the family cat? Holiday accessories and apparel offer a fun way to get festive with your best feline and range from clothing to toys to snacks and beyond. Cat holiday apparel and other items are usually just as well-made as other year-round items, and most can be used year after year with the proper care. We've come up with a list of some of the best Christmas and Hanukkah apparel and accessories for your cat to enjoy during the holiday season.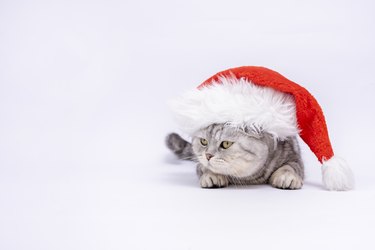 1. PETLESO Cat Santa Hat with Scarf
If your cat is the costume-wearing type, they can spend the holidays (or at least the time it takes to snap a few cute pics) dressed as Santa in this hat with a fleece scarf set. The red Santa hat with white trim rests on the head using velcro tape on a strap that wraps around the chin, which is adjustable between 25-1/2 centimeters to 33 centimeters. The scarf also uses velcro strips to stay secure, and adjusts between 23 centimeters to 28 centimeters, so it will fit most cats, although the hat may be a bit loose for kittens.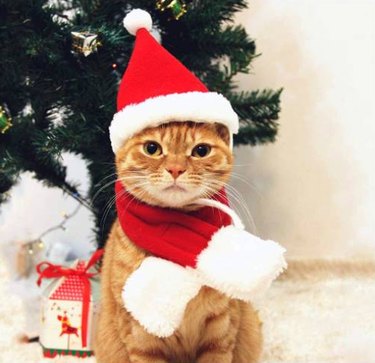 2. Bangcool Cat Bandana for Hanukkah
For feline friends who celebrate Hanukkah, this blue and white holiday bib is just for them. Made of durable velvet that has a little stretch to it, this bib is decorative, festive, and functional, and can keep messy eaters clean. It's made with an elastic neck that fits over the head and measures 41 to 49 centimeters and includes a small silver bell on the pointed end of the bib for a little jingle when your cat moves in it.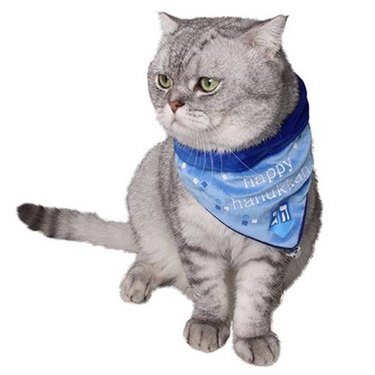 3. Frisco Holiday Dog & Cat Christmas Tree Cave Bed
Cats have a natural instinct to seek out small spaces to hide away in and catch a bit of rest and privacy. This small cat hideaway in a Christmas tree design can go along with the festive decor of a holiday house and features a snowflake and stars design with an additional gold star on top. The cave bed measures 18 inches by 16 inches, with an 8-inch by 8-inch opening for them to crawl in and out of. It features an inner cushion stuffed with comfortable poly-fil, which is removable and machine washable.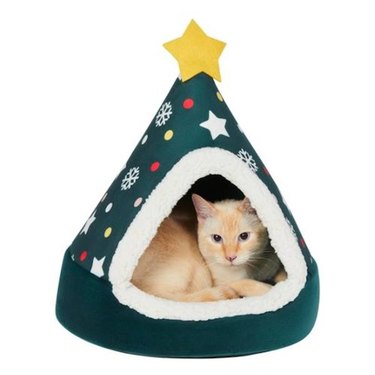 4. Christmas Lights Seasonal Breakaway Cat Collar
A holiday-themed collar is the easiest way to help your cat celebrate the holidays without forcing them to adjust to anything outside of their normal routine. This breakaway collar features a Christmas lights pattern made of grosgrain material, which is sewn into nylon. The outer edges are made of red nylon webbing for added durability, and the collar adjusts from 8 inches to 12-1/2 inches to fit most cats.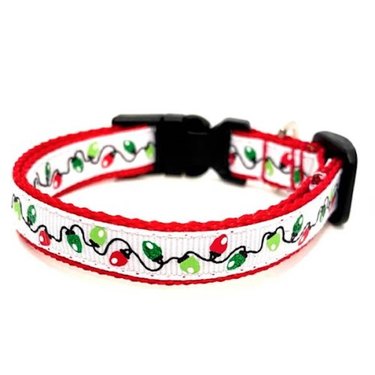 5. Hanukkah Outline Cat Collar
If a Hanukkah collar is more appropriate for you, this breakaway collar is a cute option for your cat to wear during the holiday. The band of the collar is 1/2-inch thick and features a menorah and Star of David design. It clips tight with a plastic breakaway buckle for safety and adjusts between 7 inches and 12 inches. This collar is also fitted with a small silver bell on a lightweight ring near the clip.
6. Frisco Holiday Gingerbread House Cardboard Cat House Cat Toy
What is the best present a cat could ask for? If you guessed "cardboard box," you're right on the nose! You can offer them the box of their dreams while still keeping on theme with the holidays with this item, which is made of cardboard and designed to look like a classic gingerbread house. The house is almost a perfect cube and measures 15.4 inches by 15 inches by 15 inches, with a 9-inch by 3-inch opening in the front. The flooring inside of it can be rested on or used as a scratch pad and is made of corrugated cardboard. It's super easy to put together and the whole thing weighs less than two pounds when assembled.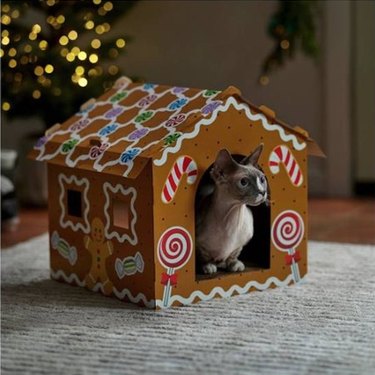 7. Christmas Cat Collar With Bell
If you're looking for a personalized Christmas cat collar, this shop from Etsy makes it possible for under $10 (the higher end of the price range is intended for dog sizes.) The width of these collars ranges from 1/2 inch to 1 inch, and the lengths span from 6 inches to 26 inches (most cats won't go over 13 inches). These are made of pure cotton and include nylon webbed straps for added durability and strength. It features a quick-release buckle made of metal, which can be personalized for no added cost. You can choose from 10 different styles, including holly, plaid, and stockings, and have the option to add a matching bow tie and/or collar.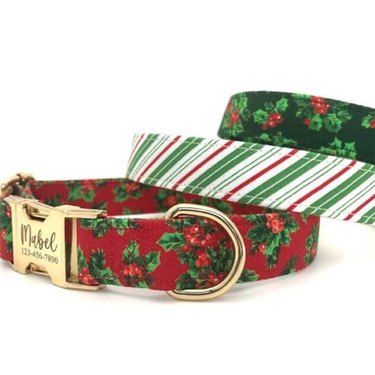 8. BOLUO Cat Scratching Post Tall Cedar Christmas Cat Trees
If your cat and your Christmas tree have ever seen a home, chances are, you've found your feline friend climbing and hiding in it at least once. You can offer them a "Christmas" tree of their own with this cat tree designed to resemble the real thing. It's made with two sisal-covered scratching posts to keep them entertained, and the base and top are covered in soft green carpet that's ribbed to resemble pine needles. The base is made of sturdy chipboard to keep it from tipping, and the tree measures 31 inches tall with a 15.7-inch wide base.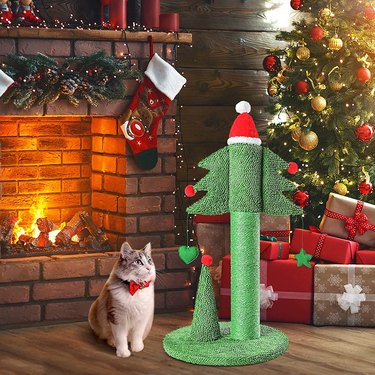 9. Frisco Holiday 8 Days of Hanukkah Cardboard Advent Calendar With Toys for Cats
You can celebrate Hanukkah with your cat in a fun way with this cute calendar that offers a new toy on each of the eight nights. The toys within include a dreidel, menorah, mouse, present, and other designs, and all of them are made with soft plush and stuffed with catnip to keep your cat happy and engaged. Catnip toys are recommended for felines over the age of six months, so this present is best intended for adult cats.
10. Snif-Snax Holiday Cat Advent Calendar
Christmas celebrators can countdown the days of December as well with this advent calendar stuffed with 25 days worth of tasty snacks. Each day's door contains a salmon and seaweed treat inside, which is made with wild Atlantic salmon from the waters of Scotland, which means no antibiotics, and is packed with Omega fatty acids. These treats are human-grade, additive-free, and made with non-GMO ingredients.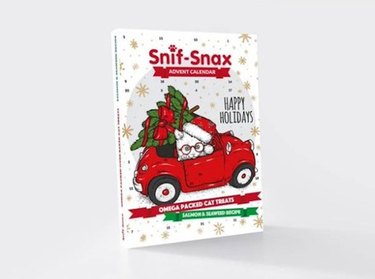 11. Frisco Grandma's Holiday Patchwork Dog & Cat Christmas Sweater
A nice sweater can keep a feline warm and comfortable, and this one also adds a bit of festive holiday cheer with its Christmas patterns design. Available in seven sizes, although cats will likely fit best in extra small or small sweaters, this pullover sweater comes in a patchwork design that includes stockings, a snowman, a Christmas tree, and more. It's 100% acrylic and machine-washable and is sure to help your cat fit in at any "ugly sweater" event, in person or online.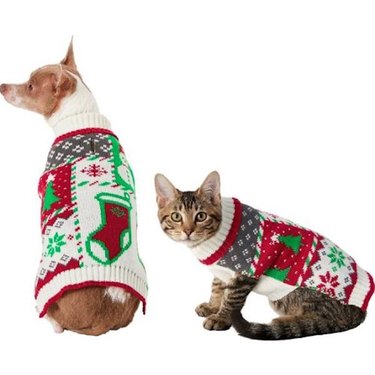 12. Hanukkah Catnip Cat Toys
Catnip toys are a fun way to keep cats engaged and enriched, and these Hanukkah-theme toys are a great option for helping felines celebrate the Festival of Lights. These are made in Star of David and dreidel designs and can be purchased separately or as a set. Each toy is handmade and machine stitched, made of quality felt, and stuffed with poly-fil and catnip silvervine, which is a bit stronger than the usual dried catnip.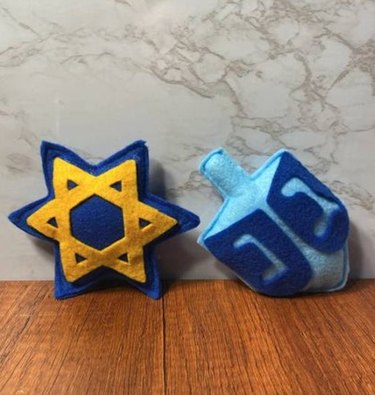 13. Frisco Flip Sequin Naughty/Nice Dog & Cat Bandana
To make no mistake about who was naughty and who was nice this year, these bibs feature flippable sequins so you can adjust your cat's status as needed and show off their unique personality. These bibs are machine-washable in cold water and should be air-dried to retain their shape and size.