For many pet parents, keeping pet training pads in the home for their dog to use when it's time to use the bathroom is part of daily life. Pads are not really intended to be used for the entirety of a dog's life but can be really helpful during certain stages, like potty training puppies, recovering from surgeries or illness, or during the senior years, when incontinence or other issues that may affect your dog making it outside in time tend to arise. Pee pads are sold in a wide range of sizes, and quality pads are absorbent, leak-proof, and ideally, odor-absorbing.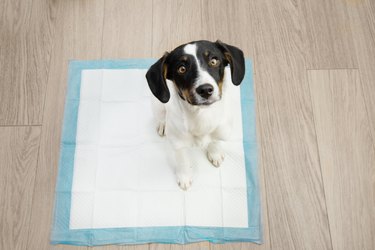 What to consider when purchasing puppy pads
‌Size:‌ When shopping for a training pad for your dog or puppy to use the bathroom on, size is perhaps the most important thing to consider, especially when training a dog to eliminate in one spot. Pads are sold in a range of sizes, from extra-small to giant, and more than one pad can be used to create an even larger target area if needed. To find the right size pad for your dog, look for one that's big enough for your dog to circle comfortably without too much additional room outside of that.
‌Pad Holders:‌ Many people like to use pad holders under their dog training pads. Pad holders keep pads in place, and can serve as a tray for the excess liquid to collect onto, which is great for anyone who can't change out the pad right away, like those who work outside the home. Pad holders can also be found in a range of sizes.
‌Destruction:‌ Some dogs, especially puppies, are known for tearing up their pee pads when left unattended with them. Reusable pads made from cloth are a good alternative to disposable pads as they tend to stand up to wear and tear for much longer, and pee pad holders or mats are a good way to lock pads in place, making it harder for dogs to reach and tear apart.
‌Cleaning:‌ A training pad will only be an effective solution to soiling in the home if it's clean, so replacing or washing your dog's pee pad once it's been used will be the best way to ensure its correct use. For puppies, incontinent dogs, or other canines who use the dog frequently, a reusable pad that's washable is a great choice that will save you money in the long run. They are typically sold in packs so you won't need to wash the same one every day.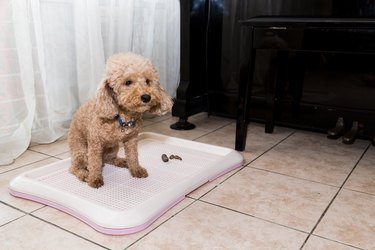 The best overall puppy pads
These training pads by Frisco are sized to fit most puppies at 22 inches by 30 inches. They're made with an absorbent interior, a quick-drying quilted top, and even contain an attractant, which encourages dogs to eliminate on them rather than other spots around the home. Like many dog training pads, these have five layers to help keep moisture in place and are fitted with a leak-proof liner made of plastic on the bottom to keep flooring, crates, and other surfaces clean and dry. These pads are available in five different count sizes, ranging from 20 to 300.
The best budget puppy pads
If you're looking to save a little money on your training pads, these are a great option that won't force you to compromise on quality. These pads are made of five layers—a quilted pad that prevents streaming and leaking on top, an absorbent sheet, a polymer core that turns liquids to gel, a locking layer to hold the gel in, and a polyethylene protecting layer on the bottom to keep your floors clean. Pads are sold in counts of 50 or 100 and are sized 22 inches by 22 inches.
The best scented puppy pads
If you like a scented product, these puppy pads contain a lavender fragrance to offer a bit of freshness and odor elimination. These leak-proof pads work by turning liquid into gel and use six layers to keep that mess contained until you're able to replace the pad with a new one. These pads are lined with waterproof plastic on the bottom, and measure 21 inches square.
The best adhesive puppy pads
If your dog is a spinner, or just likes to rearrange, an adhesive pad like this one is a good solution for keeping a pad in place. These pads are fitted with adhesive tabs on the bottom and will stick to hard surfaces, like wood, linoleum, or tile. This is a leak-proof doggy pad that can hold up to eight cups of liquid before it needs changing, and also contains a built-in attractant containing pheromones, so dogs naturally know where to go when it's around. These pads are also a little bigger in size, and cover a surface area of 28 inches by 34 inches.
The best reusable puppy pads
Disposable pads aren't for everyone, in which case, a reusable pad like this one is another option. These machine-washable pads are offered in four- or six-count packs, and are available in two sizes—30 inches by 34 inches and 34 inches by 36 inches—so they're ideal for larger dogs, like senior dogs of medium to large breeds. The quilted design makes the pads ultra-absorbent, and the waterproof backs keep surfaces dry through the cloth. These pads are especially great to keep around the home for incontinent dogs as they easily fit on furniture, bedding, and kennels.
To train your new puppy how to pee and poop on the real deal, or to offer any dog a bit of the outdoors inside the home, this solution is unlike any other as it uses real grass as the pad. Each box is delivered to your front door and contains a real sod mat with grass for your dog to eliminate onto. You can purchase a box in sizes mini, standard, or large, and the grass mat can be used inside the box it comes in (only recommended for the mini box), or placed onto the plastic mat holder of your choosing. Each mat absorbs liquids and odors as real grass will, and is a great option for dogs who may not be able to make it outside so easily.
The best value-pack of puppy pads
For anyone with a lot of puppies who are potty training for the first time, or with an incontinent dog in the home, buying pee pads in bulk can be a good option, for both economic reasons and convenience. These USA-made high-quality training pads measure 30 inches long and 23 inches wide and come in a 100-count box. They are built with a tear-resistant, highly-absorbent top layer that reduces splashes and tracking, and a poly backing to prevent leaks.
The best odor-control puppy pads
Aside from leaks, odor is one of the top concerns people have when keeping pee pads inside the home. These pads help reduce odors by attracting dogs to the pad to use the bathroom in the right spot. They are unscented, so they won't mask odors but eliminate them by preventing leaks with highly absorbent, five-layer construction, and a latex bottom layer that absolutely will not leak through onto the surface beneath it. As with any pad, you should replace them after they've been used, especially if they're heavily soiled with urine, which is common during housebreaking routines.
The most absorbent puppy pads
The quilted pattern on the top layer of these pads helps keep messes in place, absorbing up to three cups of liquid at a time, which turns to gel for a leakproof potty break. Additionally, these pads use activated carbon for odor control and create a simple solution to any puppy pad mess problem. These pads are sold in 100- and 150-count boxes, and are sized 23 inches square, so most dogs can use them with no problems.
The best eco-friendly puppy pads
Some pet parents want a sustainable pad option for their house training journey, like these pads from Frisco, which are made with bamboo fiber tissue and a bottom liner made from 50% recycled materials. They measure 22 inches by 23 inches and contain a super absorbent tissue with a quilted top to keep messes in place, making cleanup easy. These pads are the only ones on this list that are Forrest Stewardship Council™ certified and contain no dyes or bleach in their creation.
The best puppy pad holder
This item is not a pee pad itself but can offer extra reinforcement for anyone who absolutely needs a leak-proof pad in their home. This pee pad holder is made of durable and lightweight silicone material that rolls out, allowing you to place the pee pad of your choosing onto it. It's designed with a raised edge to keep leaks from spilling over and rests easily on just about any flat surface in the home. It is sized to accommodate the average pad at 23.5 inches by 23.5 inches, so it is not ideal for use with large or extra-large dog pads.