For pet parents, furry friends are members of the family, and including them in holiday celebrations is a given. One fun and easy way to show your pet some love on the Christmas tree is to honor them with a personalized pet ornament, of which there are many to choose from on the small-seller page, Etsy. Christmas ornaments for pet owners can be personalized with your companion's face, name, paw prints, or other personal touches to create a unique item that's just for your family. We've rounded up a list of some of our favorite personalized pet ornaments, and while many of the photos feature dogs, please remember that any type of pet can be featured on yours!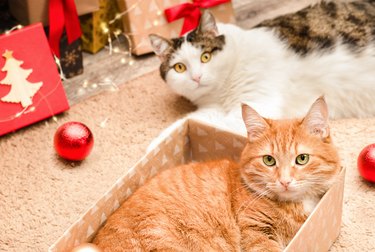 1. Custom Engraving Wood Slice Ornament
For a natural accessory to add to your Christmas tree, a wood ornament is an excellent choice. These real wood ornaments are personalized with a laser-cut engraving, which is taken from a real photo of your pet. You can also get additional personalization on the back of the ornament for no added cost, which can include your pet's name, a paw print and a name, angel wings and a name for memorial ornaments, or further customization, which you can reach out to the seller about. They measure 3.25 inches to 4.25 inches in size, and because they are made from real wood they may contain natural blemishes, like dark spots, which cannot be removed but add to making a one-of-a-kind ornament.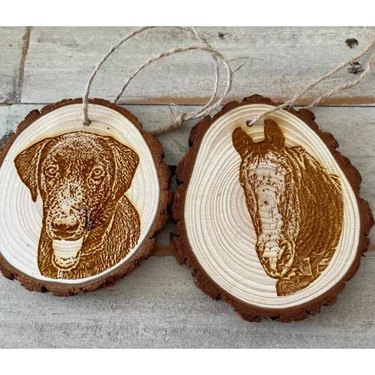 2. Custom Hand-Painted Pet Portrait Ornament on Glass
If a hand-painted pet portrait is more your style, this shop offers customized glass ornaments with your pet's face on them. Each ornament measures 3.15 inches in diameter and comes in a decorative gift box. This pet Christmas ornament can be further customized with your pet's name if you'd like. Because these ornaments are hand-painted it may be hard to get your hands on one this year, but gift cards are available in $25 increments, which can be redeemed at the shop and ships in about two days.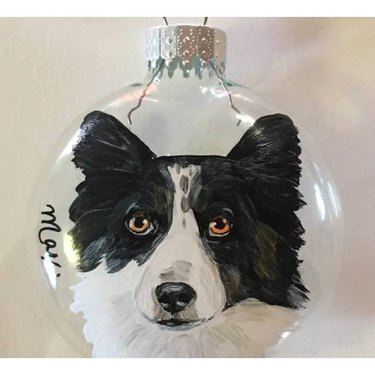 3. Custom Sculpted Pet Portrait Ornament
For another hand-made option, this one isn't painted but sculpted in the likeness of your beloved furry family member. The ornaments are made from layers of colored clay to create a 2- to 4-inch ornament that looks just like your pet, which you can choose to have styled in a number of ways, including sitting down, lying on their back, on their hind legs, or standing. Ornaments can be purchased free-standing or with an accompanying base, and can even include small personal touches, like scarves, hats, or angel wings.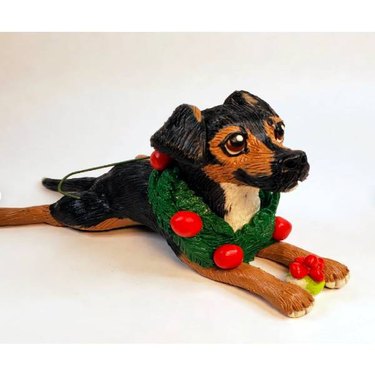 If you're looking to gaze up at your dog's beautiful mug when your look at your Christmas tree, you can purchase an ornament from this shop, which features your pet's face with their name on a banner beneath it. These ornaments are handmade using cherry, maple, and poplar hardwood about 3.5 inches in size with a 1/4-inch thickness. Your pet's face and name, if you opt for that, are burned onto the wood and finished off with a cute red ribbon for hanging.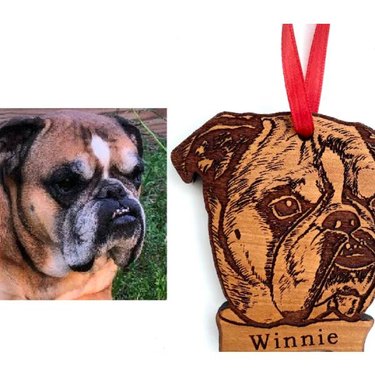 5. Personalized dog bone ornament
Not every pet lover will prefer having a portrait of their loved one on their tree, and in that case, you can opt for a super simple design, like this dog bone with your pet's name on it. These beautiful Christmas tree ornaments are made of porcelain and measure 2.25 inches by 4.25 inches Your pet's name is written in a simple, thin-line font, and can include any year, or years, of your choosing, or no year at all. You can also opt for a gift box for an additional $2, which can be gift-wrapped if you like.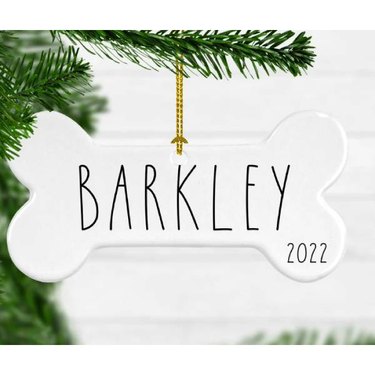 6. Dog Breed Bauble Ornament Laser Cut
For those who prefer flat ornaments, this shop makes laser-cut wood ornaments that can be created with a back for a 3D effect or cut all the way through for a silhouette design. This particular ornament is designed with dog breeds for the outline, although other items in this shop include a laser cute cat's face with personalization, and a dog bone, with or without paw prints inside of it. There are 18 breeds to choose from, and personalization includes your dog's name. Each one comes with a ribbon for hanging, and like the other wood items on this list, the natural elements of the wood will come through to create a unique ornament for every pet parent.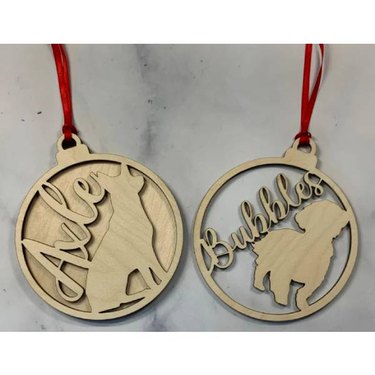 7. Pet Memorial Ornament With Photo
The holidays can be a hard time for anyone who's lost a pet, and commemorating them with a memorial Christmas ornament is something that can help some pet owners feel a little more connected to their best friends. This is a thin ornament made of ultra-lightweight aluminum. The back is plain, and the front, which contains the image and message, is made with a no-peel finish. A great thing about this shop is that they will design the ornament for you, or allow you the option of using their design tool to create your own truly customized image. They will send proofs of the finished design upon request, and each ornament is fitted with a satin ribbon.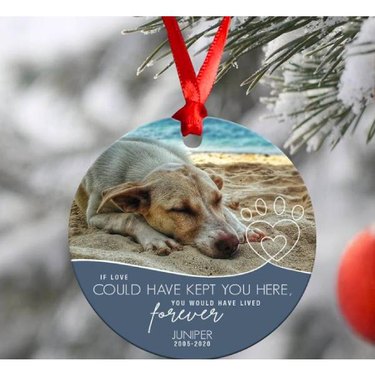 8. Rainbow Bridge Ornament 3D Glass
Another pet memorial ornament is this one, which is styled with a photo of your pet surrounded by angel wings and topped with a thick white bow. The angel wings are made of a silver filling, and there is room on the back for a customized saying or a second photo. Additionally, you can choose to include a rainbow charm for an additional $2 if you like, and it comes with a scroll hook that you can use to hang on your Christmas tree, or another area around the home, like in a window. These ornaments make a great gift for anyone who's grieving and come in a gift box with a custom card.
9. Family and Pet Ornament Engraved
Want a personalized ornament for the whole family, human members included? This shop has an item that will do just that! Each ornament is made of birch plywood and hemp rope, and can contain anywhere from two to seven names, and offer eight fonts to choose from. Pets are commemorated on the ornaments with a paw print shape that includes their name in it, and ornaments measure 4.25 inches high by four inches long, and 0.13 inches thick.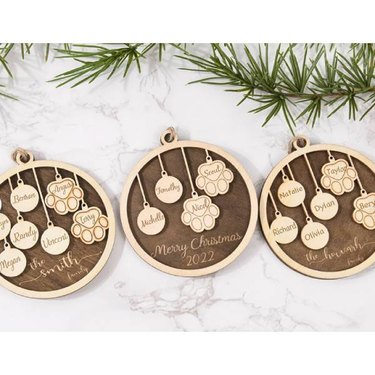 10. Personalized Dog Paw Ornament With Snowflakes
For a lower-cost ornament option, this shop offers a laser-cut wood paw print ornament for just $6. Each ornament is made of Baltic birch wood and comes with a red ribbon. The ornaments are created with a paw print design, the inside of which contains your pet's name and snowflakes for an added holiday season touch. The best thing about this shop is that the ornaments ship fast, usually within three days from placing the order, however, it's always best to do holiday shopping early in the event that a seller becomes busy.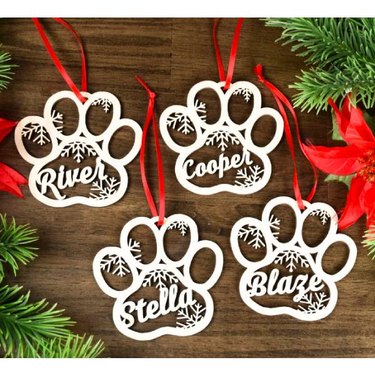 11. Custom Watercolor-Style Pet Ornament
These ornaments feature a watercolor-style portrait of your pet which is rendered from a photo, so you know the exact likeness will be captured to create the perfect dog or cat Christmas ornament. Circular in shape, these ornaments are 2.85 inches in diameter and made of ceramic material with a white glossy finish. Your pet's photo appears on the front side of the ornament, and the whole thing can hang from a tree or other area from a white velvet ribbon, which is included. Orders usually process in about 7 to 10 days, but be sure to double-check with the holidays, and no proofs are sent beforehand, so take extra care when uploading photos and personalizing.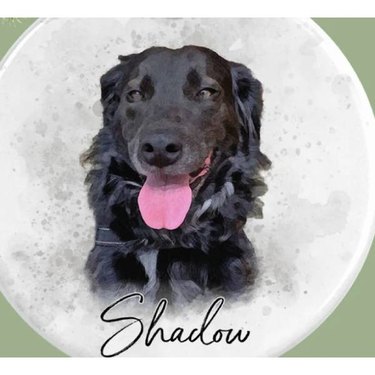 12. Custom hand-painted wood round
While the other wood ornaments on this list are engraved, this one offers something a little different with painted portrait keepsakes on wood rounds. These ornaments are made of kiln-dried birch and feature hand-painted portraits on one side, which are made using your photo of choice as the reference point. You can opt to have your pet's name included on the back of the ornament for no added cost, and finished products are topped with a white ribbon. As these are hand-painted, it is recommended that potential buyers reach out as soon as possible to ensure receiving ornaments before the holidays.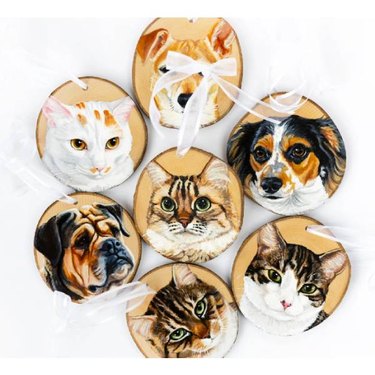 13. Personalized acrylic dog ornament
Glass ornaments are a stylish way to accessorize Christmas trees, but can be a bit pricey, especially if you have them customized with an image. This shop offers the clean, see-through look of glass at a fraction of the cost using acrylic material, and saves on personalizing by allowing shoppers to choose from a panel of pre-designed dog breeds, like golden retrievers, bulldogs, and huskies. The dog designs are applied using UV printing, which will hold up over time, and an optional gift box is offered with purchases for an additional $6.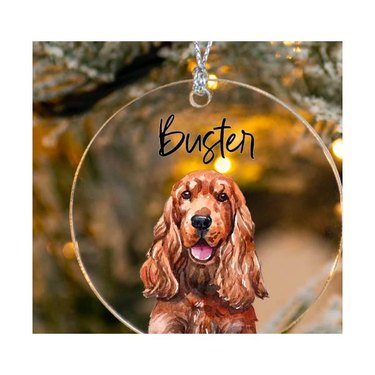 14. Cat Christmas photo ornament
For a festive ornament that includes your pet's photo, name, and some added holiday-themed decor, these ceramic ornaments are a fun option that won't break the bank. You can opt to personalize this with your pet's photo on one side or both sides of the ornament, which measures 2.8 inches by 2.8 inches by 1/8-inch thick. They all come with a gift box and can make a perfect gift for yourself or someone else and are ready to hang with a gold-trimmed white ribbon. Mockups and proofs can be sent before production for an added cost.