Harry Potter fans can get their dogs and cats in on the fun thanks to toys, apparel, and other accessories inspired by the series. Some Harry Potter-themed items are officially licensed products, while others use the books and films as inspiration for their creations, and implement classic styles and motifs to make their wares. Shopping for Harry Potter-themed toys and accessories should be no different from shopping for regular items when it comes to practicality, so unless you're buying it only as a keepsake, always be sure to consider your pet and their needs.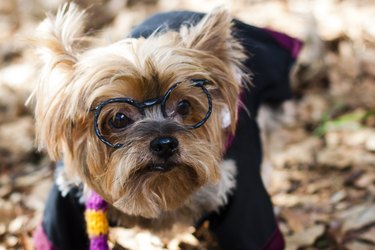 What to consider when purchasing Harry Potter-themed pet accessories
‌Licensing:‌ Just because something is Harry Potter-themed doesn't mean it's officially licensed Harry Potter merch. The licensing, however, only applies to the images and likeness of characters, so the quality of any item will depend on the creator—not being licensed doesn't necessarily mean worse quality either, and in some cases, it could mean better, depending on the maker.
‌Practicality:‌ For the most fulfilling shopping experience, always be sure to consider your pet and what they like and will use when looking for themed-merch. You can always collect something just for you if you really love it, of course, but when buying items like bedding, toys, or active wear, check the sizing and quality the same way you would anything else.
‌Fun:‌ Being able to buy anything for our dogs and cats is a privilege, especially when it comes to fulfilling our fandom for a beloved franchise like Harry Potter. The exact likeness of some items will vary depending on what you order and where you order it from, so as long as the quality matches what you paid for it, always remember to have fun and enjoy yourself when shopping!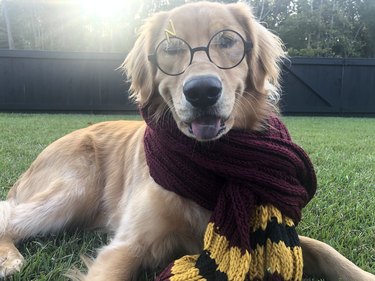 1. Harry Potter Illustrated Hogwarts Crest Dog Pet Bandana
One way for your pet to wear your Harry Potter fandom is right around their neck, in a festive bandana like this one. This poly-cotton blended bandana is available in black or white and features a Hogwarts crest image graphic. The bandana measures 21 inches square, so it's ideal for dogs medium to large dogs and is an officially licensed product for a truly authentic piece of Harry Potter merch.
2. Coomour Dog Costume Pet Wizard Shirt for Dogs and Cats
You can dress up your pet any time of the year with an easy costume like this Harry Potter-inspired outfit. It's sold in four sizes, each with varying neck lengths for an accurate fit. Each outfit comes with one cape and tie, and one set of round-frame glasses that anyone would recognize. The cloth items are machine-washable, but it is recommended that they be washed by hand for the most long-lasting wear. Choose from eight color combinations.
3. DamianGoods Hairy Pawter Funny Cat Mug
Pet accessories can extend to pet parents too, especially when they're designed with such a specific theme in mind, and executed in such a cute way. This "Hairy Pawter" mug features all of your favorite Harry Potter characters imagined as felines and complete with cat pun names. It's available in 11-ounce and 15-ounce options. The mug is white ceramic, is safe to place in the microwave and the dishwasher, and is printed on both sides, so you'll always have something sweet to look at while you sip your favorite warm beverage.
4. Fetch For Pets Harry Potter Platform 9 3/4 Ticket Crinkle Dog Toy
Most dogs love having a soft toy to chew on, and Harry Potter fans can offer their canine friends a ticket to Hogwarts with this plushie. Made of polyester, this toy squeaks and crinkles, creating sounds any dog can enjoy and entertain themselves with. It's embroidered to resemble a Hogwarts Express ticket and is an officially licensed product. This toy is best for light chewers and is a lightweight play option for dogs of all sizes.
5. housecatclub Catnip Wizarding School Acceptance Letter
For a simple cat toy in a beautiful design, look no further than this handmade catnip toy from housecatclub on Etsy. The acceptance letters are sold individually and you can choose between a light-colored envelope (parchment) or a slightly darker one (oatmeal). The toys are made with eco-felt and organic, U.S.-grown catnip and are machine-stiched for durability. Each one measures approximately 3 inches by 1.75 inches. Stamped with an 'H' for everyone's favorite wizarding school, this handmade toy is fun and entertaining for felines who appreciate the herb.
6. Sassy Woof Harry Potter Dog Collar
Your dog can show off their Hogwarts pride with a cute collar like this one, which is an officially licensed Harry Potter product. Available in three sizes, this adjustable collar comes equipped with a standard plastic buckle and a sturdy metal D-ring. It's made of padded neoprene material for comfort and features the crest of each Hogwarts house in a repeating pattern. The dog collar can also be paired with a matching harness and leash.
Dog and cat tags are a fun way to show off the personality of any pet, and this shop offers an entire collection of interchangeable Harry Potter-inspired designs to add to your pet's collar. You're able to choose from four shapes and sizes to find the right fit for your dog or cat, and there are so many designs to pick from, including house emblems, flowers, and cute text-based tags, like "muggle" and "wizard." There is an option to personalize the backs, and each tag is handcrafted using aluminum, so it'll be light enough for any pet to wear.
8. Buckle-Down Harry Potter Lord Voldemort Standing Pose Plush Squeaker Dog Toy
This plush toy made in the likeness of Voldemort is made of high-quality, non-abrasive felt that's not only durable but won't irritate or wear down your dog's teeth. It's filled with a squeaker and poly-fill to provide your dog with long-lasting fun and is an official Harry Potter product licensed by Warner Bros. This toy is sold in size small and measures 4 inches long, 4.7 inches wide, and 8.3 inches tall, so it's ideal for smaller dogs for safety's sake.
9. MogsTogs Full Set of Four Wizard Breakaway Cat Collars
If you have a cat with a lot of different sides to their personality, you may not be able to tell exactly which house they belong in, depending on their mood. This shop offers a set of four cat collars, one depicting each of the Hogwarts houses using their corresponding ties, so you can change out your feline's look to match their vibe that day. These collars are handcrafted and made with cotton. They're fitted with a breakaway buckle for safety and come with corresponding charms and crystals for a truly one-of-a-kind collar that's thoughtfully created and stunning to look at.
10. Fetch for Pets Harry Potter Napper Dog Bed - Hogwartz
Every dog and cat needs a place to rest, and for Harry Potter fans, they can do so on a beautiful red Hogwarts crest bed. Officially licensed, this pillow bed is made with a cotton-velvet outer cover that's machine-washable, and filled with soft plush to make it a comfortable resting place. It's only sold in one size and measures 36 inches long, 27 inches wide, and 3 inches high, so it's not ideal for larger dogs to sleep on. There are three other patterns to choose from, showcasing the Deathly Hallows symbol, Marauder's Map, and spells and charms.
11. Fetch for Pets Harry Potter Monster Book Crinkle Dog Toy
Some dogs like a smooth toy to hold in their mouth, while others prefer a little texture, like this one. This toy, designed to resemble ‌The Monster Book of Monsters,‌ is covered in faux fur made from polyester material and is filled with crinkle paper to create a sensory experience that some dogs really enjoy. It measures 6.5 by 4.5 inches and it does squeak in addition to crinkling, which can keep curious dogs busy for hours.