More and more pet owners are choosing to adopt adult cats and kittens. In fact, adopting from shelters and rescues is how most Americans bring a new cat into their lives. If you've never gone through the cat adoption process, read below to guide yourself through your adoption journey!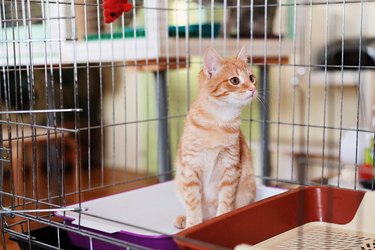 ‌When you adopt a cat you don't just give them a loving home and family members. Adopting cats from local shelters opens up space and resources for other cats in need.‌ There are many nonprofit organizations that are involved with animal adoptions. They include the Society for the Prevention of Cruelty to Animals (SPCA), the American Society for the Prevention of Cruelty to Animals (ASPCA), and other humane societies. Your cat adoption supports their work to prevent animal cruelty.
Reputable shelters and rescues want to set you and your new cat up for success at home. Adoptable cats receive basic medical care, such as exams and vaccinations. Shelters spay and neuter adoptable cats, and the cats often receive a microchip.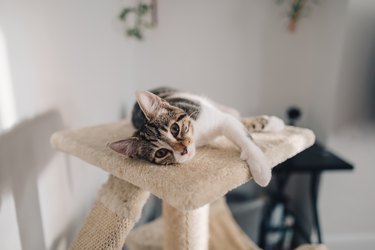 Beginning the cat adoption process
Reflect on the type of cat that will best fit you and your family's needs
Adopting an older or senior cat
Consider adopting a feline in their golden years. When you give a senior cat home, their final years will be secure and meaningful. There is often more known about a rehomed senior cat's temperament and history. However, a senior cat may already have chronic illnesses or special needs, such as a special diet. Even if they don't when you adopt, senior cats may require more medical care.
Adopting a cat with special needs
As for special needs, are there any illnesses or chronic conditions that you won't be able to provide for? Medications and veterinarian visits will affect your time and bank account. These cats also need the right home environment.
For example, feline idiopathic cystitis (FIC), is a broad diagnosis for urinary and bladder issues in cats. Stress can trigger a FIC to flare up, so a cat with FIC needs a calm home environment.
Another condition seen in formerly stray adoptable cats is feline immunodeficiency virus (FIV) is a lifelong condition transmitted between cats through bites. Therefore, if you already have a cat who isn't too fond of cats, then an FIV-positive cat is not a good match for you because of potential fights and bites.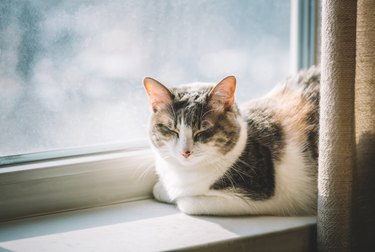 Look for adoptable cats online
If you're reading this, chances are you will start your search for adoptable cats online! A simple search will help you locate shelters, rescues, and adoption events. One popular site for adopter hopefuls is Petfinder. Petfinder is a directory of pet profiles from reputable shelters, rescues, and foster programs. Potential adopters can search for cats based on their location, age, breed, and even temperament. Petfinder may connect you with adoptable cat profiles, but you still need to meet potential feline companions at their shelter or humane society before signing any adoption paperwork.
Plan for cat adoption paperwork
Expect to fill out an application or questionnaire during the cat adoption process. You will be providing your basic contact information, as well as information about you as a pet owner. Adoptions requirements vary between organizations — some are very strict. You may be asked to provide personal references, proof of employment, or an established relationship with a veterinarian. A valid ID is required to complete a pet adoption.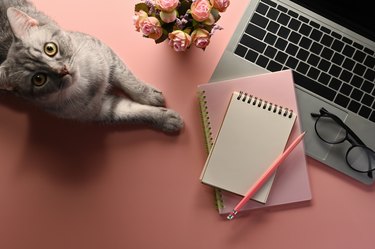 Visit local animal shelters
You can't always visit cat rescues and foster homes, but you can visit your local animal shelter or humane society to scope out adoptable adult cats and kittens. Learn about a shelter's adoption policies before visiting, including how long the adoption process takes, and what is included in their adoption fees.

In addition to your enthusiasm and excitement, bring the rest of your household to cat or kitten adoptions. You may arrive knowing who you would like to adopt. Or feel a surprise connection from outside a kennel or viewing room.
Working with pet adoption professionals
Adoption counselors are the matchmakers of the pet adoption world, and shelters often have them on hand to aid in your cat adoption process. They will introduce you to cats you are interested in, and tell you about their background. Adoption counselors know the adoptable cats and advocate for them by getting to know you. Answer your adoption counselor's questions honestly about what your home can provide a cat.
In turn, ask your adoption counselor lots of questions — the more the better! Write down questions about the cat's personality and health before your visit. Find out what positive reinforcement training resources are there for you post-adoption, and ask about return policies. You should learn about rehoming a cat if they ultimately aren't a good fit. When you do adopt your new feline friend, adoption agencies love hearing happy updates about the cats they cared for.
Meeting different cats and finding your match
A good adoption match comes down to the known facts about the cat — and your chemistry with them. You will likely meet cats who aren't "the one." As disappointing as that can be, passing up a cat that won't work for you brings you closer to the cat who is perfect for you.
While you search for your dream cat, stock up on essential cat supplies. Having a cozy bed, food, toys, a litterbox, and scratching posts ahead of time will help your new cat adjust to life with you.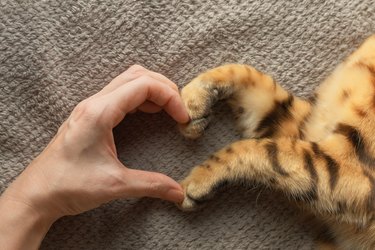 Adopting a cat gives a feline a loving home, and supports other cats in need. Prepare for your cat adoption by considering the type of cat you want. Explore local adoption agencies and their profiles of adoptable cats. Familiarize yourself with an adoption center's policies. An adoption counselor can help you find your new cat, and tell you everything they know about them. You may be ready to receive happy purrs at home now. But prepare to take your time tracking down those purrs!