If you're a cat parent in search of higher-quality food for your kitty, it's worth taking a look at the human-grade pet foods that are available. While this type of food was harder to find in the past, demand for it has grown. So, it's now easier to find options that could work for you and your feline companion, whether you're shopping for kitten food or meals for adult and senior cats.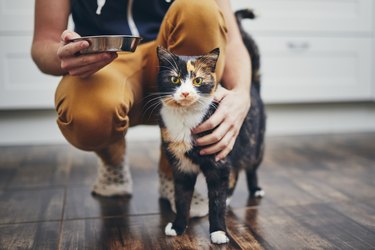 This type of cat food is different from regular pet food, which is considered feed-grade. Put simply, a pet food company needs to meet certain standards in order for their products to be considered human-grade. First off, all of a food's ingredients need to be deemed edible for humans. Also, a human food facility needs to be used to make the pet food, and the food has to be transported, handled, and stored according to specific guidelines. Once all requirements are met, a pet food can be labeled as human-grade, which basically means the same standards for human foods were followed while making your cat's food.
What to consider when purchasing human-grade cat food
‌Ingredient Quality:‌ Whenever you're shopping for cat food, it's wise to carefully look through ingredient lists as you compare options. If there's anything that you want or need to avoid—perhaps because your kitty is allergic, has a sensitive stomach, or has a medical condition—you'll know if a food is right for your pet by confirming that the ingredients are appropriate. For instance, some pet parents try to avoid fillers, by-products, and artificial additives. Or, if you want to buy organic foods, high-protein recipes, or grain-free recipes, definitely check labels before making a purchase. And, when it comes to human-grade food, you want to ensure the ingredients are human-edible, as mentioned above. You can contact a manufacturer to ask them about the quality of their ingredients, and to find out what they do to ensure their food is indeed human-grade.
‌Ingredient Sources:‌ Consider, too, where pet food ingredients are sourced from. For example, if you want to avoid ingredients from certain countries, if you prefer giving your cat wild-caught fish rather than farm-raised fish, or if you want to buy pet food that contains meat from humanely raised animals, you can ask a manufacturer for clarification. Sometimes, you can easily find this information on a manufacturer's website or on food labels as well.
‌Manufacturing Facility:‌ Bear in mind that human-grade pet foods should be made in human food facilities, so this is another detail that you will want to confirm while shopping for this type of cat food. Don't hesitate to contact a manufacturer if you want to gain more insight into their manufacturing process. And you can also ask them about other steps they take to ensure their food is human-grade and not feed-grade. All of this information can help you verify if their claims are truthful.
‌Nutritional Value:‌ Another thing to look for on a pet food label is whether the meal is complete and balanced for your cat's life stage according to the Association of American Feed Control Officials (AAFCO), or if it's just meant to be used as a treat or for supplemental feeding. Complete and balanced basically means that the food can provide the nutrition that your kitty needs. But, again, if your cat has special needs when it comes to their diet for any reason, keep that in mind and consult a veterinarian to be sure the food is right for them.
Below are a few human-grade pet food brands that are worth checking out. We've highlighted a particular flavor from each one just to get you started, but there are many others that you can choose from.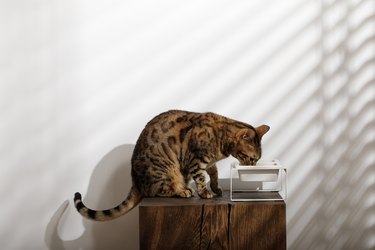 1. The Honest Kitchen Minced Turkey, Chicken & Duck in Bone Broth Gravy
When it comes to the wet food, there are two textures you can choose from, and plenty of flavors too. If your kitty prefers small chunks of meat, the Minced flavors are a great place to start. On the other hand, if your cat prefers a paté texture, their Câté flavors might be just right. Options include chicken, turkey, salmon and cod, salmon and turkey, beef and chicken, and chicken and salmon. There's even a turkey, chicken, and duck flavor that's perfect for poultry lovers. These all come in 5.5-ounce cartons and are available in cases of 12. Plus, there's also a variety pack to keep things simple.
This food is complete and balanced, and made with human-grade ingredients, without any artificial colors, preservatives, or flavors. It also doesn't contain any meat meals, GMO ingredients, wheat, soy, or corn. And the food is made in a human food facility in the United States. You can check the brand's website to learn more about their suppliers and where they get their ingredients from around the world.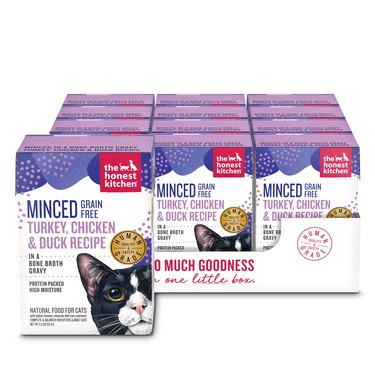 2. Open Farm Grass-Fed Beef Rustic Blend
Open Farm's Rustic Blends for cats are a good option when you are looking for human-grade wet food. There are a variety of flavors to choose from, such as chicken, turkey, beef, herring and mackerel, chicken and salmon, and wild-caught salmon. This means you can select your pet's favorite flavors or add more variety to your cat's diet if you wish. Plus, you can use this food as a complete meal or as a topper.
Rustic Blends are manufactured in a human-grade facility, and they contain non-GMO, sustainably sourced, and humanely raised ingredients. For instance, their Grass-Fed Beef Rustic Blend includes Certified Humane beef that is grass-fed, raised without antibiotics, and pasture-raised. Also, these foods don't contain artificial colors, flavors, or preservatives. And you can head to the brand's website to trace their ingredients to their sources.
No matter which flavor you go with, this wet food comes in easy-to-open, 5.5-ounce cartons, and you can purchase cases of 12. And if your cat likes Open Farm wet food, you can also check out their other foods, such as their dry cat foods and their bone broths, both of which are available in multiple flavors as well.
3. Stella & Chewy's Purrfect Paté Cage-Free Turkey Recipe
Stella & Chewy's is a brand that makes frozen raw food, freeze-dried raw food, kibble, and wet food for cats. Their wet food is available in a range of flavors, and you can choose from foods in pouches, cans, and cartons. While their Carnivore Cravings canned food and Carnivore Cravings pouches are labeled as products of Thailand, their Marvelous Morsels and Purrfect Paté flavors in 5.5-ounce cartons are crafted in the USA.
If your cat prefers eating chunks of meat, the morsels are the right way to go. On the other hand, if they prefer a smoother texture, go with paté. There are only three flavors available, and they are chicken, turkey, and chicken and salmon. These foods contain bone broth and responsibly sourced meat, including cage-free chicken, cage-free turkey, and wild-caught salmon, depending on the flavor you go with. Also, they don't contain lentils, peas, or potatoes, so they're good for pet parents who would prefer avoiding those ingredients.
You can serve these foods as meals or toppers, as they are complete and balanced. Also, these foods contain human food-grade ingredients, and they are made in a human food manufacturing facility.
4. Caru Wild Salmon and Turkey Stew for Cats
Caru is another brand you can turn to when you're on the hunt for human-grade cat food with high-quality ingredients. They offer food and treats, and there are multiple flavors to choose from. The stews are made in a human food plant in the United States and are processed and handled according to the regulations for human food. Plus, this brand uses responsibly sourced fruits and vegetables, along with USDA-inspected meat.
Classic Stews are available in chicken, turkey, wild salmon and turkey, and chicken and crab flavors. They feature chunks of meat in gravy, are complete and balanced, and meet AAFCO nutritional levels. And these foods are made without GMO ingredients, gluten, grains, or artificial flavors, colors, or preservatives.
Like other foods on this list, Caru's Classic Stews come in cartons. You can purchase 6-ounce cartons in cases of 12 so you could have plenty for your kitty to enjoy.
5. Raised Right Original Turkey Adult Cat Recipe
For something a little different, check out Raised Right. This brand makes human-grade fresh cat food that is shipped to your door and can be served as a complete meal or mixed with your pet's existing diet. Also, this food is made in a human-grade facility. It is lightly cooked and all of the ingredients meet the standards for human consumption. Plus, they use traceable ingredients.
This brand's food is available in four flavors, which are turkey, chicken, turkey and pumpkin, and chicken and pumpkin (the pumpkin recipes are labeled as paté). All of them are limited-ingredient recipes with whole foods, and they have an AAFCO statement to show they're formulated to meet a cat's nutritional needs. As an example, the Original Turkey recipe includes ingredients like turkey thigh, turkey heart, turkey liver, carrots, blueberries, and organic spearmint, among others.
To purchase this cat food and learn more about the delivery service, head to the Raised Right website. When you receive it in the mail, be sure to follow the directions carefully before serving it to your cat. The food will be frozen, so you'll need to defrost it in your refrigerator to ensure your pet's meal will be fresh and ready to eat.