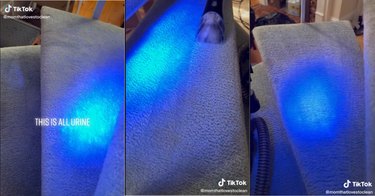 In the video, TikToker @momthatlovestoclean shines her blue UV blacklight on her carpeted stairs, which reveals the pee-stained carpeting that needs to be cleaned. She then cleans the carpet by pre-treating it with rubbing alcohol and water, followed by Gain and Borax (please note: we do not recommend using Borax as it is toxic to pets). Lastly, she does a final vacuuming of the area. Once the stairs have been cleaned, she shines the blacklight again — and there are no more pee stains.
All you need to do is dim the lights and shine the black light along your floors and you will see the pet pee stains glowing in the light. The phosphorous and proteins in the urine glow under the black light wavelengths so you can identify both new and old pee stains.
It is admittedly pretty gross to discover some of the mischief-making your dog may have gotten into without your knowledge. However, after some cleaning, seeing that there are no glowing stains remaining can be incredibly satisfying. Plus, your dog is much less likely to return to that spot once the stain is fully removed.
Try the blacklight flashlight so you can start checking your house in no time. Make sure to check spots where you know your dog has had accidents in the past — but don't stop there. Check corners of the room, furniture, and even along the walls where your dog may have marked and pee stained.