Two toys are always better than one! These dog toys are specially designed to give your dog more opportunities to play with a single toy. Two-in-one toys also give our dogs the opportunity to play with toys in multiple ways to keep them entertained. The two-in-one approach can also help your dog to stay engaged in play for longer. Some of these toys are designed to come apart and be put back together multiple times. Other toys have a second toy hidden inside that is only revealed when your dog rips the first layer apart. These toys are great for tough chewers who enjoy ripping their toys.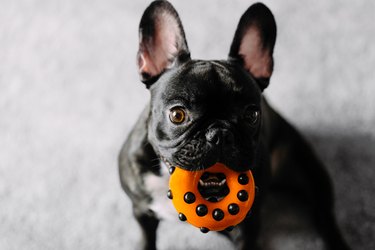 What to consider when purchasing a 2-in-1 dog toy
‌Supervision:‌ When your dog is playing with a two-in-one toy, it's important to supervise your dog. These toys are designed to be played hard with, but that doesn't mean they are indestructible. Supervise your dog while they play with these toys to make sure they don't chew off any small pieces of the toy that could be a choking hazard.
‌Size:‌ Make sure to select an appropriately sized toy for your dog to safely play with. Toys that are too small can be choking hazards for dogs. They can also be swallowed, which could create an obstruction that would be a veterinary emergency for your dog. If while playing, your dog removes a part of the toy that is a small choking hazard, be sure to remove that from your dog.
‌Playing Style:‌ These multipurpose toys are ideal for dogs who enjoy tearing, ripping, and tugging with their toys. These toys are generally made of durable materials to last longer during play. Consider your dog's preferred playing style when selecting toys. For example, if your dog likes to tug, select toys that are made for pulling and can withstand that kind of play. If you have a dog who loves to shred their toys, many of these two-in-one plush toys will be a real treat as they will open their toy to reveal a new durable toy inside.
1. Outward Hound Destroy Them All Surprise Dog Toy, 2-Count
Designed to be ripped apart, this plush candy apple has two additional toys hidden inside. This plush toy has built-in squeaky sounds to keep dogs engaged in play. After peeling off the plush layer of the candy apple, your dog will reveal a taffy apple, a snow cone, or cotton candy. Then, inside that toy, your dog will discover a spiky ball. This toy will keep your toy-destroying dog entertained as they peel back layers to reveal a new toy. For safety, the fabric layers of the toy should be taken away from your dog and discarded once they are removed from the toy.
2. Territory 2-in-1 Farm Friends Dog Toys, 3-Count
For dogs who love to fetch and tug, this toy combo does it all. These plush toys are designed with durable fabric for long-lasting play. The toys each have rope structure and feet. The rope toy structure makes the toys great for tossing and chewing. The dog rope is also great for tugging. For added fun, this toy has an embedded spiky ball that can pop out of the stuffed animal. This toy's stuffing-free design helps the toy to last longer with rigorous play. This set comes with three farm-themed toys: a cow, a chicken, and a pig.
3. Frisco Brunch Egg in Hole 2-in-1 Plush Squeaky Dog Toy
Perfect for small dogs and medium-sized dogs who enjoy plush toys and balls, this toy is a great two-in-one toy. This egg-in-a-hole toy plush toy is designed as a breakfast sandwich for your dog to play with, and features a plush squeaker ball as the egg yolk that sits in the top of the sandwich. The sandwich and the ball are both filled with squeakers to keep dogs engaged in playing, and both toys are soft, perfect for dogs who enjoy cuddling with their toys.
4. Frisco Brunch Quiche 2-in-1 Plush Squeaky Dog Toy
Made with small and medium dog breeds in mind, this two-in-one plush toy brings looks almost as mouthwatering as its human food counterpart. The toy is made with polyester and synthetic fabric and is designed like a giant quiche or savory pie. the toy a fun new texture to play with. The toy's second piece, a slice of quiche with a cute smiling face, is attached to the underside of the quiche dish using hook-and-loop fasteners, so your dog can have pulling it off over and over again. Each plush piece contains a squeaker, too, for extra fun.
5. Pig-Shaped 3-in-1 Dog Toys for Aggressive Chewers
Designed specifically for aggressive chewers, these dog toys are intended to be ripped apart. The pig plush is actually three toys in one. Perfect for dogs of all sizes, let your dog rip the first pig face apart to reveal a second smiling pig toy underneath. When your dog splits open that second pig, they will find a bright spiky ball inside! This toy is made without stuffing, so it won't make a mess as your dog rips apart the different layers of play.
6. Snuggle Puppy Tender-Tuffs Multi-Function Ollie Orbit 2-in-1 Tough Plush Dog Toy
For dogs who enjoy tugging, this toy is both a plush squeaky toy and a tug-to-win one! The planet shape is fun for dogs to fetch and play with. It comprises a plush center ball and tug handles on both sides for dogs and owners to grip. The planet is made with TearBlok technology to resist ripping and make the toy last longer. Inside the planet is a puncture-resistant squeaker to help keep your dog focused on playtime. This tug toy measures 11.5 inches wide, making it a fun toy for large breed dogs.
7. Frisco Retro 2-in-1 Camera Plush Squeaky Dog Toy
A cute two-in-one toy for small and medium sized dogs, this disposable camera has a fun surprise inside when your dog rips it open! When your dog destroys the camera, they reveal a crinkle-filled plush picture of a dog. Both the outer and inner toy have plush polyester covers, making them comfortable for little dogs to hold, chew, and rip. The camera has squeakers inside to encourage dogs to keep playing and ripping, and the inside picture toy has embedded a crinkle sound to keep dogs playing once they discover it.
8. BarkBox 2-in-1 Interactive Acorn Plush Puzzle Dog Toys
This plush acorn packs a fun surprise inside. The pet toy is designed to be chewed and ripped by your dog while they play. Inside the plush nut is a hidden squeaky nut (ball) for your dog to discover. This toy is great for active dogs and because it's designed to be destroyed, you don't have to worry about letting your dog play hard. This toy is best for small dog breeds and medium-sized dogs. The toy is made from nontoxic plush to make it both fun and safe for your dog to play.
9. Bundle: Frisco Hide and Seek Plush Trash Can and Racoon Puzzle Toy
If your dog loves soft toys, this plush puzzle toy with the combined three-pack add-on of additional raccoons gives your dog seven-toys-in-one to play with. The base of the toy is a plush trash can; it also comes with six plush raccoons that can all be stuffed into the trash can. While playing, your dog can pull out some or all the raccoons. Your dog can also play independently with the plush raccoons, which each contain a squeaker to make fun on their own. For additional play, you can also hide dog food, tennis balls, and dog treats inside the plush trash can for your dog to find and pull out.
10. Outward Hound Puzzle Cube Interactive Dog Toy
This interactive toy is multiple toys in one. The exterior puzzle cube keeps dogs engaged in independent play or fetch games. Trapped inside the dog toy are two squeaker balls that your dog can reach for and play with inside of the cube. This toy is suitable for dogs of most sizes. The cube is made of soft rubber for durability and has different shapes and holes to make play engaging and challenging for your dogs. Once the balls are freed from the cube, you and your dog use them for separate play, or dog owners can put the balls back into the cube for their dogs to release again.
11. BarkBox 2-in-1 Interactive Cactus Plush Puzzle Dog Enrichment Toys
With whip-'n-flip arms for tugging and tossing, this plush cactus is sure to entertain your dog while they play. The plush chew toy is densely packed with fluff, and embedded inside is a smaller squeaker toy. This plush toy is made to be long-lasting and is ideal for fetch and tug interactive play games. The two-in-one toy is ideal for dogs who enjoy ripping apart their toys as they will be delighted to find a second toy inside ready to play with. This toy is designed to be appropriate for play with medium- and large-sized dogs.