Bath time is often regarded as being stressful for dogs and people, but it doesn't have to be! All dogs, even the ones who loathe bath time, should be bathed at least once every two to three months to keep their skin and coat healthy. There are plenty of ways to train your dog to tolerate bath time, and these products can help make the grooming process easier and more enjoyable for both of you.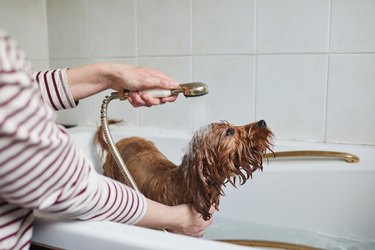 What to consider when purchasing products for bathing your dog
‌Comfort:‌ When looking at products to make bathing your dog easier, the first consideration should always be your dog's comfort. By making bath time less scary and less physically uncomfortable, you'll improve your dog's experience of being in the bath and make them less resistant to bath time. Dogs find slipping in the tub painful and distressing, so finding ways to keep them steady while being bathed can help put them at ease.
‌Enrichment:‌ One way to make bath time more enjoyable for you and your dog is to provide them with an enrichment activity that they can do while in the tub. This can turn bath time from something your dog tries to avoid into something your dog looks forward to when the tap starts running.
‌Simplifying:‌ The best products for bathing your dog are those that streamline the grooming process. Maybe it's an elevated basin that doesn't cause you any back strain or a two-in-one scrubber and sprayer that helps you get all of the suds out of your dog's coat. Anything that helps you bathe your dog more easily and quickly is a win in our book.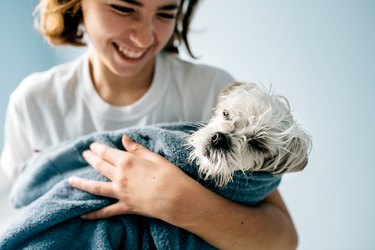 1. Aquapaw Slow Treater Silicone Lick Mat
Lick mats are a great enrichment tool to use during bath time, but not all of them come with three super-strong suction cups that allow them to stick to the wall. The slow treat releaser can be filled with soft and sticky foods (think dog-safe peanut butter, wet food, or plain Greek yogurt) that take a long time for dogs to lick off the mat. The Aquapaw Lick Mat is suitable for dogs of all sizes and measures 8.39 inches long, 6.61 inches wide, and 1.14 inches high. It's made from 100% FDA-grade silicone and has a three-wing design so it can easily stick to a variety of surfaces. The toy is meant to withstand chewing from your dog and is safe to clean in the dishwasher between uses.
2. Pet Republique Elevated Foldable Pet Bathtub and Silicone Bathing Gloves
Designed for bathing small dogs and puppies under 35 pounds, this portable bathtub can be placed inside a bathtub (no more soap scum to clean up!) or on a countertop to reduce back strain. It collapses down to 3 inches high for easy storage but features supporting frames to keep it upright when in use. The entire unit weighs just 4 pounds and every purchase comes with a pair of textured bathing gloves for sudsing up your pup.
3. ISWAYSTORE Pet Shampoo Dispenser Brush, 2-Count
If you struggle to get shampoo worked through your dog's long coat or want to remove dirt and dander with ease, this shampoo-dispensing brush can be a real game-changer. When prepping for bath time, fill up the compartment on top of the brush with your dog's favorite shampoo and replace the cap. When you squeeze the brush while bathing your dog, the shampoo comes out through the soft silicone bristles. The brush has a non-slip grip to make it comfortable to hold and use as you dispense shampoo. The brush is made with durable, food-grade silicone and has a hook for hanging it in your shower. Also included is a hard silicone brush (this one doesn't have a shampoo compartment) for removing dirt, dead skin, and loose hair while bathing your dog.
4. Gorilla Grip Patented Shower and Bath Mat, 35" x16"
One of the best ways to improve your dog's bath time experience is to prevent slipping in the tub. This bathmat is held in place with hundreds of suction cups on the bottom. The textured mat provides traction for your dog while they are in the tub, which can make them less fearful and more physically comfortable. The non-slip mat has drainage holes built-in to allow water to flow through it, meaning your dog won't be standing in several inches of dirty water during their bath. This model measures 35 inches by 16 inches, works with smooth, non-tiled surfaces, and comes in a whopping 19 colors.
5. Aquapaw Dog Bath Brush and Sprayer Tool
When bathing your dog, it's important to get all of the shampoo and/or conditioner out of their fur. This handy tool was featured on "Shark Tank" and acts as an all-in-one sprayer and scrubber. The sprayer has an adapter that attaches directly to your shower spigot or a garden hose if you prefer to bathe your dog outside. The tool has an adjustable strap for a comfortable fit and can be placed on your right or left hand. There's also an on/off button that can be controlled with the same hand. The Aquapaw Dog Bath Brush is made with 100% FDA-grade silicone that's durable yet soft on your dog's sensitive skin.
6. LUKITO Licking Mat for Dogs & Cats, 2-Count
For some dogs, distraction is the best way to get through bath time hassle-free. These 7.87-inch square lick mats have strong suction cups on the backs so you can easily stick them to a shower wall or the bottom of the tub while you bathe your dog. Sold in a set of two (one pink and one yellow, or one purple and one blue), the lick mats feature four different textures that make it harder for your dog to lick off the soft food you've spread on it. Licking provides an endorphin release for dogs and can help them create a positive association with being in the tub. The purple and blue lick mats come with a silicone spatula for spreading wet food or peanut butter if you don't already own one.
7. Rinse Ace 3-Way Shower Sprayer Dog Grooming Tool, 8 ft. Hose
Instead of using a plastic cup to scoop water onto your dog during bath time, you might want to opt for this showerhead attachment with an 8-foot hose that allows you to bathe your dog without crouching or bending over. The sprayer has a shower head connector that twists onto your existing showerhead without the need for any tools. The hose can be snapped on or off, allowing you to attach it only when you want to bathe your dog and store it away when not in use. The sprayer has three water settings: concentrated spray, massage, and pulsating. You can also adjust the water flow while using the sprayer to make bath time more comfortable for your dog and help you to save water.
8. Booster Bath Elevated Dog Bathing and Grooming Center
Bathing dogs can be painful for owners who struggle to bend over. To make bath time easier, get your dog their own Boster Bath. This elevated bathtub comes in medium (up to 75 pounds), large (up to 125 pounds), and extra-large (up to 175 pounds), as well as three colors. The tub has a rubberized non-slip mat that prevents your dog from slipping and falling while they are getting bathed. The three-point built-in safety harness is designed to prevent your dog from jumping or falling out of the tub during grooming. It also comes with a spray nozzle that can be attached to a garden hose to control the water pressure and direction. There's a U-shaped opening for getting your dog in and out of the tub with ease and a flexible 5-foot drainage hose. When not in use, the legs of the tub can be removed for easier storage.
9. Dog Gone Smart Dirty Dog Shammy Towel
Once you get your dog out of the tub, it's important to dry them off quickly so they don't get cold or turn your house into a damp mess. This absorbent microfiber towel is designed to dry dogs eight times faster than cotton towels. The shammy has dual hand pockets to give you a better grip while drying off your dog. The towel is super soft and the microfiber nubs massage your pup while removing excess water. After bath time, you can machine wash this towel, but then it should be hung up to dry. Beyond bath time, it's a great towel to keep by the door for rainy days or by the dock if your dog likes to go swimming.
Rubber ducky, your pup is the one! This adorable bathrobe will help dry off your dog and keep them warm after bath time. Pictured here is the rubber ducky print, but there are also lion and rhino options (they're all super cute, trust us!). The hooded bathrobe has a tie waistband to keep it on your dog after their bath. It's made from ultra-absorbent material and is fast drying. It's a fun and functional pick for dogs who get cold easily, as it can keep them warm and cozy after getting out of the bath. The Barkbox Premium robe is machine-washable and can be tumble-dried on low to keep it clean between grooming sessions.