Dental health is an important aspect of our overall wellness, and the same goes for our canine friends. Dogs require dental care during all phases of their lives, from puppyhood and teething all the way through their senior years, when the teeth and gums can be extra sensitive or susceptible to oral diseases. Offering your dog a dental chew toy that's designed to stimulate their gums and keep their teeth clean is an easy way to implement oral hygiene upkeep in between dental visits. Chew toys vary in design, style, shape, and flavor, and like most toys or treats, not every dental chew will be preferred by every dog. When shopping for dog dental chew toys, always be sure to keep the size in mind, and consult your veterinarian before making purchases if your dog has gum disease or other oral discomforts.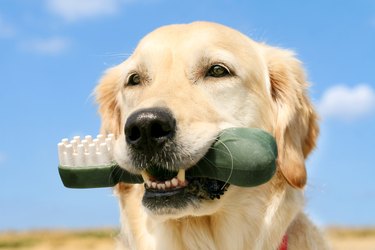 What to consider when purchasing dog dental toys
‌Age:‌ Dental toys are made to stimulate the gums and clean the teeth, but some toys are made for specific life stages. Teething is something that all puppies go through, and toys designed for dogs in the puppy stages often contain nubs or bristles and tend to be made of natural rubber or silicone that won't easily break down. Dental toys for adult dogs may provide an easy way to add toothpaste or breath freshener to keep the mouth clean.
‌Size:‌ Finding the right size dog teeth cleaning toy for your canine friend may be the most important thing to keep in mind when shopping as toys that are too small can become choking hazards. Always look for the intended size and age range, which should be written somewhere on the packaging. When in doubt, it's best to go a little larger than smaller while still making sure your dog can grip their mouth around it comfortably without stressing the jaw.
‌Material:‌ Unless you're giving your dog an edible dog treat, like Greenies, the toy shouldn't really break apart into small bits which can be swallowed. Natural rubber and silicone are common materials used in dog dental toys, as well as rope, which can be fun for dogs to play with and toss around in addition to chewing on.
‌Dental Care:‌ While teeth cleaning toys and treats for dogs are a good way to add to your pet's oral care routine, that's really all they're there to do—add to it. Toys alone shouldn't replace dental checkups, brushing, or other acts of care that are part of your dog's routine. If your dog has existing dental issues, be sure to check with your veterinarian before adding any new toys.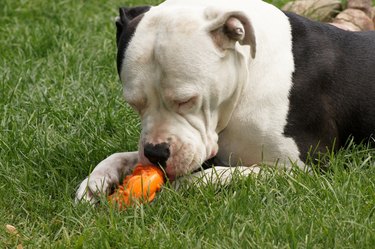 The best overall dog dental toy
When it comes to keeping dogs busy with a chew toy, the KONG name is the first to come to mind for many. Known for being constructed with nearly indestructible rubber, this variety is designed to specifically offer dental assistance thanks to patented Denta-ridges that wrap around the outside of it. The ridges soothe gums and keep teeth clean, and the dumbbell shape makes gripping easy and fun for dogs. As this is sold in large and extra-large, it's not ideal for puppies or small dogs.
The best dog dental toy for toothpaste
Corn may get stuck in our teeth, but it can actually help clean a dog's mouth, at least when it comes to this toy. Made of TPR material that won't fall apart under bites or chewing, this toy is designed to mimic a corn cob, with individual kernels that clean a dog's teeth when they're chewed on. You can even apply dog toothpaste to the surface of the toy to create a toy and toothbrush all in one. There are two options for this toy—one that squeaks, and one that doesn't, the latter of which is intended for aggressive chewers.
The best breath freshener dog toy
Part of dental hygiene includes fighting bad breath, but not everyone wants a breath freshener that's full of artificial ingredients or flavors dogs don't even like. This toy uses baking soda to keep a dog's breath as pleasant as possible. The shape and ridges around it work to reduce tartar buildup, and the toy doesn't contain any noisemakers, meaning your dog can chew on it for hours without disturbing anyone in the home. It's designed for dogs 35 pounds and under so it won't be the best choice for large dogs, but it is made of tough rubber, so aggressive chewers on the smaller size can enjoy it without destroying it.
The best flavored dental dog toy
Does your dog need a good flavor to keep them enticed? If so, this chicken flavor chew from Nylabone might be just what they need. It's sold in small and large sizes, so just about any dog can safely chew on one. Because it's made of nylon and synthetic fabric, it won't break down easily, which means it's great for tough chewers. This toy keeps your pet's teeth in healthy shape thanks to cleaning nubs that massage gums, remove plaque, and reduce tartar buildup—all in a fun dinosaur shape.
The best edible dental dog toy
Dental toys aren't meant to replace dental care, but supplement it, and treats are no different. This three-pack offers the best of both worlds, with nylon outer shells that encase a bacon-flavored treat for your dog to enjoy. The chews are meant for mild to moderate chewers and are medium in size, so small and medium dogs can enjoy them safely. The dental benefits of this toy/treat combo include massaged gums, and reduced tartar build-up thanks to Dentashield technology.
The best dental toy for puppies
Puppy teething can be an uncomfortable and even painful time in a dog's life, so having plenty of things around the house for them to chew on will make their lives a little nicer, and can keep more of your stuff intact. This wishbone-shaped toy has ends thin enough for most puppies to wrap their teeth around but is still strong enough to hold up as it's made of tough rubber. The surface is textured with ridges to provide grip and soothe inflamed gums and is easily wiped clean with soap and water so your dog can continue to enjoy this toy well into their adult years.
The best dog toothbrush toy
Dogs naturally "brush" their own teeth by chewing on fibrous materials, like sticks. This is why many dogs don't love the feeling of having their teeth cleaned with brushes that resemble ours, even though they offer many health benefits. This cactus-shaped toy is fitted with bristles and ridges to stimulate gums and clean teeth. The texture is soft and matte so it's easy to grip, and the rubber material it's made of gives it a bit of bounce, so it's fun to play with in addition to being useful. This toy is safe for dogs at any life stage, from puppies to senior dogs, and can stand up to aggressive chewers (it even comes with a two-year return guarantee).
The best dog dental toy for tough chewers
For the truly tough chewers who shred everything they chew on, this easy-hold dog dental toy stands up well. Shaped like a dog bone, this toy is designed with ridges to reduce tartar and plaque in the act of chewing. The toy is made from durable nylon and is bacon flavored to keep dogs interested. It's suitable for dogs up to 50 pounds and should be discarded if your pup starts to break off small pieces that could be ingested.
The best rope dog dental toy
Not all dogs love tough nylon or rubber materials; sometimes, soft but durable rope material is more enjoyable, especially for those with sensitive teeth and gums, like senior dogs. This toy is made of fibers that are moisture-wicking, so it can withstand chewing for long periods of time without getting too gross and slimy. It's treat-free but peanut butter flavored and the scent lasts for six months. It even makes noise, fitted with a squeaker and crinkle material to keep dogs entertained.
The best dental treat-holder toy
Looking for a toy and treat in one? This bento ball is a refillable treat holder, so you can use it over and over, making it an economical way to keep your dog's teeth clean. Sold in small, medium, and large sizes, this toy is made of thick plastic material that's stronger than rubber and designed with ridges to stimulate gums. It can work as a chew toy and a treat ball in one as it holds one chicken-flavored Everlasting treat at a time, which can make for a time that's mentally stimulating, as well as good for the teeth.