With Christmas comes cooler weather, which makes it the perfect time to cuddle up in your favorite sweater or hoodie. Pet sweaters can also keep our canine friends feeling warm and looking festive when they're fashioned for the holidays, like the sweaters on this list. Christmas sweaters for dogs can be a cute way to celebrate the holidays, and thanks to some fine design details, can also be functional before, during, or after the holidays. Aside from finding a pullover in the right size for your dog, a great festive and functional sweater can include a hole to slip a leash through, higher cuts along the bottom for easy bathroom breaks, and machine washability for ongoing use.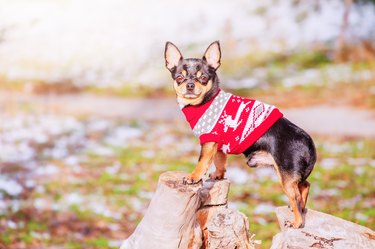 Something for the ugly Christmas sweater party
The so-called "ugly sweater" has become a Christmas staple in recent years, and while it's impossible for dogs to look anything other than perfect and adorable in their clothing, this sweater allows them to get in on the ironic fun. Available in seven sizes, this sweater comes in a Christmas tree design and is adorned with pom poms resembling Christmas tree lights. This is a turtleneck cut in a pullover style and contains a functional leash hole in the back so you won't have to take the sweater off to go for a walk around the block.
A classic Scandi-style Christmas sweater
If a traditional ski sweater is more your dog's thing, this knit pullover could be for you! This red and white sweater is designed with snowflakes and reindeer, and is made of acrylic fiber so it's stretchy, soft, and machine-washable (just be sure to dry it flat.) It's sold in seven sizes, so small dogs from three pounds to large dogs up to 75 pounds can wear it with ease. This sweater comes with a leash hole in the back, and a square cut along the belly for easy bathroom breaks.
For the holiday pooch with attitude
For a cute dog sweater with a little bit of a humorous edge, this gingerbread man "Bite Me" sweater offers the best of both worlds with a sweet cookie pun. It's sold in seven sizes, with an extra-small size suitable for pets who weigh between three and seven pounds, making this an ideal sweater for toy breeds or even a cat. This turtleneck sweater design is a pullover made of acrylic knit, which offers a small amount of stretch that bounces back for long-term use that's sure to last over the years. It is a machine-washable fabric that can be tumbled dry on a low setting.
A festive yet casual hoodie
There are sweater dogs, and there are hoodie dogs, and for the latter, they can still get in on the Christmas sweater spirit with this festive hooded piece. Sold in an impressive ten sizes ranging from extra-small to 6XL, this graphic design hoodie lets everyone know that your furry friend was "Too cute for the naughty list." You have 14 colors to choose from when shopping for this hoodie, and the shop offers a helpful size chart on their page to ensure that your doggie Xmas clothes arrive in a perfect fit. Because this hoodie is made of a poly/cotton blend, this item should be hand-washed and laid out to dry for the best wear. It comes with a leash hole in the back so there won't be any chilly dogs outside this winter, and the sleeves are stitched for a snug fit that won't hang.
This item may be a stretch when it comes to Christmas sweaters, but when we think about functional pet clothes for our canine companions during the cold winter months, a onesie is the best fit for some short-haired friends, like chihuahuas, or bully breeds. This onesie is sold in five sizes, from extra-small to extra-large, and makes perfect puppy clothing in addition to a Christmas outfit. These dog pajamas are made with 95% cotton and a small amount of lycra to give them a little stretch for easy accessibility when putting them on or taking them off. Created with a cute snowman design, this onesie has stitched arms for a snug fit, as well as a cutout around the belly for bathroom breaks, but does not contain a leash hole.
A giftable, handknit sweater
Maybe red, white, and green flashy designs aren't how you prefer to recognize Christmas. In that case, this shop offers a number of more muted sweaters in various grey tones with the option to personalize them with your pet's name. Available in light gray, dark gray, and snowflake, you can choose from 12 thread colors to personalize it, all of which are colored using plant and fruit dyes. These sweaters are hand-knit using fairly traded, non-allergenic wool, including warm alpaca fiber, which is the material used in the snowflake sweater. Because of the materials used, these sweaters should be hand-washed in cold water and laid flat to dry.
An affordable holiday fit
For a cute and festive Christmas sweater that won't break the bank, this reindeer design pullover with pom poms is for you. This option is best for dogs on the smaller size as the sizes range from extra-extra-small to large, so it's even suitable for cats. This sweater comes with a leash hole to make wearing it outdoors functional and easy and is designed with a turtleneck cut with reinforced arm holes for added durability. To keep this sweater clean, flip it inside out and handwash it in cold water, then lay it flat to dry.
For fans of "National Lampoon's Christmas Vacation"
This is an ugly Christmas sweater perfect for "Vacation" fans thanks to the "Griswold Family Christmas" design that's stitched on the back of it. Made of red and white acrylic knit material, this sweater comes with a leash hole on the top and wide armholes for comfortable movement while walking and playing. It's machine-washable but should be air-dried to prevent shrinking. The sweater comes in five sizes, and runs long down the length of the back for full coverage and added warmth on chilly days.
Plaid perfection in multiple sizes
If you're looking to celebrate the holiday season without outwardly proclaiming "Merry Christmas!" on your pet's clothing, a simple red and green plaid sweater reminiscent of wrapping paper could do the trick. Sold in five sizes, this soft acrylic jacquard knit sweater is designed with a high collar and elastic arm holes to keep body heat close on those cold winter walks. It's fitted with a small hole in the back for hooking a leash onto a collar or harness and is windproof for added comfort. While you can wash this sweater in your washing machine, the company recommends hand-washing it most of the time for the best fit and longevity.
On the other hand, if you're looking for a piece of pet clothing that's unmistakably Christmas-themed, there's no better way to do that than with a jumper fit for Chris Cringle himself. This Santa suit jumper is sold in five sizes and comes with a hood and fluffy trim around the arms, neck, and head. It's made of 100% acrylic material, so you know it's soft, durable, and warm. In addition to the standard extra-small through extra-large sizes offered, this shop also caters to dogs with a little added length in their bodies and has pieces in Dachshund and Lurcher sizes as well.
A sweater all tied up with a bow
Finally, for a Christmas sweater in non-traditional colors, this knit sweater comes with classic Christmas trees designed in pastel pinks, yellows, and blues, in addition to the usual red and green. The base of the sweater is light gray with red trim, and it's dressed with a bow adorned with pom poms for a fun added detail. It's sold in six sizes, comes in an easy on/easy off pullover design, and should be hand-washed and air-dried for the best fit over time. While this sweater is built to keep pups warm outside, it doesn't come with a leash slot, so is best for backyard runners or dogs who wear neck collars that the sweater won't cover.