Suction cup tug-of-war toys for dogs are all the rage on TikTok (click here for proof). They're a fun way to encourage your dog to play more independently and can keep them entertained when you're too busy to play. Suction cup dog toys are also great to have on hand when it's too cold or wet to play outside. Or, you can use them as part of your training routine to create a positive association with bath time or grooming.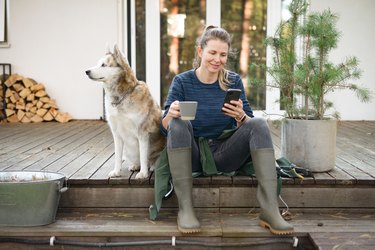 What to consider when purchasing a suction cup dog toy
‌Size:‌ When selecting a suction cup toy for your dog, make sure that it's an appropriate size. Most of the models on this list have a heavy-duty suction cup at one end that can be stuck to the floor or wall, and a rope attached to a toy that your dog can grip between their teeth. Some are made for small dogs, while others are designed for large dogs. For the toy to work properly, it's important that the suction cup is strong enough to challenge your dog and that the gripper at the end is the proper size.
‌Supervision:‌ Keep an eye on your pup while they're playing with the suction cup toy to ensure they don't grow frustrated or bored with it. Owners of large dogs may want to opt for a toy with two suction cups to make it more challenging. If the suction cup disconnects, just reattach it before letting your dog play again. Tip: Choose a smooth, flat surface for the suction cup to stick to, and clean the area with a bit of dish soap and warm water before you begin.
‌Introductions:‌ Some dogs will take to playing with these suction cup toys straight away while other dogs will need a bit of help to figure out how they work. To get your dog used to playing with their new toy, start with some collaborative play. Show your dog how to use the suction cup toy by holding onto the suction cup end and letting them pull on the ball or gripper. Once they've gotten the hang of it, you can affix the suction cup to the floor or wall. Some dogs will lose interest in playing tug on their own, but others will be happy to entertain themselves with these types of toys.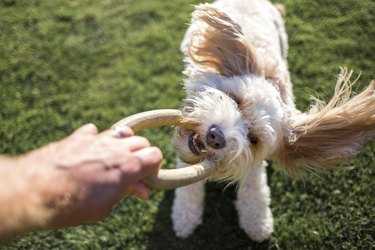 1. Joyhound Game On Suction Cup Tug Dog Toy
For the dog who loves to tug, this interactive suction cup toy features an adjustable knotted rope and a curved, textured gripper. The suction cup can be adhered to a hard floor surface to provide resistance for your dog to tug against. The toy is 14 inches long and suitable for dogs of all sizes. It's not recommended for tough chewers as the rubber can be chewed into small pieces.
2. Carllg Suction Cup Toothbrush Interactive Toy
This suction cup toy gently cleans your dog's teeth as they gnaw on it. You can even smear some dog-safe toothpaste on it to freshen their breath. Shaped like a corncob (it has the juice!), this toy is ideal for puppies who are teething and dogs who enjoy chewing. It's best for small- and medium-sized breeds and has a suction cup that can stick to most flat surfaces. The chew toy also has a built-in squeaker, turning it into a multifunctional chew, tug, and squeaky toy that encourages dogs to stay engaged in play.
3. BKVESHI Tug of War Dog Toy
This suction cup toy is made from food-grade thermoplastic rubber (TPR). It's intended for dogs weighing under 40 pounds and provides these small- and medium-sized dogs with options for playing tug games on their own. The toy has an adjustable rope attached to a suction cup at one end and a ball at the other. As an added bonus, the ball is textured, so it can help remove plaque and tartar buildup while your dog bites, chews, and plays. This toy is available in blue or red.
4. bobosogo Interactive Tug of War Toy
The issue with suction cup dog toys is that many of them don't adhere well to the floor. This manufacturer solves that problem by including a floor sticker that creates a stronger suction. An adjustable rope connects the powerful suction cup to a multipurpose toy. The spiky ball squeaks and can be filled with your dog's kibble or training-sized treats and has braided rope ends. Filling the tug toy with kibble or treats can help keep your dog interested in solo play for longer. This suction cup dog toy is suitable for small, medium, and large breeds, but the rope pieces won't stand up to heavy chewers.
5. Redyuss Treat-Dispensing Suction Cup Dog Toy
This dual-suction toy provides more resistance for strong dogs. It's made of durable TPR material and adheres to most flat surfaces. If the suction cups aren't sticking well, run them under warm water for a while, dry them with a towel, and then try again. Heat makes the suction cups more flexible and allows them to get a firmer grip. This toy is intended for dogs of all sizes but isn't recommended for aggressive chewers. The textured ball at the end of the rope can be filled with treats or kibble and has a built-in bell to pique your dog's interest.
6. Deepwonder Suction Cup Dog Toy, 1-Count
Available in multiple colors, this affordable suction cup toy is made with food-grade TPR material. The toy is easy to clean and fun for dogs to play with. The football-shaped chewing end is textured to help clean your dog's teeth as they gnaw on it. It can be filled with small treats or kibble, or even sticky substances like dog-safe peanut butter (just be sure to hand-wash it after use). Choose from blue, pink, or green.
7. Petbobi Suction Cup Dog Toy
There are three different versions of this toy to choose from, but thankfully, they're all priced the same. Pet parents can opt for a bone-shaped, rugby ball-shaped, or spiky, oval-shaped toy at the end of the cable. All three versions are textured to help clean your dog's teeth and freshen their breath. Pictured here is the oval-shaped toy, which can be filled with small treats or kibble for longer-lasting play. The manufacturer claims the suction cup can withstand up to 120 pounds of pulling force when sealed properly and recommends cleaning both the suction cup and floor before use.