In the end-of-year gift-giving scramble, it can be easy to overlook our furry friends. Thankfully, there are plenty of last-minute gift ideas on Amazon that won't break the bank and that most pets and pet parents will use throughout the following year. Many of the items on this list have gone viral on TikTok—hashtagged as Amazon dog and cat must-haves—and come complete with glowing recommendations. Whether you're in need of a day-to-day item like a litter box or a water dish, or you're just looking to offer your companion something new and fun to play with, this list has several great options to choose from, all of which you can pick up for around $50 or less.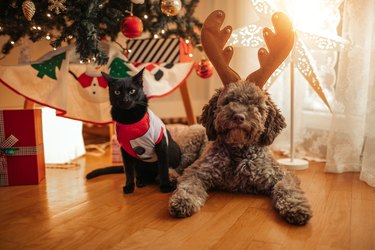 1. Veken Automatic Pet Fountain
Great for use with cats and dogs, this pet fountain provides fresh, filtered water to pets day and night. Ultra-quiet at just 40 decibels, this triple-filtered fountain helps water taste great by removing chlorine and heavy metals using non-woven fabric, activated carbon, and ion exchange resin. It's low-consumption so it lasts for up to two years and holds up to 84 ounces of water at a time, making it ideal for small or medium-sized pets. Made of durable PP resin, this water fountain is BPA-free and comes with a silicone pad to prevent slipping and dribbling all over the floor.
2. Omega Paw NRA15 Self-Cleaning Litter Box
Most self-cleaning litter boxes cost over $100, but you can remove pet waste without having to scoop for under $30 with this cat box by Omega Paw. Unlike many self-cleaning litter boxes that use a motor to scrape waste from the litter, this box does require some involvement from cat owners to keep it clean—you have to tilt the box, which allows the waste to tumble loose and fall into a holding receptacle. This space is fitted with a pull-out tray that you simply slide out when you're ready to empty it, no scooping is required. The box measures 15.75 inches long, 18.5 inches wide, and 16 inches high, making it the ideal size for most small to medium cats.
3. Diggs Groov Dog Training Aid
If you're looking for a fun way to keep your dog entertained and soothed while they spend time in their crate, this is something a little different than the standard stuffed KONG. Made of food-grade, BPA-free rubber, this toy slips in between the wires of a crate to provide something for your dog to lick or chew on. It's best used with dog-safe peanut butter, although any spreadable treat that's not too runny could work as well. You can also pop this in the freezer to create a frozen delicacy (plain yogurt is a tasty option) that your dog can enjoy on warmer days. This training aid works best with a Diggs Revol crate but does fit most wire crates as well, and it's easy to wash and reuse.
4. Hertzko Self-Cleaning Slicker Brush
Part of providing quality pet care to your favorite companion is implementing a regular grooming schedule, and that's simple to do when you have a pet brush that's easy to use, effective, and a breeze to clean. This versatile brush is suitable for all pet hair types and is sold in five options: original, large dogs with sensitive skin, small dogs with sensitive skin, and large and small brushes with a side button that retracts the bristles and removes hair in seconds. All of the brushes work to detangle matted hair gently and with minimal pulling, and brushes designed for dogs with sensitive skin are ideal when grooming canines with dermatitis, folliculitis, dandruff, impetigo, and other skin conditions. It's also built with a nonslip handle for easy use, and all brushes come with a satisfaction guarantee.
5. SmartCat Ultimate Scratching Post
For cats, scratching and clawing at the things around them is a natural part of feline life, and providing a designated spot for your cat to claw at can enrich their lives, reduce stress, and keep your furniture intact. This scratching post is no-frills, sturdy, and gets the job done for less than $40. It measures 32 inches tall, so most cats can enjoy a nice stretch while scratching. The post is wrapped in sisal fiber that's long-lasting and feels great on the paws, and it screws onto a durable base that's heavy enough to reduce wobbling and tipping while it's in use.
If you're looking to add something a little different to your dog's daily routine, this remote-controlled interactive treat dispenser may be for you. The toy dispenses treats or dry food after the button is pressed, either by paw, nose, or however your pet sees fit to press it. The battery-operated button comes with suction cups so you can stick it to the wall, window, or another flat surface away from the treat dispenser, creating a new activity for your dog to enjoy. It also comes with a rubber holder to keep it from slipping if you wish to keep it on the floor, and a peg to stick it on if you feel like taking the fun outside and propping it up in your yard. The button even makes a sound each time it's pressed, which is not only fun for dogs but can also work as a training or memory tool. This interactive toy is a great way to keep your dog mentally engaged, and also offers a bit of added exercise for your canine companion on those days when you just don't have the energy to play right this minute.
7. Casfuy Dog Nail Grinder
If you have a dog who hates having their nails trimmed, this grooming tool could be a game-changer for both of you. Available in six colors, this tool is actually a nail grinder, which uses a diamond drum bit to file nails down quickly, easily, and quietly. It comes with two speed settings, low and high, and three port settings, so you can size it to fit small, medium, or large nails. This is a cordless tool with a built-in battery that recharges, and a three-hour charge gives it about two hours of life. The small but effective motor keeps it quiet and low vibrating, and because it's lightweight, you can comfortably switch hands to use it with minimal awkwardness.
8. Neater Scooper and 60-Count Refill Bag Bundle
Every cat parent has their own litter box cleaning routine, and most people would love to eliminate the need to scoop cat poop and fit it into a bag, bulky handle and all. This helpful little gadget makes scooping a one-handed move thanks to the attached waste bin on the end of the scooper. You can also line the bin with disposable bags if you wish, and this item comes with a 60-count of plastic baggies for keeping messes fully contained. If you don't opt to line it with a bag, all you have to do is pop off the scooper, and toss the waste from the bin into the trash.
9. DogBuddy Pooper Scooper
For dogs, you can scoop waste without using your hands at all, or at least, you'll have hard plastic coming between that poop bag and your digits. Sold in two sizes and available in four colors, this scooper is designed with a claw handle for picking up messes, an expandable receptacle for holding waste, and a built-in bag dispenser. When you're ready to use it, just cover the whole thing with a poop bag, use the claws to open the receptacle, and then pick up your mess. The waste and bag get drawn up into the holder where you can then tie it shut and use the claws to release the entire sealed-off bag into the nearest trash can.
10. OurPets IQ Treat Ball
Finally, for a low-cost toy that can also work as a slow feeder, this treat-dispensing ball makes a great last-minute gift for dog and cat owners alike. It's sold in three-inch and four-inch sizes and can help turn meal or snack times into a mentally and physically engaging activity as it encourages your pet to roll the ball in order to shell out bites of food. This ball toy is also ideal for dogs who tend to eat too quickly at breakfast or dinner and can work as an inexpensive slow feeder that helps pets pace themselves at mealtimes. The ball is made of durable, nontoxic plastic material, and twits apart for easy filling and cleaning.