If you have a cat-loving friend, relative, or co-worker in your life, consider yourself lucky, especially around the holidays. Shopping for that feline-loving someone can be a fairly easy task for two reasons—you already know one of their interests, and gifts for cat lovers and their cats are super easy to come by (not to mention, fun to shop for.) With gift ideas in all shapes, sizes, and price points, shopping for the cat lover in your life is made even easier with this helpful list, which features gifts from major retailers to small self-owned shops on Etsy. If you're not quite sure what to get for the cat lover on your mind, sticking with practical items in feline themes is a good safe bet, like cat socks, a cat calendar, or a fun cat mug.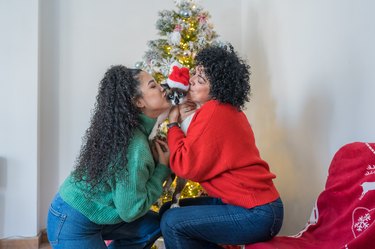 1. Cavertin Women's Novelty Socks With Gift Box
Anyone with a cat knows just how hard it can be to get up off the couch when one has designated your lap as their resting place for the time being. These novelty crew socks let others know that your hands are tied without you having to say a word, thanks to the "I can't get up right now, the cat is on my lap" statement that's knitted into the soles. These machine-washable socks are made of a cotton, nylon, and spandex blend, and are sold in women's sizes 6-12. The grey socks feature red fibers around the toes and heels for a dressy effect, and in addition to the printed message hidden on the bottoms, are printed with cats wearing glasses along the feet and ankles.
2. Frisco Holiday Santa's Workshop Cardboard Cat House
Some cat lovers might appreciate a gift their own feline will use and enjoy more than something for themselves. In that case, this toy house offers a festive way to celebrate the holidays with an item beloved by most cats—a plain old cardboard box. This box isn't plain on the outside, however, and is made to look like Santa's workshop with painted-on candy cane pillars, decorative wreaths and ornaments, and windows that look into a cozy Christmas setting. This cardboard playhouse provides a private spot to rest, as well as a safe space to scratch, and measures 17 inches by 15 inches by 15 inches with a 9-inch by 7-inch opening.
3. ModPotsShop Black Cat Planter
This is one cat you won't need to keep out of your houseplants. Designed by Mod Pots Shop on Etsy, this is ceramic planter is made for housing small plants and measures 2.1 inches high and 3.15 inches in diameter. The glaring black cat featured on the side of it is a permanent appliqué so it should be kept out of direct sunlight (as most plants need anyhow) and hand-washed when needed. The base of this planter is made of bamboo, it comes with a drainage hole for healthy plant-keeping, and you can send it gift-wrapped to the cat and plant lover in your life for only $5 more.
4. "Adult Coloring Books: Creative Cats For Cat Lovers"
If you have a cat lover in your life but don't know all that much about them, a coloring book is an excellent, safe choice to offer that most people will get hours of use out of. This coloring book for adults features 30 intricate cat designs to color with crayons, pastels, markers, and more. Many people find coloring to be stress-relieving and soothing as it's a creative endeavor anyone can do regardless of their artistic skill level.
5. "Cats on Catnip" by Andrew Marttila
Another book option that could be a big hit among the cat appreciator in your life is this photo book filled with cats living their best lives as they indulge in a bit of catnip. Photographed by Andres Martilla, this 128-page hardcover book features dozens of cute and hilarious images of felines rolling, eating, and playing around in the herb, which is always a delight to watch.
6. KnightingaleCrafts bag of 12 mini wooden cats
For a gift that's small in size but filled with endless possibilities, this wooden stackable puzzle is a fun choice to consider. Created by Etsy crafter Knightingale Crafts, these wooden cats are made from hard plywood that's been laser-cut and varnished with Danish oil. The pieces come in a drawstring cotton bag for safekeeping, along with a card containing ideas for using and playing with them. Puzzles can be purchased as a single set or in multi-packs of up to five bags.
7. ZKLiLi Kitty Lamp Night Light
This cute kitty night light is marketed for children, but honestly, just about any home has a room that can benefit from this adorable product. This LED night light is color-changing, made of BPA-free washable silicone, and doesn't get hot to the touch, so it's safe to keep in any room of the house. You can purchase this lamp as battery-operated, rechargeable, or rechargeable with a remote. The colors of this lamp can change either with the remote control, if you opt for that, or can be switched simply by tapping the surface.
8. 5 Star Super Deals Self-Grooming Arch With Catnip Toy
Sometimes, the best gift we can offer our pet parent friends is a bit of a break from their beloved companions, even if just for a moment. With this self-grooming stand, you can offer just that, while simultaneously allowing their cats to scratch, groom, and spread those scent pheromones to their heart's content. This arch measures 14.5 inches tall and rests on a base that's covered in carpet, so cats can use it as a scratch pad as well. Included with this product is a pouch of catnip for sprinkling onto the base, encouraging cats to use it. Additionally, the grooming bristles are removable for easy cleaning.
9. Pinky Up Chloe Ceramic Cat Mug, 12-oz
When you're truly not sure what gift to give, you can never go wrong with a mug. This elegant mug is further proof of that, especially for the cat lover in your life. Made of ceramic material, this mug is finished with gold details including the handle, a set of cat ears, and a cut cat nose right in the middle of it. This 12-ounce mug is best cleaned by hand but is suitable for both hot and cold beverages.
10. Fox Valley Traders Cat Silhouette Fridge Magnets, Set of 6
For a small gift that's sure to be of use to anyone, regardless of their personal style, look no further than these fridge magnets. Shape in sleek cat silhouettes of all black, this set of six magnets is made of durable metal material, making them strong and sticky for keeping papers, photos, and other materials up on your fridge or other surfaces. Each of the magnets measures two inches in height and weighs 2.3 ounces.
11. What Cats Teach Us 2023 Wall Calendar
Our cats teach us so much more than just patience, responsibility, and the value of unconditional love. This 2023 calendar contains a new lesson from our cats each month, from practical advice like getting our omega-3s and making grooming part of our routines, to more light-hearted reminders like the importance of cat naps. Each month features a beautiful color image of a cat on top, along with a monthly grid below for marking important dates and jotting down notes.
12. Pet-Themed Kitchen Towels
For the cat-loving friend with a sense of humor, these kitchen towels could be a big hit. Made by Etsy creator Heart to Hand by Cindy, these towels are available in a whopping 47 funny sayings, as well as 14 color options to print them on. These towels are made of 100 percent cotton, have finished edges, and are machine-washable. These generally ship within a day or two of ordering, and because the sayings range from funny to dark to cute, you're sure to find something for just about anyone.