We're all worthy of upgrading the things in our lives from time to time, and that includes our cats, especially since their care affects your daily routine. Deciding which items to upgrade will depend on what your cat uses the most, or what they're in need of that they may not be getting with their current products. Additionally, upgrades can improve the way we show up for our cats as well and can assist us with things like keeping the litter box clean, making commutes easy and fun, and keeping our furniture clean and in one piece. You don't need to upgrade everything your cat uses at once, especially if the items they currently use still work just fine, but if you're looking to replace a well-worn item or add something new to the routine, this list of next-level products for cats is sure to contain something the both of you can enjoy.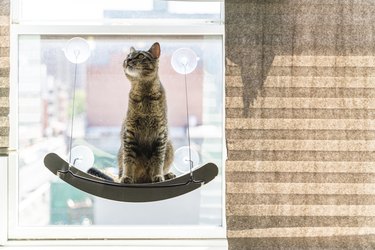 What to Consider When Upgrading Cat Products
‌Enrichment:‌ If you're looking to upgrade your cat's items for them, then considering the things that will enrich their daily lives can help you form a focused search. Indoor cats especially are in need of having their natural needs and habits engaged, and some great ways to go about this include offering them running water, providing places to climb and hide, and giving them things to chase or watch.
‌Your Needs:‌ Upgrading can also mean making your own life as a cat owner a little easier. A quality cat carrier or a self-cleaning litter box can make life more enjoyable for them while simultaneously keeping things easy on yourself. Think about what element of cat care is the most annoying or stressful for you, then consider products that can share some of the burdens, if not eliminate them entirely.
‌Sustainability:‌ For many pet owners, making environmentally conscious choices when purchasing items for their cats is at the top of their list of priorities. This may include shopping for machine-washable items that are convenient to reuse, products made with ethically-sourced natural fibers like wool, renewable materials like plywood, or items from small sellers who won't contribute to excessive waste through overproduction.
‌Durability:‌ This may go hand in hand with sustainability, but looking for durable items that are built to last for years is usually worth the added cost if you can swing it. An item is typically made more durable through the use of quality materials and practical design. This may look like powder-coated wires or weather-proofed materials for outdoor items like cat houses or play spaces, and sisal or manila elements for scratching pads.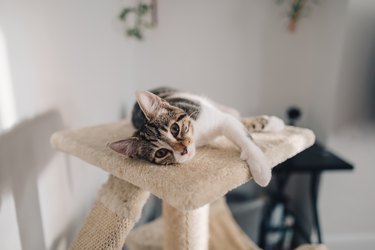 No more dented couch tops—when it comes to enriching activities that cats and cat owners can enjoy, a window perch is tough to beat. Not only does it give felines a place off the ground to lie down in the warm sun, but it can also provide a safe perch for them to climb up on and gaze outside, which can be very stimulating, especially for cats with a high prey drive. This window perch is built to last thanks to its stainless steel cables and 3-inch suction cups that keep it adhered to your window day after day. Constructed with an acrylic frame, it can support up to 40 pounds, so any cat can enjoy it. It also comes with machine-washable flannel pads to lay on, which rest over a durable fabric mat.
Yet another enriching activity that can make your own life easier, this water fountain provides fresh water for felines 24/7. It can hold three liters (100 ounces) of water at a time, which is dispersed via a small pump. The water is triple-filtered through a layer of cotton mesh, and activated carbon, and is then softened using ion exchange resin for a great-tasting drink. There are three flow options that come with the head of this fountain—the most commonly used is the cute daisy design that distributes water in even, gentle streams. This fountain is made of BPA-free materials and disassembles easily for quick cleaning.
The best self-cleaning litter box
Perhaps the most daunting aspect of cat care is the dreaded constant cleaning of the litter box. Staying on top of regular cleaning is essential if you want your cat to use the box, which can pose a problem for people who travel a lot, work long hours, or have mobility issues that made scooping hard. Upgrading to a self-cleaning litter box is a great way to ensure that your cat always has a clean space to use the restroom, and also provides cat parents with an odor-free solution to cleaning the box every day. This litter box offers weeks without scooping, cleaning, or refilling, and when it is time to get rid of the mess, all you need to do is toss the tray and refill it with a clean one. This does require crystal cat litter to work best, which naturally controls odors, and reduces tracking throughout the house.
Whether you're a frequent traveler or your cat makes regular trips to the vet or elsewhere outside of the house, having a quality cat carrier can make life easier for you and your feline friend, and this one won't break the bank. Airline compliant, this carrier is made of water-resistant materials that easily wipe clean by hand. It's designed with mesh windows on the sides that zip up, as well as a mesh, zipped top for easy loading and unloading, and comfortable airflow and ventilation. Your cat can also enjoy the included fleece travel bed, and you can benefit from the padded shoulder strap. This carrier comes in two sizes, small and large, and 14 eye-catching colors. The smaller size supports up to 7 pounds and measures 17 inches long, 8 inches wide, and 11.5 inches high. The larger size supports up to 15 pounds and measures 19 inches long, 10 inches wide, and 13 inches high.
The best travel litter box
If you and your cat are frequent travelers with overnight stays, having a litter box is essential, and this travel box is a reusable option that's convenient and easy to clean. It's waterproof and seamless, made with Oxford fabric and PVC to ensure zero leaks. The litter box portion can be lined if you prefer, and the box can be used two ways—you can pull the litter box out completely for your cat to use, then insert it back in the case to minimize odor, or you can unzip the top of the carrier to create a top-entry litter box on the go. This item is built with a handle strong enough to support 30 pounds of cat litter, and measures 17.7 inches long, 11 inches wide, and 11 inches high.
Most cats scratch the things around them, so if you want to protect your furniture, it's advised that you offer them a designated space of their own to destroy. This is a no-frills, standard scratching post that's built to last and to stand up to frequent use by even the most active feline. Available in beige and grey, this post is wrapped in sisal fiber that's inviting to cats and strong under the pressure of their claws and teeth. Because it's free-standing, the post is held in place with a 16-by-16-inch base that's made of engineered wood. The whole post measures 32 inches high, and assembles easily with just two screws.
In the wild, cats can often be seen climbing on, hiding in, pouncing onto, and scratching the areas around them. If you have an indoor cat, you can offer them these same sensations with a cat tree like this one. Measuring 53 inches high and comprised of five levels, this tree is made of high-quality particle board that won't tip, and is wrapped in soft fabric that's inviting to jump or rest on. The posts are wrapped in sisal material so your cats can scratch them without causing damage, and the tree contains two private condos for your cats to hide or rest in whenever they need some alone time. It comes with two built-in pompoms on ropes for your feline friend to play with, as well as three perches situated at the top.
Cats already spend hours grooming themselves, and that's not counting the amount of time their owners spend brushing on them, or how often they rub up against us or other surfaces around the house. If your cat loves the sensation of being brushed but you don't always have the time to meet that need for them, you can allow them to groom themselves with a wall-mounted self-grooming tool like this one. It comes with adhesive strips to keep it fitted to wall corners, and is made of durable, BPA-free plastic materials that are safe for your cat to enjoy, and easy to clean. If your cat needs a little enticing to use this product, it also comes with a built-in catnip compartment to get them going.
The best waterproof sofa protector
Many cats, especially our senior friends, experience incontinence at some point in their lives, which can be a hassle for pet parents who are constantly spraying and cleaning those messes. Rather than continue to purchase cleaning products that may only cover up odors, or don't really work to disinfect, you might consider providing a waterproof blanket for your cat to rest on instead of your couch or bedding. Available in four sizes, this reversible blanket is comprised of three layers—a stain and water-resistant quilted top, a waterproof core, and a non-skid bottom that will keep the blanket on the surface you've rested it on. This blanket is machine-washable to provide long-term use that won't contribute to waste like disposable pads.
Finally, what's the point of upgrading the items around your cat if you're not upgrading the quality of their health? Fish oil in a pump bottle, like this one, provides a super easy way to add omega-3 fatty acids to their diet while they enjoy their usual food. This fish oil is made with wild-caught Alaskan salmon to provide EPA and DHA, which are excellent for keeping the skin, hair, eyes, and hearts healthy, as well as reducing inflammation, possibly alleviating symptoms associated with arthritis. There are no artificial flavors, preservatives, or synthetic colors in this oil, and just one pump on your cat's food can help them look and feel their best.