Our cats deserve the best we have to offer, and loyal and affectionate companions that they are, most are grateful for what they're given (and when they're not, that's just part of their charm). Sometimes, offering a little extra to our feline friends is a fun way to show them how much we appreciate them, and elevate our own styles, both in the home and on our persons. Whether you're looking for a once-in-a-lifetime splurge, or you always stay on the high end of price points (or you're just looking to browse in amazement), there's sure to be something on this list for you and your fancy feline companion to enjoy. From $2,000 pet carriers to $700 litter boxes, we've rounded up a list of some ridiculously pricey items for cats available for purchase today.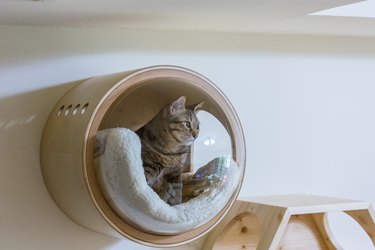 1. Dior Hit the Road Pet Carrier Bag
If you're looking to carry around your cat in high-end style, this leather bag featuring the iconic beige and black jacquard Dior Oblique motif is for you. Crafted with smooth calfskin, the carrier is accented with ruthenium-finish brass to offer added details that look and feel luxe and lavish. It comes with a removable shoulder strap to customize to your convenience, as well as two carrier handles for carting your favorite feline around. In addition to being a stylish carrier fit for any outing, this bag is also a practical travel accessory that's lightweight and sized to accommodate airline specs, measuring 15.5 inches long, 8 inches wide, and 10 inches high. It has a two-way zip-top closure, a front flap pocket, and back straps that allow it to slide onto a telescoping suitcase handle. There's a perforated side panel for breathability and an interior leash for added security.
2. Gucci Hexagon GG Pet Bowl
Why drink from a bowl made of plain old stainless steel when you can sip from a vessel designed by the House of Gucci? This pet bowl can be used for food or water and is made in Italy with ceramic material. The dish itself is wrapped in the iconic Gucci logo using beige and ebony supreme canvas. The top and bottom of this bowl are fitted with wood trim that's accessorized with gold studs for an added element that really makes the unique hexagon shape pop. This dish measures 7 inches in diameter and about 2.5 inches high, making it the perfect height for cats to reach, and the ideal width for dipping into without bending or scrunching their whiskers.
3. Prada Crystal-Studded Satin Pet Collar
For a collar that lets everyone know who rules the house, this studded piece by Prada is fit for a king or queen (AKA, the domestic housecat.) Made with satin fabric, this scarf-style collar is fitted with artificial crystals all around for a sparkling neckpiece that's eye-catching and special. The back of the collar is constructed with serious hardware as well, including an adjustable strap, and a silver snap buckle that's imprinted with the Prada name. Finally, the bottom tip of the collar's front contains the enameled triangle Prada logo, so no one will mistake that your feline only wears the real deal.
4. K9 Kennel Store 15-Piece Urban Forest
This may not technically be a designer item, but it's certainly a marvel of design that any cat would love to call their own. It's a 15-piece welded wire set that comes with three catios, as well as multiple shelves, tunnels, and ramps for your cat to climb and explore without leaving the safety of an enclosure. Each piece is powder-coated for long-lasting use outdoors, and the whole thing can be set up with just a few standard tools in less time than you'd assume by looking at it. Because this item is so customizable, you can start with a smaller enclosure and add onto it in increments later on, and can opt to include accessories like waterproof canvas covers to keep your feline protected from the elements, and adjustable stairs in lieu of ramps.
We spend about 1/3 of our day sleeping, and our cats are snoozing even more than that. In the same respect that we make quality bedding a priority for ourselves, we can extend that care to our cats with a luxury bed from Tod's, if that's your style. Made in Italy, this bed's outer frame is crafted with leather and fitted with metal feet that offers it a tiny bit of lift and separation from the ground. The sides contain leather strap handles, and the entire thing is wrapped in exposed stitching for a clean look. The bed itself is made of a water-repellent canvas and linen blended material that's stamped with the Tod's logo.
6. tuft and paw Grove Cat Tower
In their natural environment, cats love to be high up in the hair for the optimum vantage point it offers them, and the easy access to escape in the face of danger. Offering your cat a cat tower like this moderately priced one, at least according to this list, enables them to meet that primal need while adding a stylish element to your home that's designed to complement just about any interior. This tower is sold in two sizes: small, which measures 24 inches high, or tall, measuring 41 inches high. It's made of premium plywood with an ash veneer, and is built in a round shape with an airy design that won't look bulky or block light. It's also fitted with two resting areas on the bottom and the top, with the upper shelf covered in faux shearling to create a soft surface. The hollow lower level makes the perfect space for hiding out, or for cat parents to store their feline's items, like toys, grooming essentials, or a small bed.
7. CatastrophiCreations Juggernaut Cat Condo
People love cat trees for the exercise and enrichment that they provide for indoor cats, but one issue many people have with them is that they're pretty large and tend to stand out in a room. This tree, which has essentially been deconstructed, mounts on your wall, so no it won't take up any square footage in your living room, and may even add an artistic element thanks to its modern design. Available in six colors, this set includes a cat bridge, escape hatches, floating sisal posts, lounges, and a sisal pole, which you can upgrade with the leaf shelves that are pictured above. There are even two planters (plants are not included) for housing artificial or nontoxic houseplants. It's made of sustainable bamboo, steel, cotton canvas, twine, paracord, and plastic. When fully assembled, the Juggernaut measures 89 inches long, 11 inches deep, and 63 inches high and can hold 62 pounds per hammock or 85 pounds per shelf. It's made to mount along six studs that are spaced 16 inches apart.
Many people prefer self-cleaning litter boxes to the standard type that you have to scoop yourself, and this automatic box is the gold standard. Called the Litter Robot, this self-cleaning litter box is WiFi-enabled to schedule cleanings and track usage, which can help to alert you to potential physical issues your cat may be having, like UTIs or kidney malfunction. This box doesn't require special litter, although certain types of litter, like newspaper-based or wood pellets, are not compatible with it. There's no weight or size limit to this box, and the front-facing opening measures 15.75 inches across, so it's easy for most cats to slip in and out of. Not only does this litter robot eliminate waste for you, but it also controls odors thanks to a carbon filter and a sealed waste door.
9. Pets So Good Oshu Pet House
Everyone loves to get away from time to time, and our cats are no different—felines value their privacy, and appreciate having a quiet space to call their own that they can retreat to when they're tired, stressed, or just looking to get away from the commotion of their environment. This cat house is made with a steel exterior that's designed with cutout details along the sides and corners to let a little light in, and that allows you to peek in at your pet without having to disturb them while they rest. Included with it is a microfiber and polyester hand-washable pillow that helps keep cats cozy and warm when it's cold out, and cooler when it's hot outside. It measures 17.7 inches wide, 17.7 inches deep, and 18.3 inches high and is built to support most adult cats, although cats weighing 7 pounds or less are the ideal size for this structure.
10. Versace Medusa Goldtone & Faux Leather Dog Leash
If your feline friend is an outdoor type of guy or girl, having a proper leash like this one by Versace is essential. This leash is made of 100% HSS fabric on the outer side, and 100% calf leather on the inside to create a durable lead that not only holds up over time but also feels luxurious and looks great. Available in solid black, this leash is also fitted with the classic Versace medusa gold studs along the length of it, which measures 100 centimeters (approximately 3.25 feet), and is topped off with a trigger snap hook that matches the studs.