Does anyone truly deserve to indulge in over-the-top expensive designer jewelry, clothing, and housewares? The answer is yes, and that someone is your dog. Whether the pricey items on this list are within your usual budget, or they might be a once-in-a-lifetime splurge, there's sure to be something on this list any dog would be happy to receive, and any dog owner would proudly keep around their home. From calfskin leashes to $2,000 sofa beds, we've rounded up some of the most insanely expensive products designed just for dogs that are both fashionable and functional.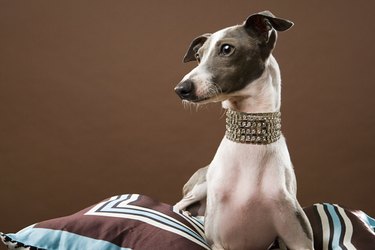 What to consider when purchasing luxury items for your dog
‌Practicality:‌ When shopping for designer items that your canine could actually use and not just wear, you'll want to ask yourself if this is something that's something that will be functional in their day-to-day life. This also goes for items you'll need to use in order to interact with your dog, like leashes, collars, sweaters, and outerwear. Then again, if you're just looking for something cute and expensive to dress your dog in for fun, the sky's the limit.
‌Quality:‌ High-end items are made with quality materials—in addition to the label, that's what you're paying for, superior materials made by artisans who know their craft. However, while calfskin leather will hold up over time, and feels great in your hands, you should consider how well the item is constructed to work with and support your particular canine companion, their needs, and their lifestyle. Well-constructed products for dogs can include reinforced stitching, water-resistant materials, and quality hardware, like buckles and rings.
‌Comfort:‌ We've all sacrificed comfort for style at least once in our lives, but our furry friends may not see the benefit in compromising their ease for the look of crystals or studs. Be sure to keep in mind how and when your dog will be wearing certain items when shopping, and never try to fit your dog in something that's not the right size for them.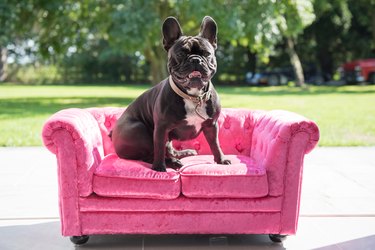 1. Versace Medusa Embellished Dog Raincoat
If there's one thing that most dogs absolutely dread doing, it's having to use the bathroom outside in the rain. This raincoat by Versace allows them to stay dry, warm, and super stylish thanks to its 100% polyester outer layer, and soft, 100% cotton inner layer. The coat is available in six sizes, including XXXL, and fits around canines thanks to three straps—one wide velcro-lined strap that keeps the coat snug around the chest, and two smaller adjustable straps in the back that fit around your dog's legs to keep everything in place. Because of the natural fibers used in this item, it should be hand-washed and laid flat to dry, which will also keep the stone Medusa embellishment on the back in great shape over time.
2. Prada Crystal-Studded Satin Dog Harness
If you're looking for a dog harness that's as functional as it is fashionable, this Prada piece with crystals may be for you. The fabric harness itself is reinforced with adjustable nylon straps that snap together with durable metal buckles imprinted with the Prada name. Each strap is fitted with durable D-rings that join together in the back to clasp a leash for a controlled walk that's safe and secure. Now for the fun part—the crystals. This harness is absolutely covered in synthetic gold crystals that complement the shiny cream color of the material underneath, and the neck and arms are cuffed in black fabric for a clean look that's a little bit edgy. Finally, like all Prada items, it is topped off with a gold-colored metal triangle logo that sits on the chest.
Now for a more impractical purchase...this diamond-looking dog necklace that's made purely for aesthetic fun. This is made with a clip closure the same as a necklace designed for a person to wear, so it's definitely not a leash alternative, but it does offer a pop of metal and shine for canines who just need to look a little luxe once in a while. The brass metal material is covered in a palladium finish for shine, and the main attraction of the necklace is the white crystals fitted throughout. This piece is made in Italy, and it includes a metal dog tag stamped with the Fendi name (which would work out really well for any dogs who already happen to be named Fendi).
4. Gucci Pet Herbarium Print Bowl
Providing fresh water and quality food for our dogs is an essential element of pet care, and what better to offer those treats in than a printed bowl from Gucci? This bowl has three designs you can choose from, including black flowers, red flowers, or the classic red, green, and gold Gucci band. The bowl itself is made of Richard Ginori porcelain, and sits off of the ground thanks to legs in the shape of dog paws, giving it a clawfoot-tub-like look that's indulgent and sophisticated. It measures 3.6 inches tall by 5.9 inches in diameter, and like all House of Gucci items, is made in Italy.
5. Valentino Garavani Rockstud Pet Waste Bag Holder
Taking care of our dog's poop on walks is just part of pet parenting, but if you're looking for a way to make the process as discreet as possible, a poop bag holder can help you out. This bag holder by Valentino is constructed of calfskin leather that's finished in a metallic silver color. A bit of dimension has been added with pyramid studs around the top and bottom, as well as up the strap, which is made of metal that's covered in a palladium finish. Additional hardware on this waste bag holder includes a lobster clasp at the top to hook it to your leash, and a small ring around the opening of the bag dispenser, both of which are also palladium-finished. This product is made in Italy and is stamped with the Valentino name on the underside of the lid.
6. Christian Louboutin LoubiKiki Leather Pet Carrier
For the dog on the go, a quality carrier is a no-brainer, like this one from Christian Louboutin. Made of grainy calf leather, this carrier is wrapped in logo tape straps and complemented with the brand's signature red details, so even if you can't pull off a pair of red bottoms, your dog can thanks to the inner lining of this piece. For portability, this carrier is fitted with dual carrying straps, as well as an adjustable shoulder strap that is removable. It's made with a zipper enclosure at the top, a side-entry door with a mesh wall for breathability and visibility, and a built-in clip for keeping your dog secure while commuting.
7. CELINE Wide Dog Leash in Smooth Calfskin With Studs, Tan
Perhaps the most mutually beneficial high-end pet product you can opt for is a quality leash like this one by Celine, because not only is it functional for your dog, but it also feels great and showcases a bit of your own personal style. Made of smooth calfskin leather, this leash measures 52 inches long and 1 inch thick. It's fashioned with gold-finished studs that are placed along the length of the leash, as well as a gold-finished hook enclosure, and a gold-finished D-ring near the handle that you can use to shorten the leash or attach accessories onto, like a waste bag holder or nightlight. The leash is reinforced with white stitching along the edges, and a loop printed with the Celine name.
8. Haute House Harlow Cuddle Dog Bed
What's a better gift to give someone than the gift of quality sleep? Because our dogs enjoy sleeping possibly even more than we do, offering them a comfortable and beautiful bed can be a gift that keeps on giving for years. This cream-colored bed by Haute House is handcrafted using cotton/rayon outer material and polyester ruching for a quilted look, all fitted over an alder wood frame for long-lasting durability. The arms of this chair-style bed are finished with white jeweled nailhead trim, clear legs to keep it elevated from the floor, and like any great resting space, it comes with two pillows for use or decor. The bed can be used for dogs of most sizes, from small to large, and measures 49 inches wide, 44 inches in diameter, and 18 inches high.
9. Black and Beige Dior Oblique Jacquard Dog Collar
For the dog who values quality while still sporting an understated style, this collar by Dior offers artisan craftsmanship without all of the glitz. Made of jacquard on the outside and lined with calfskin underneath, this is an adjustable collar that's available in three sizes so most dogs can find one that fits them. It's designed with a leather piece to hook the buckle into and is adorned with palladium-finished details including the buckle, and a padlock that's engraved with the "CD" Dior design as an added embellishment.
10. Christian Cowan X Maxbone Jumper
Finally, for pups who could use an extra layer when the temps drop, this fuzzy sweater by Maxbone is a great option to consider. Functional, stylish, and well-crafted, this acrylic sweater is fitted with Marabou feathers to give it an opulent look. It's available in light blue, hot pink, lavender, and mint, and is sold in sizes small through extra-extra-large. The neck and legs are a bit pinched to offer a tight fit and a clean, finished look, and because of the delicate materials used in constructing it, this sweater should be hand-washed for the best wear.