If you are breeding a dog or have fostered or rescued a pregnant dog, there are a lot of supplies you'll need to have on hand for managing the birth. Being prepared with everything you, the momma dog, and the newborn puppies are going to need can help make the birthing process as smooth as possible. Gathering all the supplies you'll need beforehand can help make sure that the puppies are safely delivered and given the best possible start in life.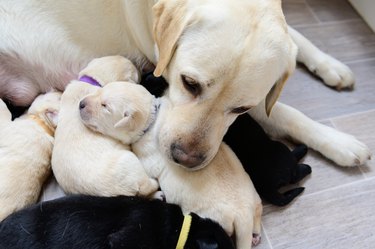 What to consider when purchasing whelping kit must-haves
‌Support:‌ In addition to having all the right supplies, if you're going to be whelping a litter of puppies make sure that you have a lot of support from experienced people who have bred dogs in the past. Experienced breeders will be able to recognize signs that a female dog is getting close to going into labor, and how to support her with delivering the puppies safely.
‌Veterinary Advice:‌ As your dog gets closer to going into labor, you should be in regular contact with your veterinarian. You and your veterinarian should work together to determine a delivery plan for the puppies. Your vet should talk to you about how to recognize if the mom or any of her puppies are in distress and in need of emergency veterinarian support. (Tip: Be sure to have the address and phone number of a 24-hour emergency animal hospital on hand in case there are any complications.) Your veterinarian will also be able to help you address any feeding issues if they arise.
‌Sanitation:‌ Cleanliness and sanitation are crucial to the safe delivery of newborn puppies, as they're very vulnerable to diseases and infections, which can be spread by dogs and other animals as well as people. Make sure everything the newborn puppies come into contact with has been fully sanitized.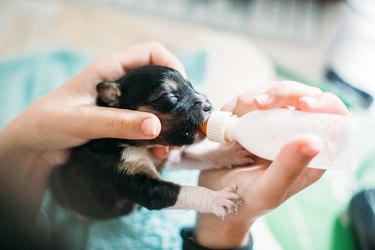 1. KennelSol 1-Step Kennel Cleaner, 1-gal.
Cleanliness is extremely important when you have newborn puppies in the house. This liquid disinfectant can be safely used in all areas of your home and kennel. It's designed to kill pathogens and has germicidal ingredients to clean and deodorize while being safe for use around dogs. It will wipe out viruses, bacteria, and fungi as it leaves behind a fresh wintergreen scent. To use, dilute 2 ounces of KennelSol per gallon of water (or 8 ounces per gallon for targeting canine parvovirus), and apply to a hard, non-porous surface using your cleaning instrument of choice—a microfiber cloth, spray bottle, or mop will work just fine. There's no need to rinse off the solution after it's been applied. This safe yet powerful cleaner kills kennel cough, staph infections, E. coli, as well as canine parvovirus.
2. Gelbesty Microwavable Pet Heating Pad
For their first week or two of life, newborn puppies cannot regulate their own body temperatures. While the mother is a good heat source, you'll need to keep the temperature in the whelping box between 85 and 90 degrees Fahrenheit and provide additional ways for the puppies to stay warm. This microwavable heating pad is made specifically for pets and can stay warm for up to eight hours. It's bite-resistant and filled with nontoxic thermal gel. There's also a machine-washable fleece cover with a pawprint design on it. The heating pad works without batteries or wires, making it a safe option for dogs and young puppies, while also being portable enough to put in any area of your whelping box. It's plate-sized, so it even fits in small microwaves and heats up in about 2.5-4 minutes.
3. Schneider Nitrile Exam Gloves, Latex-Free
With puppies on the way, you'll want to pay special attention to keeping your hands clean while examining mom, assisting with birth, and handling newborn puppies. These blue nitrile exam gloves come in packs of 50, 100, or 1,000. Nitrile gloves are made of synthetic rubber, making them more resistant to punctures and chemicals. They're also powder- and latex-free for those with allergies or sensitivities. These gloves have a snug and comfortable fit thanks to the elastic closures and measure 9.5 inches long. They're designed to conform to the natural shape of your hand as well as your body temperature. It's important to change your gloves every time you examine the mother dog or help deliver a newborn puppy.
4. REDDOUDOU Puppy Whelping Kit
This all-in-one kit has everything you need for whelping puppies. The kit includes 15 brightly colored puppy ID collars made from hook and loop fastener. It also comes with six record-keeping charts with spaces to fill out the information about each puppy's weight at birth, time of birth, bottle feedings, deworming and vaccination schedules, and more. For assisting with birth, the kit comes with 15 cord clasps for clamping umbilical cords, a bulb aspirator to keep throat and nasal passages clear, forceps, and a digital thermometer. If you require a more comprehensive whelping kit, we suggest the Deluxe Pro Whelping Kit 12 for Puppies by Little Heartbeats Whelping on Amazon.
5. Zampa Pets Quality Whelp Round Reusable Dog Pee Pad, 56-in.
Newborn puppies lead to big messes. This large round reusable pee pad measures 56 inches in diameter and is perfect for keeping puppy whelping areas clean and sanitary. The pad has four layers of 100% polyester knitting, which is ultra-absorbent with a waterproof inner layer. The whelping pad has a silica gel bottom to hold the pee pad in place and prevent it from slipping. This whelping pad can be used for absorbance and cleanliness in your whelping box, and under food and water bowls as puppies grow. It comes in multiple sizes and two shapes, round or rectangular, so choose the option that best fits your whelping box.
6. EZWHELP EZCLASSIC Whelping Box for Dogs and Puppies
This molded plastic whelping box is built to be durable yet light enough to be portable. The 18-inch-high walls of the whelping box are connected with plastic posts to keep puppies secure while still allowing breeders easy access. It comes in two colors (white with gray flooring or white with black flooring) and three sizes: 28 by 28 inches, 38 by 38 inches, or 48 by 48 inches. For added safety, it has a built-in puppy protector rail that prevents a mother dog from accidentally rolling over and smothering a puppy. There's also a front panel with a two-piece door to make it easy for breeders to step in and out of the whelping box and hard for adventurous puppies to escape. Made from plastic, the whelping box can be fully wiped clean and disinfected during and after use.
7. Puppy Culture Workbook Bundle- for Breeders Laminated Edition
Help set your litter of puppies up for success with this deluxe comprehensive educational system. This educational bundle includes everything you need to raise a litter of puppies with the Puppy Culture curriculum. The bundle includes a fully laminated 188-page notebook in a three-ring binder format, making it easy to use while you are raising your litter of puppies. The workbook features 11 chapters with charts and worksheets for each puppy, including places for tracking whelping weights, milestone charts, and workshops for Puppy Culture protocols and exposure/training curriculum. The bundle also includes four DVDs containing over five hours of content. The training curriculum includes lessons for early neurological stimulation and aggression prevention, as well as an introduction to potty training. The Puppy Culture curriculum was developed with veterinary behaviorists, breeders, and dog trainers with step-by-step instructions for the first 12 weeks of a puppy's life.
8. Beurer Dog & Cat Scale
Designed for newborn pets and humans, this scale is sensitive enough to capture accurate weights. It can measure up to 44 pounds in pounds, ounces, and kilograms. It has a curved weighing platform, so there are no sharp edges that could harm the puppies. The large LCD display is easy to read and you can set the tare weight for precise measurement. The scale is made from plastic and measures 22 inches long, 12.2 inches wide, and 2 inches high. The two AA batteries required are included.
9. PetAg Esbilac Powder Milk Supplement for Puppies
This milk replacer is similar to a mother's milk and helps newborn puppies to grow strong and healthy. If the mama dog doesn't want to nurse, or you need to supplement feedings, this formula is a solid choice as it contains all the protein, fat, and carbohydrates pups need for their development. It's suitable for puppies up to six weeks old and is easy to digest—crucial for a puppy's sensitive stomach. The formula also contains prebiotics and probiotics for a healthy digestive system, plus essential vitamins and minerals.
10. PetAg Complete Nursing Kit
This complete nursing kit provides the bottles and nipples needed for feeding puppies who don't have the ability to nurse. The kit comes with interchangeable latex-silicone nipples as well as a cleaning brush to keep the nipples and bottles clean. The nipples imitate the mom's teats and mimic the sensation of nursing. The bottles have accuracy measuring marks on the sides to make sure puppies are eating enough. They come without pre-punched holes in the nipples, allowing you to customize the flow from the bottles for what your puppies need to thrive. Choose from a 2-ounce bottle or a 4-ounce bottle.