Some cat lovers appreciate any and all felines, but many are partial to certain breeds, like ragamuffins. Sweet, fluffy, and sturdy, ragamuffin cats are beloved by many, not only because of their good looks, but their charming personalities as well. If you're shopping for a gift for the ragamuffin cat lover in your life, there's plenty out there to choose from, from shirts to prints to fun stickers, all professing their love and loyalty to this specific pedigree.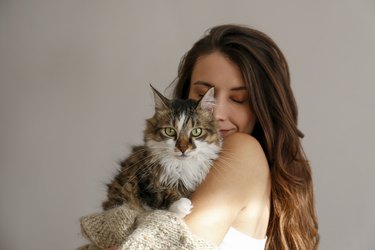 What to consider when purchasing gifts for ragamuffin cat lovers
‌Breed:‌ Ragamuffin cats are a breed of cat that's a cross between a ragdoll and another variety of long-haired cat. Ragamuffins are usually mixed with Persians, Himalayans, or Turkish Angora felines, which is evidenced in their long, fluffy coats.
‌Details:‌ Ragamuffin cats are often confused with ragdoll cats, but there are a few key differences that make each feline distinctive. Ragamuffins are larger than ragdolls and can weigh up to 15-20 pounds. Unlike ragdolls, which only have blue eyes, ragamuffins aren't limited to just one eye color, and their coats also expand to cover a larger variety of colors and patterns than their predecessors. Keeping these little details in mind can come in handy if you're shopping for a diehard ragamuffin lover, who may be able to spot the differences between the two similar-looking cats.
‌Practicality:‌ As with any gift, shopping for cat-themed presents should be done with consideration for the recipient's space, personal style, and potential for practicality. Smaller is usually best if you're shopping for a decorative item that needs to be displayed. Then again, if you're shopping for yourself, just let your heart and your wallet guide you!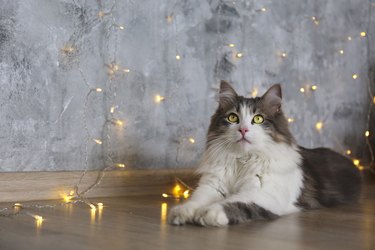 1. Pawlice Ragamuffin Cat Print Hooded Blanket
The ultimate indulgent gift for the ultimate ragamuffin couch potato, this hooded blanket is a nice way to keep warm while expressing your love for ragamuffin felines. Sold in adult and youth sizes, the blanket is made with a suede exterior and is lined with wool-like polyester fabric on the inside to create a cozy lounging experience. The edges are stitched for durability, and the outside of the blanket is green and grey, and features images of a fluffy, grey-and-white ragamuffin feline.
2. Ragamuffin Cat Portrait
For more of a traditional gift to offer yourself or the ragamuffin lover in your life, this portrait print can be personalized with a cat's name for a truly one-of-a-kind work of art. The print is designed with a watercolor illustration of a gray ragamuffin cat. You can personalize the work with a name, as well as other design elements, like paw prints, a floral headband, a floral circle around the cat, among others. These prints range in size and price, and you can even order just the digital file if you wish to print it on your own paper, while mailed prints are created on 300gsm white smooth cardstock.
3. Drymate Dean Russo Ragamuffin Personalized Cat Placemat
A great way to personalize a kitchen while keeping your pet's eating area clean is to add a placemat. For ragamuffin cat lovers, this one not only keeps floors dry and free from spills, but it adds a pop of color as well. This mat is made of waterproof polyester material that's built to absorb water and other spills, and it's machine washable to make cleaning a breeze. Grips have been added to the bottom of the mat to help keep it in place on your floor, and the top of the mat can be personalized to read your cat's name at the top, which is easily done at checkout.
4. Ragamuffin Cat Canvas Bag
For anyone looking to wear their love for ragamuffin cats, this tote bag offers a stylish and functional way to do just that. Available in two sizes, this tote is handmade and crafted with 100% cotton, so it's durable enough to be used as a shopping bag, a laptop carrier, a school bag, or anything you care to carry. This design is simple and clean, and is printed only on one side of the tote.
5. 904 Custom Personalized Double-Sided Mug
Looking for a foolproof gift that just about anyone can use in their life? Look no further than the classic ceramic mug. This one may be a little controversial for this list as the choice closest to a ragamuffin is the ragdoll, but because of the soft lines and muted colors, we don't think most cat lovers will even be able to tell the difference. Better yet, this mug can be personalized with any name, and both the image and text are printed on each side of the cup. This mug is microwave and dishwasher-safe for easy warming and cleaning, and holds up to 11 ounces of liquid.
For something truly creative and unique, this decal features a realistic-looking ragamuffin cat busting through a car's window. This is a 12-inch by 12-inch PVC plastic window decal for cars, and is available in six different styles of ragamuffins of various colors and looks. The decal is water and UV-resistant for long-lasting wear, and is made to stick to any hard surface, including glass, wood, metal, plastic, and paper. It's coated with water glue to ensure that the cat image stays intact, and is safe for indoor or outdoor use, in case you have a spot other than your car's window in mind.
7. Ragamuffin Cat Gray Cotton Ladies Socks
Another excellent gift idea that anyone can use is a sturdy pair of socks, and cat lovers can express their love for felines on their feet with this ragamuffin design. Made of a cotton/nylon/spandex blend, these socks are sized for ladies' shoe sizes 6-8.5. They offer a little bit of stretch and breathability thanks to the materials used, and feature ragamuffin cats of various colors all over them from top to bottom.
8. Personalized Ragamuffin Cat (Black & White) Tea Towel (Set of 2)
To keep your love for ragamuffins in the kitchen, this tea towel set is made with durable polyester material, and hand-printed with the image of your favorite feline. You can choose from eight different background colors, and opt to personalize the image with the name of your choice for no added charge. These towels can be machine washed in cold water and dried with low heat. Because they aren't the most absorbent towels, according to the seller, they can serve as great cloth napkins in addition to decorative towels for the kitchen.
9. Ragamuffin Cat Kids T-Shirt
What better way to show your love for ragamuffin cats than by wearing it on a shirt? These shirts are sized for the kid ragamuffin fans in your life, and are available in two styles—plain T-shirt, and ringer tee. You can place the ragamuffin cat image where you prefer on the search, including a full-size graphic on the front or back, or a small graphic image on the chest. This extra-soft ring-spun cotton shirt can be further personalized with your choice of colors, and can be machine washed in cold water.
If you're looking for a shirt sized to fit the adult ragamuffin lover in your life, this shop carries six adult sizes for you to choose from, as well as six colors. Each shirt is printed with a multicolored graphic image of a ragamuffin silhouette with the word "ragamuffin" behind it, so there's no mistaking which cat is their favorite.