Millennial dog owners: it's your time to shine! Dog toys such as tennis balls or rubber bones may be classic gotos when it comes to your dogs' toy collection. Though sometimes it's nice to have a niche (and adorable) toy to throw in there when the same ole same gets a little boring.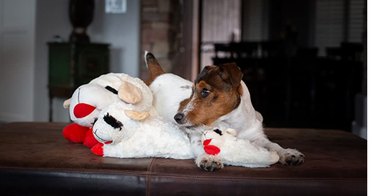 Anyone who grew up in the 80s and 90s was glued to the television when Shari Lewis and "Lamb Chop' Play-Along" was singing and telling stories beside her adorable and sassy puppet Lamb Chop. One award-winning pet products designer and importer is topping every single Amazon "Best Of" list for 2022 with this nostalgic and functional Lamb Chop dog toy.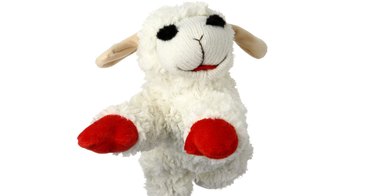 Coming in four different sizes — 6" mini, 10" standard, 13" standing, and 24" jumbo — this popular stuffed Lamb Chop dog toy, has a version that works with any size dog. Plus, it has a soft plush exterior which makes it great for cuddling. This is a plus if you have a more sensitive dog who just wants a little cuddle buddy. However, if your dog is more of the "play all day" type, the stuffed character includes squeakers inside to keep them engaged for tons of playtime fun.
The Lamb Chop stuffed toy is also going viral on TikTok. TikTok user @lulu_themaltese has enough Lamb Chop dog toys to last an entire lifetime. "When your mom says you have enough lamb chop and we need to cut back on the toy budget," the video caption reads. The video shows Lulu surrounded by her Lamb Chop dog toy collection. Lamb Chop may be in her 30s, but it's clear she's just getting started!