Your dog showers you with unconditional love each and every day, so why not spoil them with a gift or two this Valentine's Day? Whether you're looking for a festive bandana or sweater, an interactive new toy, or some tasty treats, we've got you covered with a list of 10 paw-fect pet products for your good boy or girl. You can spend a little ($7) or a lot ($100-plus) on these gifts, but the sentiment will be just as meaningful. With this gift guide for inspiration, it'll be the best Valentine's Day ever for you and your dog.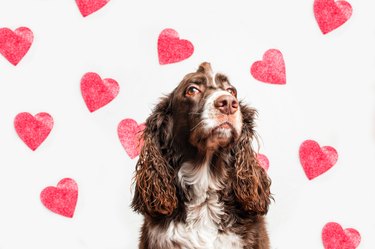 1. Frisco Valentine Love Letters Hide & Seek Puzzle Plush Squeaky Dog Toy
Hide-and-seek puzzles are a guaranteed hit no matter what shape they take, but this Valentine's Day take on the toy is as sweet as it gets. Suitable for small- and medium-sized dog breeds, the puzzle includes two plush letters (from a secret admirer, perhaps?), a plush box of chocolates (fake, of course), and a plush present tied with a bow. All of the plushies contain a squeaker and fit in a soft mailbox that reads 'Valentine Post.'
2. The Foggy Dog Love Language Dog Bandana
The longer you stare at the print on this dog bandana, the funnier it gets. Scrolled across the tattoo-inspired hearts are messages like "Belly Rubs," "Mom," and "Bacon." The bandana comes in three sizes (small, medium, and large), and is part of a limited-edition collaboration between The Foggy Dog and artist Isabel Serna of Black Lamb Studio. It's easy to tie on—no folding is required—and made in the U.S.A. from 100% premium cotton poplin.
3. cyeollo Valentine's Day Dog Sweater
Your dog can continue rocking this two-tone heart sweater long after Valentine's Day. Currently available in four sizes, this turtleneck sweater slips over your pup's head. There's a leash hole on the back so your dog can wear it on walks around the neighborhood, too. The sweater is machine-washable in cold water on a gentle cycle. Be sure to consult the size chart before placing an order for your fur baby.
4. Claudia's Canine Bakery Woof You Baked Dog Treats, 11-oz. Tub
While you can't gift your dog a box of chocolates, you can get them this Valentines-themed box of peanut butter and vanilla flavored treats. The heart-shaped, yogurt-coated cookie in the middle reads "I woof you" in white icing. The 11-ounce tub is resealable for long-lasting enjoyment, and the treats come in a variety of shapes. Claudia's Canine Bakery is based in Arkansas, where the treats are freshly baked with love.
5. Joyhound OMG SURPRISE!™ Valentine's Day Doting Dino Reversible Dog Toy
If destroying plushies is your dog's favorite activity, they'll fall head over heels in love with this trending two-in-one dog toy. The plush dinosaur is meant to be destroyed—once your dog gets past the stuffing, they'll discover a latex squeaky toy in the shape of a pink heart that says "Be Mine." It's a good idea to supervise your dog while they're playing with this toy so they don't break off and ingest any small pieces.
6. Frisco Elevated Curved Dog & Cat Sofa Bed with Removable Cover
If you want to spoil your dog rotten this Valentine's Day, consider an Art Deco-style sofa bed. Sold in blush pink, gray, or olive green, this stylish piece of furniture measures 29.52 inches long, 23.42 inches wide, and 17.71 inches high. It rests on four metal legs in a gold finish and can support up to 150 pounds, meaning your kid and dog can snuggle on it together (aww!). The cushion cover is removable, which makes it easy to spot-clean when it gets dirty. Your pooch will absolutely adore lounging on this modern sofa bed and will look good doing it, too.
7. Mr.Chubbyface Dog Collar With Dog Bow Tie
Candy hearts might not taste very good, but they look sweet as can be on this dog collar with a matching bowtie. Choose from five sizes (extra-small, small, medium, large, and extra-large) and 11 different patterns. The dog collar is made with 100% high-end cotton fabric that's breathable and soft on the skin. The bowtie is attached with an elastic strap, so you can put it on and take it off as you wish. There's a quick-release metal buckle for safety and a coated alloy D-ring for attaching an ID tag.
8. Bocce's Bakery Strawberries Are Red Dog Treats
Some dog treats feature a laundry list of ingredients that are difficult to pronounce. These 'Strawberries Are Red' treats from Bocce's Bakery are made with oat flour, cream cheese, strawberries, beets, honey, and coconut oil—that's it. The crunchy biscuit treats come in a 5-ounce bag and are wheat-free for dogs with allergies.
9. Roverlund Out-of-office Pet Carrier
For a Valentine's Day gift that benefits pet parents and dogs alike, consider this soft-sided pet carrier that's airline-compliant. It features an interior leash, a waterproof bottom, a washable, fleece-lined dog bed, and a flexible rear frame that allows you to adjust the height and length. The shoulder strap even converts into an extra leash that's strong and durable. There are side pockets for storing poop bags, treats, and toys, and the whole thing folds flat when it's not in use. Choose from two sizes (up to 25 pounds) and seven colorways.
10. SundayTails Heart Shaped Dog Tag
Gift your BFF this heart-shaped pet ID tag that's hand-stamped by artists from Louisiana. Opt for a silver or gold heart etched with your dog's name and tiny hearts. For an additional fee, you can have the back of the tag engraved with one or two phone numbers. There are two sizes to choose from, 1-inch or 1.25 inches in diameter, which are suitable for small, medium, and large dogs. You can even select the font you like the best from the four options. Orders are shipped out within one week of the date the order was placed.