We spend so much on our pets, from keeping them fed, clothed, and sheltered, to healthy, trained, and right beside us on the road. This is all just part of pet care, and most pet parents don't think twice about it if it means having a healthy best friend. Sometimes, we might want to splurge a little on ourselves while still honoring the bond we share with our companion. If you're looking for a little treat for yourself that honors your pet and allows you to carry your love for them wherever you go, check out these Etsy shops that make pet-inspired jewelry. Any of these items can make a great gift for yourself, a pet parent friend, or someone who just lost their best friend.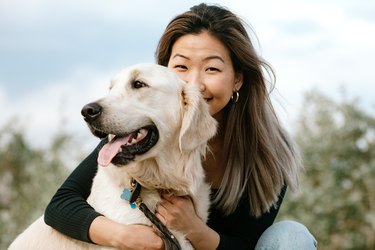 Personalized pet portrait jewelry including rings, necklaces, bracelets, and pendants
Looking for a pet portrait ring with a thick feel? This shop offers signet rings with your pet's face engraved on them and stays true to the exact likeness of your companion by using an actual photo of them to create the image. These rings are offered in three colors—gold, silver, and rose gold, and are sold in U.S. sizes 4-9. If this ring isn't exactly your style, the shop has other pet-inspired jewelry to offer, including necklaces, bracelets, and keychains that are also made with engraved images taken from photos, as well as name-engraved rings and pet ID tags.
Personalized pet necklaces and rings, paw print jewelry, and bone charms
For a shop with tons of pet-inspired jewelry of all styles to choose from, this is one of the best. One of our favorite pieces the shop has to offer is this pet portrait necklace that's made from a photo scan of your pet, so the resemblance is beyond uncanny—it's identical! You can choose from rose gold, gold, and silver for the finish, and can opt to have one or both sides of the pendant engraved (both sides will cost you an extra $10). You can also choose the length of the necklace chain from 14 to 22 inches. If this is a bit too much hardware for you, browse the seller's page for so many more things to choose from, like silhouette pet rings with initials, engraved pet portrait rings and keychains, paw print jewelry, bar stack rings, and more.
If you're looking for a sympathetic gift for a friend, family member, or for yourself after a beloved pet's passing, this shop carries gorgeous cremation urn necklaces to help commemorate the loss in a way that's personal and sweet. This is a teardrop-shaped pendant that's hollow inside and capable of storing a small amount of ashes or fur from your departed pet. It's available in gold, rose gold, silver, and black finishes, and you have the option to engrave one or both sides with whatever you like, be it your pet's name, their birth and death dates, or any special note you wish to carry with you all the time. This shop also sells engraved pet portrait necklaces, rings, and other jewelry, including men's jewelry.
Bandanas, shirts, and jewelry for and inspired by pets
Pet jewelry comes in all styles and price points, so if something a little more playful is better suited to your style, check out this beaded name bracelet with a tiny pawprint charm. It's sold in seven sizes, from toddler to adult extra-large, and you have an impressive 20 stones to choose from for the beading of this bracelet, including tiger's eye, carnelian, green jade, and rose quartz. To personalize it, just add your pet's name in the personalization box while you're ordering and you're all set. This bracelet is handmade, and the included charm is gold-plated. This shop might also be the only one on this round-up that's dedicated entirely to pets! So, if this bracelet doesn't speak to you, check out the seller's other offerings for awesome bandanas, shirts, and other jewelry.
Personalized pet jewelry, rainbow bridge jewelry, and lockets
When it comes to understated pet jewelry, nothing does it better than a silhouette shape. This shop has dozens of dog breed silhouettes to choose from as a way to honor your best pal, along with other pet animal shapes like cats, horses, and bunnies. You can purchase a necklace in gold, rose gold, or silver, and choose from a 16-, 18-, 20-, or 22-inch chain. Once you've chosen your silhouette, you can personalize the piece with your pet's name to create a truly one-of-a-kind piece of jewelry for right around $20. This shop has other silhouette pendants to choose from in styles like paw prints and angel wings, dog ears, face outlines, names, and so much more. Check them out, type "pet" in the search bar, and have a look around at the truly unique things they have to offer.
Sterling silver pet-themed jewelry
Another understated option is the necklace found in this shop, which is thin, lightweight, and pet-themed with a very small charm and some lettering. This is a customizable piece, and buyers can choose from one to seven letters to include on the necklace, and have a few choices of charms, including a paw print and angel wings. There are also five lengths and three finishes available, and each piece is made of recycled materials for a sustainable option. This shop offers additional jewelry options as well, mostly designed with letters and charms, including earrings, anklets, and more.
Pet name, paw print, and cat/dog mom jewelry
Wearing your pet's name wherever you go is a favorite way that many pet parents like to honor that special bond. This necklace features a name and a paw print that's fit for cats and dogs. You have three finishes to choose from when ordering, as well as chain lengths and types, including box chain, cable chain, and Figaro chain styles. This hooks tight with a lobster claw closure, and all pieces are made to order. If this style of necklace isn't for you, or if the paw print is unnecessary, take a look around this shop for more lettered jewelry options.
Rainbow bridge pet sympathy jewelry
Sympathy jewelry is something many pet parents or friends of pet parents have had to give and/or receive, and this shop specializes in honoring a pet's life and passing with thoughtful and tasteful rainbow bridge necklaces. Each necklace can be personalized with the option to engrave on the front, back, or both, and if necklaces aren't for you, you can order this charm as a keychain or bracelet instead. There are so many add-ons to include with this piece, including paw print charms, angel wings, stones, and hearts, so you can create a piece of commemorative jewelry that's as unique as the pet you're honoring.
Pet jewelry based on portraits, name jewelry, keychains, beaded bracelets, and rainbow bridge pieces
For anyone looking for an engraved pet portrait piece with a few more customization options, this shop has you covered. You can choose up to three engraved disc charms with your pet's face engraved on them, and can even choose whether you want it on a necklace chain or not, which is perfect for anyone looking for a portrait piece to add to a keychain, their dog's collar, ornaments, or an existing piece of jewelry they already have and love. These discs are handmade and engraved on stainless steel, and the portrait is taken from a photo for spot-on resemblance. If you're curious about more pet-inspired jewelry from this shop, they make it easy to find—just visit their page and click the "pet lover jewelry" tab on the left to browse.
Custom pet portrait jewelry and cremation jewelry
If you don't need an exact engraving of your pet's face, take a look at this shop, which offers dog jewelry designs that pull from a breed or type template to represent your beloved pet. Choose from any of the dozens of dog breeds, pick a finish, and add your pet's name to create a personalized piece of jewelry that's cute and won't break the bank. If this isn't just right for you, check out the shop for more pet-inspired options, including rainbow bridge commemorative pieces, cremation jewelry, lockets, bracelets, and realistic engravings taken from photos.
Birthstone and crystal paw print jewelry
This shop only has a couple of pet-inspired options, but what they have is certainly different than the rest of the items shown in this article, like this paw print necklace made of stone! You have the choice of yellow gold-plated or silver-plated materials to serve as the base, which is then topped with blue-dyed natural howlite to resemble turquoise, creating a unique paw print design that's as cute as it is stunning. The chain adjusts between 16 and 18 inches, and if blue isn't your color, this shop offers the same necklace in red feldspar.