Whether you're an old-school "Addam's Family" fan, or a loyal devotee of the Netflix series dedicated to America's favorite daughter, Wednesday, you may want to extend your fanhood into your pet parenting style. Finding "Wednesday"-themed dog and cat toys for your furry friends is easier said than done, but there are some creators out there who have your back! To be clear, most of the merch in this list isn't officially licensed and made by the show, but that's OK—who wouldn't love a DIY find more than the star of the show herself? Finding fan art from creators on marketplaces like Etsy is a fun way to get Wednesday-themed items around your house and into your pet's paws, all while supporting small businesses and indie artisans.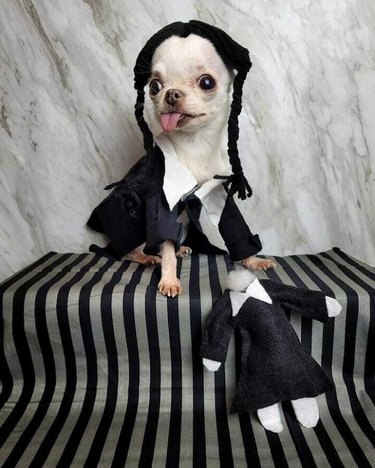 1. PrettyPetSweater Wednesday-Inspired Checkered Cardigan
What better way to honor your favorite show than to style your dog just like the main character? This knitted dog sweater is made in the black and white pattern worn by Wednesday and made to fit your favorite canine pal. It's offered in seven sizes ranging from extra-extra-small to extra-extra-large, and includes exact measurements to ensure a perfect fit. It's made with baby acrylic fabric so it's soft and comfortable to wear around the home or outside on walks and can be hand-washed in warm water and laid to dry to keep the fit. Have more questions? You can reach out to the seller directly on their page and they'll circle back within 24 hours.
2. Frisco Brunch Espresso Machine Hide & Seek Puzzle Plush Squeaky Dog Toy
For a "Wednesday"-inspired dog toy for your pup to enjoy, this espresso machine and coffee cups toy is an interactive plush to keep your dog entertained. Reminiscent of the Weathervane Cafe frequented by the students of Nevermore, this espresso machine toy is perfect for medium- to large-breed dogs and contains toys fitted with a squeaker in each one to stimulate your canine pal. The cups can be stored in the machine for an easy puzzle toy that's built to last and keep dogs occupied when they're alone, or can be used to play hide and seek with their favorite person.
3. Country Brook Petz® Houndstooth Cat Collar
If you're looking for a nice accessory for your feline friend, this black and white cat collar is printed in a stylish houndstooth pattern that goes with the goth Wednesday aesthetic with just a bit of an elevated appeal. It fits an 8-inch to 12-inch neck and is designed with hardware to allow for some adjustments in size for the perfect fit. The collar itself is made of soft polyester material that's lightweight but built to last, and also includes a small silver bell for a cute detail that brings a little jingle every time your cat walks. It's also made in a breakaway design that snaps apart if it gets caught on something, so you know your cat will be safe while they're wearing it.
4. LazyHanks Wednesday Over the Collar Pet Bandana
For a true and unmistakable "Wednesday"-inspired look, this shop offers cloth bandanas fitted with slogans fit for fans of the show. Dog sizes range from extra-small to large, and there is a one-size-fits-all option for cats as well. All bandanas are designed in black and white, and you have three looks to choose from—a school uniform, an "On Wednesday We Wear Black" graphic, and a checker-print "Full of Woe" graphic. Every bandana is made of high-quality cotton for long, durable wear, and is handcrafted for a unique style idea that looks adorable on any pet.
5. BlackMoonCraft27 Wednesday Addams-Inspired Peter Pan Collar
Another accessory option, this Peter Pan collar rests over your cat's existing collar to create an appealing accessory that looks cute, dignified, and screams "Wednesday!" This is a handmade item perfect for felines of all sizes, and can also fit some small dogs as it adjusts between 9 and 10 inches. The Peter Pan detail is sewn onto the collar so it definitely won't slip off, and the collar itself is designed with a snap-release buckle for easy removal, as well as a nonslip buckle to keep the collar from shifting on your cat. This collar is not machine-washable and should only be spot cleaned, and should always be laid out to dry to prevent shrinking.
6. Top Paw® Black & White Striped Cuddler Dog Bed
Looking for a soft, comfortable, and somewhat goth spot for your canine friend to rest their head? This black and white striped dog bed is padded for comfort with soft polyfill material, wrapped in all-white material in the center, and detailed with vertical lines around the outside of it. This is a lightweight cuddler bed with a machine-washable cover, and is sold in two sizes, the largest of which is big enough for a large-breed dog.
7. CatarinArt Wednesday Addams Pet Bowl
Your Wednesday-loving dog or cat can proudly display their fandom with one of these premium raised dining dishes. Designed by an independent artist, the pet bowl features motifs from the show, including Wednesday's typewriter, braids, cello, Thing, and bees—a nod to her friend, Eugene. The bowls come in two sizes: small (18 oz.) and large (32 oz.). They're made of stainless steel and have an anti-slip rubber base ring that can be removed for cleaning. Hand-washing is recommended to preserve the print but you can technically wash it on the top rack of the dishwasher with the rubber ring removed.
8. CelestialJoyPrints Pet Tag Nevermore Ophelia Hall Window
For a "Wednesday"-inspired piece of pet wear that's small, understated, and won't break the bank, consider a pet ID tag, like this one. This tag is 1-inch in diameter and made of solid coated metal for long-lasting wear on any pet. One side of the tag resembles the stained glass window in Wednesday and Enid's dorm room, and you'll have three design choices to choose from for a personalized piece of hardware. The back of the tag can be further personalized with your pet's name, your address, phone number, or anything else to get them home safely. Each tag comes with a metal clip to hook onto your pet's collar, but the collar is not included—this is the tag only.
9. CharliesToyBox Addams Family inspired Catnip Toys
While Wednesday is an obvious favorite, if you have an affinity for any of the other members of the Addams family, you can purchase an adorable catnip toy featuring their likeness. Etsy shop CharliesToyBox sells eight different characters, including Morticia, Gomez, Pugsley, Wednesday, Cousin It, Uncle Fester, Grandma, and Lurch. The handmade toys measure 3-4 inches tall and are crafted with high-quality felt and stuffed with Oregon-grown catnip and fiber fill. The characters are sold individually, and the shop owner takes custom requests if you're in the market for something special.
10. OonaPatternsEtc Wednesday Addams Hat for Cats
This Wednesday wig for cats is technically a hat that rests on your cat's head and is hand-knitted using acrylic yarn. The hat is only sold in one size, but will fit most cats, as well as some very small dogs and other small animals. Even if this item isn't for you, check out the seller's page for tons of cute pics of felines who are clearly very happy to be wearing this item, as well as a handful of other adorable hats for cats. (As with any costume accessory, products like this should only be worn under supervision and for short periods of time.)
11. Wednesday Addams Bow Tie
For something elegant and a little easier to wear than a Wednesday wig, this bow tie made of black and white cotton fabric might be for you. It's designed with black and white stripes at the knot and is fitted with the Nevermore Academy logo on the bottom right corner to help your pet show off their school spirit. This bowtie clips right onto your pet's collar using two elastic straps, and is sold in two sizes so it's perfect for cats and dogs of all sizes.