Are you ready for some fur-ball? While your dog or cat may not be able to stuff their face with appetizers or fully appreciate the return of Rihanna, they can show support for their favorite team with a little help from you. Whether your pet is rooting for the Philadelphia Eagles or the Kansas City Chiefs, we've rounded up the best toys and apparel for four-legged football fans.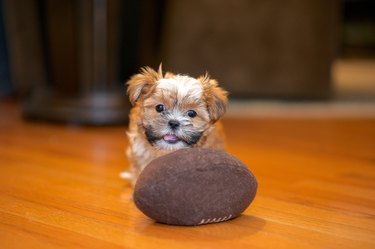 Walk into the Super Bowl party in style with this NFL licensed dog leash featuring logotype ribbon sewn onto heavy-duty nylon webbing. It comes in three sizes: small (4 feet long, ⅜-inch wide), medium (4 feet long, ⅝-inch wide), and large (6 feet long, 1-inch wide). There is a sturdy spring hook for attaching the leash to your dog's harness or collar. Philadelphia Eagles is printed in large, bold lettering and the repeating words are separated by images of the eagle (AKA Swoop).
Even if your cat hides during every televised game, they can still get in on the Eagles excitement with this scratcher toy. There are multiple different ways to play—they can relieve some stress by scratching the field, chase the jingling ball around the track, or swat at the football and feather toy dangling from the removable wand.
Designed for dogs and cats, this 100% soft polyester screen printed hoodie will look great on game day. The back is heather gray with the teal Eagles logo, while the contrasting trim is black with teal stripes along the short sleeves. It's officially licensed and even has an NFL nametag that reads "Property Of: [your pet's name]." Choose from sizes extra-small, small, medium, and large.
Get two bandanas for the price of one with this reversible accessory. One side is blue and white, made from a poly-cotton blend with an embroidered Eagles logo on the triangle and Philadelphia across the band. The other side is solid teal and made of mesh. It's got 'Eagles' screen-printed across the band and an eagle motif on the triangle. The band of the bandana can be threaded through your dog's collar for easy wear. It's sold in sizes small/medium and large/extra-large.
If your cat doesn't tolerate wearing Eagles-emblazoned jerseys or sweaters, an everyday accessory like a collar is the way to go. This breakaway cat collar is made of nylon and has a soft-jingling bell to alert potential prey or help you figure out where your cat is hiding today. It's officially licensed and measures 12 inches long and 0.5 inches wide.
Dogs can show off their team pride year-round with this Philadelphia Eagles collar. The team name, logo, and logotype ribbon are all sewn onto durable nylon web.The adjustable collar features a plastic buckle and a metal D-ring for attaching an ID tag (why not get an Eagles one to match?). It's available in sizes small, medium, and large.
One reviewer wrote that watching their kittens chase after these catnip toys was like watching a "little kitten football team"—aww! If you and your cat love the Kansas City Chiefs, picking up this three-pack of catnip-filled toys is a no-brainer. There's a plush football helmet, a beer bottle, and a football with a feather, all featuring the arrowhead logo.
Pet ID tags are crucial if your dog or cat ever gets lost, but you don't have to settle for a boring silver one. This Chiefs-themed ID tag is bone-shaped and a size large, so it's best for dogs. It's bright red with white, red, and yellow stripes down the middle, in addition to the team's logo. On the backside, you can personalize it with four lines of laser-engraved text. The ID tag is made of solid brass and UV-cured ink for longterm wear. It measures 1.5 inches long, 1 inch wide, and 0.04 inches high.
Looking for a pet accessory with a little pizzaz? This reversible bandana slips over a collar for your pet's comfort. One side features vibrant zebra stripes in red, yellow, and white, Chiefs written on the collar, and a sizeable logo on the triangle. The other side has a red collar with 'Kansas City' in bold yellow lettering, and a white triangle with the arrowhead logo and Chiefs written in large font. The bandana is 100% polyester and officially licensed by the NFL. It typically comes in two sizes, Small/Medium and Large/Extra-Large, but the bigger size is currently sold out.
Sport matching Chiefs jerseys while watching the big game with your cat or dog. Suitable for dogs or cats, this pet football jersey is made of breathable poly-mesh and satin. It has stripes on the short sleeves and the number 00 on the front and back. It says 'Kansas City' on the chest with a small arrowhead logo, and 'Chiefs' across the back where a last name would typically be. It's a pull-over design, so it's easy to put on and take off, but is hand-wash only—don't throw it in the washing machine by mistake! It comes in a variety of sizes, ranging from extra-small to extra-extra-large.
If a dress is more your pet's style, this one featuring Chiefs graphics is a cute option. It's machine-washable and made from a blend of fabrics (80% cotton and 20% polyester) that are comfy and breathable. The dress is mostly light gray with pink trim and a matching pink bow. It's printed with 'Chiefs Football' and the arrowhead logo in the center. Opt for sizes extra-small through extra-large.
February can be a bitterly cold month for Kansas City. Make sure your dog or cat stays warm in the days leading up to the big game with this cozy puffer vest. It's waterproof and windproof, so it'll keep your pet dry during inclement weather. The puffer vest is also easy to put on or take off thanks to straps around the belly and neck with hook and loop fastener. The coat is bright red and yellow, in true Chiefs' fashion, and has reflective piping for safer nighttime walks. There's even an opening on the back for your dog or cat's leash if they're wearing the sporty puffer over a harness.