If you and your dog live in a cold and wet climate, have a pool your pup loves jumping into, or frequent the lake or beach, you probably know all too well how messy and drippy things get. Letting your dog's damp fur air-dry instead of drying it thoroughly with a clean towel not only takes longer, but is more likely to lead to bacterial growth or even illness. Not to mention, the smell of wet dog isn't most people's cup of tea (except perhaps for the characters in "Monsters, Inc."). Using a dog towel is definitely the way to go.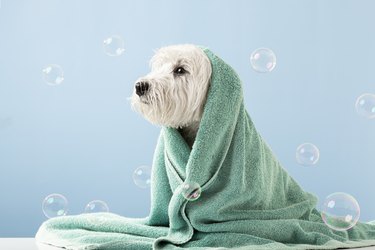 Let's be clear: You don't specifically need a ‌dog‌ towel to get the job done. In fact, "dog towel" isn't even a professional grooming term. You can use a "human towel" to dry Fido, too. The problem lies in potential cross-contamination. If Fido's towel is just one of your regular beach or bath towels, you're less likely to keep that towel separate from the rest of your laundry—or less likely to remember to. Unless you're careful to wash your dog's towel immediately (and separately) after every use, over time, that unmistakable wet dog smell will start to linger even after it comes out of the wash, and risks contaminating your human clothes and linens with at best, the smell of wet dog and at worst, bacteria or microscopic pests.
Just as, if not more importantly, while there isn't an official requirement in order for something to be marketed as a "dog towel," in many cases, there ‌is‌ a difference: Unlike regular bath towels, which tend to be made from cotton, most dog towels are made from microfiber, and there are definitely benefits to this difference. For one, cotton towels are less absorbent, whereas microfiber towels will be more effective at drying your dog's wet fur, especially long fur. For another, microfiber towels are less irritating to a dog's skin, and generally comfier for them. Microfiber towels are also more lightweight, despite being more absorbent.
So, while it's not absolutely necessary to buy a dog towel when you can use a regular towel, it's really a choice between "good enough" and "(much) better." And with a variety of dog towels out there, you can find something both practical and comfortable that will make things easier and safer for you and your dog. From microfiber towels to wraparound dog drying coats, we've selected the best dog towels on the market.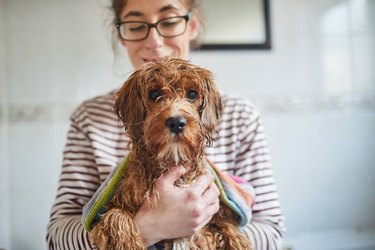 What to consider when selecting a dog towel
‌Absorbent Materials:‌ Being highly absorbent is a fine quality to look for in any towel, and since most dogs are hairier than humans, when it comes to dog towels, absorbent materials are especially important. Pet towels are made from microfiber, but there will be varying grades. Whenever possible, look for dog towels made of the highest-quality microfibers in the 400 to 500 GSM range.
‌Quick-Drying Materials:‌ Along with absorbent materials, quick-drying materials are another big plus to look for in a dog towel, because they can reduce the risk of bacteria growth and the towel developing a moldy odor. Plus, if you're going to remain outdoors and on-the-go for a while, a dry towel will be more lightweight and convenient to carry around than a wet one.
‌Non-Hair Trapping Design:‌ Unlike towels for humans, many dog towels are made of densely-woven fibers that won't accidentally trap dog hairs inside as much as cotton towels will. This overlooked feature will come in handy when it's time to do the laundry, as it prevents hair from getting left behind in your washing machine or dryer. Plus, the towel itself will also stay cleaner and readier for use.
‌Machine-Washable:‌ This probably goes without saying, but look for a product that's machine-washable—because if you don't wash your dog's towel, it WILL become gross, smelly, and a health risk. And it's simply easier to get a thorough wash in the machine than washing by hand.
‌Lifestyle and Use:‌ Since there are a variety of dog towels on the market, take into account your dog's lifestyle and how often you'll use a dog towel. Some towels are designed to be extra compact and portable, which is ideal for dogs and their humans who frequently enjoy the wet outdoors. Other towels may be more cutesy and more of a novelty than something you'll want to take everywhere you go. Still, other towels are designed to be more of a drying coat or bathrobe that your dog can continue to wear for extended periods of time.
1. Dog Gone Smart Original Dirty Dog Shammy Microfiber Dog Towel
This popular dog towel is a durable yet affordable option that's suitable for use after doggy baths as well as after outdoor play. Made from chenille fabric, its soft microfibers are up to eight times more absorbent than a regular cotton towel—and you can bet it's comfier on your dog's skin, too. It dries quickly and cleans up not just water but mud and grime. Not to mention, it's machine-washable.
The towel, which measures 13 inches wide and 31 inches long, is designed with a dual hand pocket to provide you with an easy grip. Over time, after extended use, the microfiber piles can begin to tear, but at under $20, it won't be difficult to replace.
2. PAWPUP Super Absorbent Dog Towel
You can use this microfiber pet towel as either a luxurious towel for drying, or as a comfortable addition to your dog's kennel or dog bed. The towel is made from an 80/20 polyester and polyamide blend that's sturdy and soft and not only provides warmth, but even contains antibacterial properties. It's also extremely absorbent and machine-washable using mild detergents on a gentle cycle. The towel includes dual pockets for an easier grip and is available in gray or brown. It's fairly large, measuring 24 inches wide and 40 inches long, making it suitable for any number of dog breeds.
3. Bone Dry Pet Grooming X-Large Absorbent Microfiber Dog Towel
This pet towel is another great option, especially for larger dogs who could use every bit of its 23 1/2-inch by 41-inch surface area. Made from a polyester microfiber that's thick and absorbent, the towel is as durable as it is soft. It's comfortable enough that your dog may even want to use it as a blanket or comfort item. The towel comes in over a dozen colors, each with a cute paw print design, and they're all machine-washable—although some colors will fade more quickly than others.
4. THE SNUGGLY DOG Easy Wear Dog Towel
In a departure from a more traditional towel, this well-designed offering from THE SNUGGLY DOG looks more like a closer-fitting poncho or dog coat than a towel, which makes it perfect for drying your dog quickly and keeping them warm on extended outings outdoors. It's made from a higher density 400 GSM microfiber that's absorbent and, well, snuggly!
The wearable dog towel features an adjustable neck toggle and button with an elastic loop to secure the towel around your dog's tail, ensuring the perfect fit. As a bonus, your purchase includes a free wraparound belt that you can use for extra snugness, if needed. The towel is available in sizes small, medium, large and extra-large.
5. Geyecete Dog Bathrobe Towel
Here's another fantastic wearable dog towel that's really more of an outdoor-friendly dog bathrobe. It's made from absorbent microfiber and comes with hand hooks and loop straps so you can easily secure it after wrapping it around your wet pooch. The bathrobe towel will keep your dog warm for prolonged periods of outdoor play and is machine-washable.
The only downside is that it can restrict your dog's shoulder movement a bit, so it might be better to use after more rambunctious activity has winded down (like chilling on a yacht after a doggy dip in the ocean. Yacht not included). The bathrobe towel is available in sizes ranging from extra-small to extra-extra-large, suitable for various dog breeds.
6. Sweet Paws Perfect Paws Portable Dog Towel
If you and your dog spend a lot of time on-the-go, these cute and ultra-portable dog towels will come in handy. They're soft, lightweight, and fold and roll up easily to fit inside cute clip-on cases (included), which use a carabiner to secure to your dog's leash, your pant loops, or a backpack. The towels and their carrying cases come in two sizes, small or large, and are available in up to four colors: Rosy Glow, Minty Fresh, Newport Navy, and Clean Slate.
7. Leash Boss Super Absorbent Dog Towel
Made from 1650 GSM ultra-absorbent microfiber material, this dog towel is thicker and more plush than most of its competitors, featuring thousands of short loops that are great for trapping dirt and dust. It features a 1-inch pile height and uniquely sports a two-sided design, with one side featuring thick microfiber piles for drying and trapping dirt, and the other side left smooth using a Japanese print cloth, so you can keep your hands on the clean side only. The towel is machine-washable, but air-drying afterwards is preferred. It measures 14 inches wide and 34 inches long.
Honorable Mention: Leash Boss Super Absorbent Dog Doormat
Though it's not a towel, this dog doormat (also from Leash Boss) is a worthy mention. It's made from an extremely absorbent 3200 GSM microfiber material that likely won't be beat anywhere. It's thick, soft, slip-resistant, and machine-washable, too. The doormat measures 24 inches wide and 34 1/2 inches long, and is available in three neutral colors.