Increasingly, dog parents are thinking about ways to be environmentally conscious and reduce their carbon footprint when purchasing dog products for their best furry friend. Eco-friendly products strive to have lower environmental impacts in production, to be high quality and long-lasting, and to be recyclable, compostable, and/or reusable. These eco-friendly pet products are made as naturally as possible without harmful chemicals to be as safe as possible for your dog.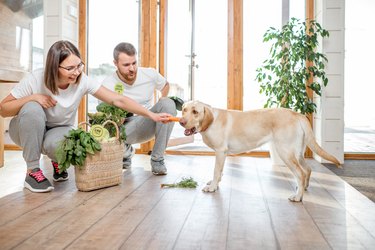 If you're trying to make your dog's lifestyle more "green," remember that it's totally OK to start small. You don't have to throw out all your existing dog products in order to make a difference (and recycling them or donating them would be more sustainable, too!). You can take stock of any useful product you might be missing or which products you constantly need to buy, like dog food, and make switches that make sense for your needs and budget. If you're ready to be more eco-friendly, we've scouted out 10 of the best sustainable dog products that are a great way to start.
What to consider when purchasing sustainable dog products
‌Options:‌ When it's time to replace any of your dog's toys and supplies, take a few moments to determine if there is a sustainable/eco-friendly option available that you might consider utilizing with your dog instead. From dog toys made from natural fibers to dog foods using fairly traded ingredients to compostable waste bags, decide which products will be useful to you and which may even be more cost-effective in the long run.
‌Sustainability:‌ When looking at eco-friendly products for your dog, consider the ways in which they are manufactured, and what supplies or materials are used to make them. Look for products made of recycled materials or sustainably harvested ingredients. Anything that minimizes wastefulness (different from actual waste, which we'll get to) during production can be beneficial to the environment.
‌Recyclability:‌ Products for our dogs won't last forever. When looking for eco-friendly products for your dog, consider items that come in minimal packaging that is made of recycled materials. You can also look for pet products that are biodegradable or recyclable so they don't end up in the landfill when it's time to dispose of them.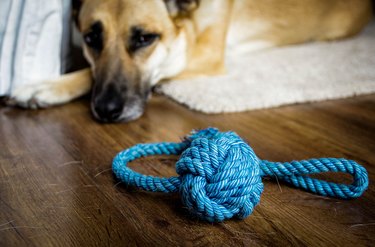 1. WashBar Original Dog Soap Bar
An easy way to cut down on plastic use is to stop using bottled liquid dog shampoo on your dog. These natural dog shampoo bars are designed to lather while bathing your dog. The bars come in compostable cardboard boxes, and the shampoo bars themselves don't have any synthetic fragrances, colors, sulfates, or parabens. This chemical-free dog shampoo is gentle for use on puppies and dogs who have sensitive skin. This shampoo bar lathers easily and then rinses out of your dog's fur. The shampoo can help to soothe and moisturize dry skin and fur, and leaves behind a clean scent.
2. Awoo Pets Noodle Felt Dog Toy
Forget those plastic tug toys! This natural felted dog toy is ethically made with natural wool. The tug toy is handcrafted by female artisans in Nepal, at a certified factory using humanely collected New Zealand wool. The brightly colored toy is made with nontoxic dyes. This pet toy is available in aqua, lilac, lime, and oat colors. The felted texture of this toy even helps to clean your dog's teeth while they play and tug. These handmade toys look beautiful, are fun for dogs, and are sold by a woman-owned company.
3. So Phresh Earth-Conscious Dog Waste Bag Dispenser With Refill Roll, 30-Count
This eco-friendly dog poop bag dispenser and poop bag set can help reduce your use of plastics. The poop bag dispenser sets are made with 38% USDA-certified bio-based content from plants and renewable materials. These dog poop bags are leak-proof and fragrance-free. The poop bag dispenser has a wide-mouthed opening which makes it easy to pull out individual poop bags. The set comes with two rolls of 15 bags each, which can be added into the dispenser.
Made with 88% zero-waste zogoflex and 12% reclaimed ocean-bound plastic such as plastic bottles, this toy is fun for dogs while taking care of the environment at the same time. The toy is made in the United States and has an Oceanworks guarantee that the ocean-bound plastic used to make the toy meets authentically sourced and environmental compliance regulations. Designed for interactive play, this toy is perfect for dog shows, tug play, games of fetch—and it even floats! The toy is BPA-free and latex-free, so you can feel comfortable with your dog playing and chewing. To clean it, this toy can go in the dishwasher. This toy is available in hibiscus, emerald, and surf blue color options, which are then swirled, making each toy a unique work of art.
Need a new dog bed? Consider upgrading your dog's bed with this eco-friendly, 100% cotton canvas bed. The bed is made without toxic chemicals, pesticides, phthalates, and PBDEs. The bed is available in a wide range of fabric options to fit any home decor. The set includes a dog bed cover and a stuff sack for putting into the bed. The stuff sack can be filled with old clothes, towels, and blankets to avoid having to throw them away, helping you repurpose them. An optional water-resistant liner is also available. This bed has a preshrunk cover which is washable and durable, so your dog can keep using it for years to come.
6. Jiminy's Chewy Cricket Treats
Made with cricket protein, these treats are eco-friendly, as insect protein uses less water than most traditional meat sources and produces virtually no greenhouse gases. Each bag of treats saves 200 gallons of water when compared to treats made from traditional protein sources. The cricket protein is also hypoallergenic and functions as a prebiotic, and can aid in digestion for dogs with sensitive stomachs. Each treat is small, making it ideal to give as a training treat.
7. Pooch Paper Biodegradable Dog Waste Sheet, 50-Count
These poop bags are 100% biodegradable and compostable, making them an ideal alternative to plastic dog poop bags. The bags are made from recycled paper fiber with a corn coating to make the poop bags sturdy enough to hold waste. The bags come in boxes of 50 sheets. The papers are bleach-free, and grease-resistant to prevent leaking while you pick up dog poop. These 100% plastic-free papers are printed with a fun dog pattern that also shares the news with others that they are a recycled paper alternative to plastic bags.
8. Wholesome Pride 100% Natural Sweet Potato Chews Dog Treats
These vegan, all-natural, single-ingredient dog chew treats are made from sweet potatoes. The treats are made in the USA with sweet potatoes grown on family farms in the state of North Carolina. These streets are grain-free, gluten-free, and don't contain any artificial ingredients, fillers, or additives. Because they are made without animal proteins, the production of these treats has less impact on the environment than meat-based treats. These treats are also part of a sustainability initiative in the United States that manufactures dog treats out of sweet potatoes that are aesthetically imperfect, thus reducing food waste. The treats are available in a 16-ounce or 32-ounce bag.
9. Mix Paws Hemp Dog Collar
Instead of nylon, leather, or plastic collars, these eco-friendly dog collars are made from hemp fibers that are sustainably sourced. The plant-based material is eco-friendly while still looking nice and being sturdy. These collars are lightweight with adjustable metal buckles to get a comfortable fit. The collars are available in sizes extra small to large, and come in a variety of fun colors. The hemp fabric is naturally nontoxic and soft, making these collars comfortable for dogs to wear. Matching hemp dog leashes are also available.
10. Beco Classic Printed Bamboo Dog Food and Water Bowl
Made with natural bamboo, these dog bowls are strong and aesthetically pleasing. The dog bowls have a natural ocean wave pattern on them. The bowls can be washed in warm water or cleaned in the top rack of the dishwasher. The bowls are naturally strong and an alternative to using plastic. The bamboo bowls are climate neutral-certified, so 100% of the carbon emission is offset through investment in eco-friendly initiatives, including forest conservation. This wave bowl is available in small and large sizes. The small-sized bowl can hold 3 cups, and the large-sized bowl can hold 6 cups.