Do you have a dog who likes to chew? If you spend any time on TikTok—#dogtok, more specifically—you might have come across coffee wood sticks, which are long-lasting chew toys made from coffee wood. While you shouldn't allow your dog to chew on regular sticks they find on walks or in the backyard due to splintering, coffee wood sticks are extremely durable and unlikely to splinter.
Coffee wood sticks are a great alternative for dogs who are already drawn to chewing on wooden furniture legs or tree branches. Instead of splintering as dogs chew, like most wood, the coffee wood naturally breaks down into small digestible fibers. Regular wood splinters can cause choking, punctures, and obstructions, but coffee wood is sturdy and naturally resistant to splintering.
It's important to purchase the right-sized toy (this is usually based on your dog's weight), and supervise your dog while they are chewing on it in case splintering does occur. Some dogs can become fixated on destroying chew toys, so it's recommended to limit the amount of time your dog has with these natural chews each day. These coffee wood chews aren't a good option for aggressive chewers, and if your dog's coffee wood stick begins to splinter, it should immediately be taken away from them and replaced.
We recommend two brands of coffee wood chew sticks: Woodies Dog Chews and Canophera Dog Chew Sticks. First, we'll dive into Woodies, a small business based out of California that gets its wood from a family-owned coffee farm in Vietnam. Their coffee wood chews come in four sizes: small (for dogs up to 30 pounds), medium (for dogs up to 50 pounds), large (for dogs up to 90 pounds), and extra-large (for dogs over 90 pounds). The toys satisfy your dog's natural desire to chew and provide a long-lasting, sustainable option for dogs to sink their teeth into.
For dog parents concerned about sustainability, the coffee wood is responsibly harvested from a coffee farm in Vietnam that Woodies has invested in. The chews come in minimal and recyclable packaging and are tied on with coconut string to lower the environmental impact even further. They're organic, all-natural, and made without harmful additives. The chews are also free of caffeine, artificial ingredients, preservatives, and animal byproducts, making them a safe option for dogs who are allergic to specific animal proteins.
Canophera coffee wood chew sticks are probably the most well-known brand on TikTok and come in sizes extra-small (for dogs up to 11 pounds), small (for dogs up to 22 pounds), medium (for dogs up to 44 pounds), and large (for dogs over 44 pounds). The chews are made in Vietnam, where the coffee wood is sourced from, and are 100% vegan and free from any harmful additives—coffee wood is all you'll get!
Fine fibers tend to flake off as your dog is chewing, so you may have to vacuum the space where they were chewing it once you've taken the toy away. The ends are curved and smoothed out to prevent any sharp edges. Some Amazon reviewers mentioned using the toy to play fetch with their dog as the stick is durable and has some weight to it.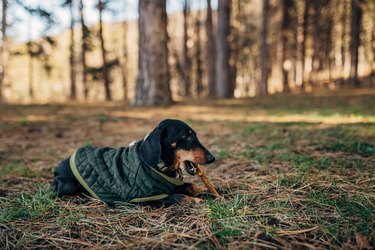 Although providing your dog with regular chews can help maintain their dental hygiene, no chew is going to take the place of routine dental care for your dog. This includes regular checkups from your dog's veterinarian and tooth brushing at home. However, these coffee tree wood chews are an all-natural way to help keep your pup's teeth clean and remove tartar while they gnaw. Improving your dog's breath and keeping them occupied is a win/win! Think your dog would enjoy one of these long-lasting chews? You can purchase Woodies Dog Chews and Canophera Dog Chew Sticks on Amazon