Puzzles used to mostly be enjoyed by people on either end of the age spectrum, but since the COVID-19 lockdowns, the puzzle scene now includes everyone between the ages of 7 and 90 as well. And for good reason—they provide something to focus on that's not social media, they're productive, they make you think, and they can help you practice patience. Whether you got into puzzles recently or you've always enjoyed putting them together, there's definitely one for you out there as there are thousands of designs and difficulty levels to choose from. Puzzles make great gifts for yourself or someone you know, and we've come up with a list of cat-themed puzzles for the feline lovers out there, ranging in skill levels, price points, and design elements.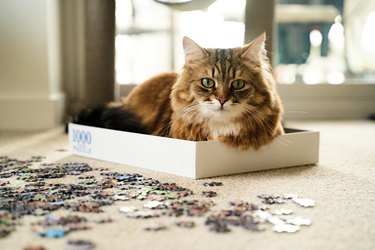 1. A2PLAY Swan Lake Cats Puzzle, 1,000-Piece
When people think of cat puzzles, two things come to mind—leotards and moon water. If you're one of the few (million) who visualize a world where cats express themselves through the fine art of dancing, then this puzzle could not be more perfect for you. Playful, funny, and fit for a pleasant dream, or a bizarre nightmare but not the terrifying kind, this 1,000-piece puzzle is a "Swan Lake" parody scene featuring felines as ballet dancers. The skill level is listed as difficult, so it's best for teens, adults, and anyone with ample time and patience to enjoy putting one together. In addition to the puzzle, you'll receive a facts booklet with information about the "Swan Lake" ballet, and cats.
2. Buffalo Games Beachcombers Puzzle, 750-Piece
If you're looking for a laid-back look that's still a little surreal, this cat puzzle features various cats and kittens doing what they do best at the beach or anywhere else—sleeping and getting into things. This 750-piece puzzle measures 24-by-18 inches when it's completed, so it's on the larger end of the spectrum when compared to some other puzzles on this list. That said, it's made of quality materials that are precision cut for a perfect fit and your purchase comes with a bonus poster to help you complete the puzzle if need be.
3. Playhouse Tabby Kitten 25-Piece Die-Cut Shaped Mini Puzzle for Kids
If you're looking for something a little easier or more appropriate for a kid, it's best to stick with a puzzle that has few pieces, a big design, and color-blocked graphics. This puzzle checks all of those boxes and features a cute, gray tabby kitten right in the center of it that's fun for cat-loving kids to put together. This 25-piece cat jigsaw puzzle measures 7 inches by 9 inches and is meant for use among kids ages three and up. Puzzles are a great way to help kids build their motor skills and develop problem-solving skills and can show them the benefit of finishing something they started, all while creating something cute!
4. Kitty Throne by Lucia Heffernan 500-Piece Puzzle
Ever wonder what your cat is really doing when they go to use the litter box? Well, you're looking at it! Maybe not exactly, but it's a funny idea either way. Illustrated by artist Lucia Heffernan, this 500-piece family puzzle by Eurographics is made with large pieces for easy handling. The backing of the puzzle pieces is made of high-quality blue board to ensure that the pieces fit perfectly and won't break. It measures 19.25 inches by 26.5 inches when it's assembled and comes in a sturdy box for safe keeping or easy gifting.
5. PPitilisCreations Wood Cat Puzzle
Not every puzzle needs to lay flat! 3D puzzles are fun because they force the puzzle solver to think in a mechanical way, and they can be displayed easily after they're completed. This wooden cat puzzle is great for cat lovers because it's easy, serves as decor, and contains only five pieces, making it a family puzzle that anyone, regardless of age, can complete. This puzzle is made of 3/4-inch pine wood and is available in seven different colors, including a natural brown wood look, black, blue, and pink. This particular puzzle is designed in the likeness of a cat doing what cats love most—sitting like a loaf of bread while they stare at you. If this design isn't your favorite, check out the seller's shop for the other puzzles they offer, including an arched-back cat and a cat licking their paw.
6. TDC Games World's Most Difficult Jigsaw Puzzle, 500-Piece
Looking for something truly enraging to enjoy? Check out the self-proclaimed "world's most difficult puzzle." What makes this so difficult? Well, you know how most puzzles only feature the image on one side, so you only need to check it one way to see if it fits? This puzzle is printed on both sides ... and one of the sides is tilted 90 degrees for a truly challenging puzzle-solving experience that will either be exhilarating or maddening or maybe a little of both. This puzzle is difficult and is meant for people ages 14 and up. It's square, measuring 15 inches by 15 inches, and contains 500 double-sided pieces, all of which we hope never, ever get lost.
7. PuzzlePangolin Funny Cat Butt Jigsaw Puzzle
If you're looking for a bit of comic relief in your puzzle-solving, look no further than this cat puzzle with a familiar view. Sold in 15 colors, including a number of clear and tinted options, this 106-piece jigsaw puzzle is made of acrylic material, so it offers a bit of a different look and feel than many traditional flat puzzles. It measures 10 inches square when it's assembled, and the finished product will show a cat looking over their backside to show you a smiling face, and a whole lot more. These puzzle pieces come in a soft fabric bag for safe keeping or cute gifting, as well as a stand to display your masterpiece on, just like your cat does dozens of times a day.
8. Galison Wintry Cats 500-Piece Puzzle
For a crowd-pleasing puzzle that will still make you think, this bestseller from Amazon and Barnes & Noble features a dozen or so colorful cats wrapped up in scarves to stay warm for the winter. It's a 500-piece puzzle that's made from 90% recycled paper and is a steal at just under $15. This puzzle from Galison comes in a sturdy box that's printed with a matte finish for storage over the years and can make a great gift for yourself or the cat lover in your life who's looking to keep their hands and brain busy in a productive way.
9. CroJack Capital Inc. Cat and Mice 100-Piece Juvenile Collection Jigsaw Puzzle
If you're looking for an easy puzzle for kids that's a little more challenging than a five or 25-piece set, this 100-piece option features cute cats and mice in a fun, watercolor-style illustration. It's suggested for people ages six and up and is designed with high-quality puzzle pieces that won't break or tear. The puzzle measures 8.75 inches by 11.25 inches when it's fully assembled, so it's not much bigger than a sheet of loose-leaf paper—perfect for kids' desks or play areas.
10. White Mountain Puzzles Tapestry Cat, 1,000-Piece
Elegant, warm, and kind of fancy, this cat tapestry puzzle is illustrated by artist Louis T. Johnson. This puzzle is challenging—it's made of 1,000 pieces and measures 24 inches by 30 inches when it's done, and the design is very intricate, so it's best enjoyed among people ages 12 and older. Because this design is so beautiful and heavily detailed, it makes a great past time for anyone looking to enjoy a puzzle at a slower pace.
11. BePuzzled Cat and Kitten Original 3D Crystal Puzzle
For a 3D puzzle that's challenging but still fun, this cat and kitten crystal puzzle is a good option to consider. This is a brainteaser and a puzzle in one and encourages problem-solving and critical thinking, and engages that mechanical part of the brain that not all puzzles do. The suggested age for this puzzle is 12 and up, so it could be a fun thing to put together with the tweens in your life. The best part of this puzzle is easily the cute design—you can build a cat and a kitten piece by piece, which can be displayed when you're done, or broken down for repeated use.
12. SincerelyHproducts Custom Pet Puzzle, 252-Piece
If you're a cat-loving person but just don't see a puzzle here for you, why not create your own? With this Etsy shop, you can create a puzzle that's customized with images of your own cat! Or, if you don't have a cat, just any cat that you like and can get a photo of, it's your choice! This is a 252-piece puzzle that's adorned with pics of your favorite feline, just follow the uploading instructions on the shop's order form at checkout, respond to the proofs with your approval or notes, and wait for your personalized puzzle to arrive in the mail. This puzzle measures 11 inches by 14 inches when it's assembled, and it's recommended for anyone ages nine and older.
13. Mudpuppy Cool Cats A-Z 1,000-Piece Jigsaw Puzzle
If a clean design with a high puzzle piece count is on your wishlist, this 1,000-piece puzzle from Mudpuppy might be what you're looking for! This puzzle is designed with a creamy pink background and is filled with all kinds of different cats, including gray cats with bowties, white cats with flower crowns, brown cats in berets, and more. It's made with high-quality materials so there's virtually no puzzle dust. It's printed with nontoxic inks and the backing is made of matte white material that's sturdy, so it will hold up over time.