When it comes to eco-friendly domestic animals, cats are not exactly at the top of the list. That said, cat parents can make their furry friend's lifestyle a little less wasteful by switching their daily staples to eco-friendly cat products. We're talking compostable cat litter, organic food, toys made from recyclable natural materials—the list goes on. If it feels overwhelming to think about switching all of your cat's products to sustainable choices, that's because it is, and no one needs to change everything at once! Considering even one area where your cat's life could be a little greener can make a big impact over time, so we've come up with a list of items at various price points to make that easier on you.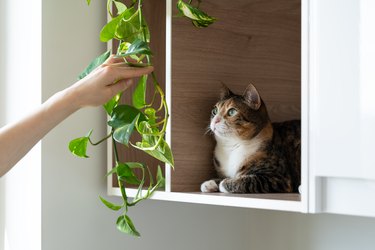 What to consider when purchasing eco-friendly cat supplies
‌Pricing:‌ Purchasing more environmentally friendly and sustainable items for your cat is a great decision to explore, but it's important to remember that sustainable living should also be economically sustainable for you! So, if you're just starting to transition to eco-friendly supplies, consider what you can afford in the long run, and remember that even small changes add up over time!
‌Practicality:‌ When purchasing eco-friendly items for your cat, remember to keep your feline friend's likes and preferences in mind. Buying a wool cat blanket from a local artisan or farmer is a great decision, but only if it's something your cat likes and will actually use.
‌Utilizing your old stuff:‌ Part of being sustainable is limiting purchases that leave a big carbon footprint, so tossing your cat's old and still-functional items to make room for your new lifestyle is usually unnecessary. If you do make a new purchase, look into donating your cat's old items to local organizations, like shelters, rescues, and foster programs.
‌Get creative:‌ There are some things you'll have to purchase, like food, but you can get creative with so many other things for your cat! Bedding and toys can always be made with second-hand fabrics and recycled materials, and you can always check your local farmer's market for locally grown catnip (or grow your own!) Having fun where you can leads to new habits being built, which is sustainable for you in the long run.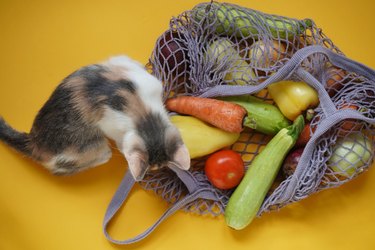 The best eco-friendly dry cat food
‌Note:‌ This item is out of stock online at the time of writing.
When most people think of buying eco-friendly cat supplies, organic cat food, like this one from Castor & Pollux, is among the first things that comes to mind. This a dry food formula that's made with non-GMO ingredients made without pesticides, added growth hormones, fertilizers, and preservatives, and is the only line of USDA organic certified pet food on a mass-produced scale. The chicken and brown rice formula is free of corn, wheat, and soy, and does contain superfoods like coconut oil, cranberries, and grains to improve digestion.
The best eco-friendly wet cat food
If wet food is a better choice for your cat, this subscription-service brand is beloved by many. Made of chicken and salmon, this formula is 100% human-grade and contains no grains or potato. This specific food is even one of the company's lowest carbon emitting recipes, so you know your purchasing power is supporting some of the best care and practices possible when making pet food for the masses. The main protein sources are humanely raised chicken and wild-caught salmon, and the added ingredients are not genetically modified—you can even check where each ingredient was grown and raised when you visit their online shop.
The best eco-friendly cat scratcher
One thing that can make any product environmentally friendly is its reusability, which can keep things out of the landfill and reduce the number of times something needs to be shipped to your door. This cat scratcher is an excellent reusable option because the frame can be used long after the scratching pad has been worn out by your furry friend! The frame is made of pinewood and is designed to hold scratching pad refills for as long as you need it to, and also adjusts to three different positions. It's built to support cats and kittens of all sizes, and comes with a cardboard scratching pad that can be recycled.
The (next) best eco-friendly cat scratcher
If your cat requires a more sturdy scratching pad, this is a pet product that's beloved by cats and the people they share a home with. The scratching material on this one is sisal, which holds up for way longer than cardboard and feels great to cats for its tough feel that won't snag on nails. The base of this post measures 16 inches by 16 inches, and the post itself measures 32 inches tall, so it's perfect for cats who like to stretch or climb while getting their enrichment needs met. The wood used in this is engineered wood, which is a sustainable material, as it uses less of the tree than solid hardwood does, and it can support cats weighing up to 30 pounds, so it's a likely fit for anyone.
The best eco-friendly cat bed
High-quality, eco-friendly materials don't have to break the bank, and this cat bed is proof of that. How can a bed made out of polyester be eco-friendly? It's all recycled material! That's right—100% of the materials that this bed is made from are recycled, as well as nontoxic, and hypoallergenic, and it's handcrafted right in South Carolina. In addition to being made of post-consumer materials, this bed is soft, warm, clean, and super comfortable, so pet parents can rest assured that their fur babies are enjoying the purchase as much as they are. The recycled polyester fibers work to create insulation, while the construction of the materials traps dander, hair, and dirt. It's available in white and charcoal color options, and can be rinsed and laid out to dry when it's time for a cleaning.
The best sustainable cat litter
If you have an indoor cat, you're going to have to deal with litter—there's just no two ways around it. If you'd like to make your cat litter a little less wasteful (pun absolutely intended), you could consider a litter that's made of sustainable ingredients, like this one by Sustainably Yours. This is made of corn and cassava, both of which are renewable crops that are biodegradable and compostable, which means so much less waste when dealing with your cat's waste. It does clump and is fast-absorbing to reduce odors in the litter box, without harsh chemicals or additives.
The best eco-friendly cat litter waste bags
If you're not ready to make the leap to plant-based cat litter, that's OK! You can still make a big impact when it comes to your cat's bathroom habits by disposing of it in something other than plastic bags, and honestly, it doesn't even need to be made for cats to get the job done. These 4-gallon trash liner bags are biodegradable and make great litter bags, so when you toss your cat's poop, you won't have to worry about it festering in a plastic bag for 1,000 years before it breaks down into microplastics that turtles choke on, or what have you. This pack of liners comes with 200 bags made from corn starch that is thick and leak-proof, so you know it's up to the task at hand.
The best sustainable cat toy
Part of cat care includes providing enriching activities for your feline friend, and you can do that while still shopping with eco-friendly standards in mind, if that's what suits you! These eco-friendly cat toys from CatnipConfections are made of wool yarn that hasn't been treated with chemicals, dyes, or bleach, and have been crocheted into the shape of a bunny. The bunny tail is made of alpaca fiber, and even the eyes and nose are stitched in using fabric materials for a truly zero-waste toy. The best part? These toys are stuffed with alpaca fiber to create a soft, squishy surface, and are packed with your choice of catnip leaves, silvervine leaves, or a "magic mix" of honeysuckle, wood shavings, and valerian root.
The best low-cost catnip toy
If you're looking for an Earth-friendly catnip toy but have a little less to spend, these felted balls from SimplyBVermont might be for you! You can order these in a set of four balls with a holding tin, or just purchase the toys loose for less than $9. Unlike many catnip cat toys, these balls aren't filled with the herb, but instead, come with a catnip pod that "charges" the balls when they make contact. Each ball is made of fairly traded felt, and measures 3 centimeters, perfect for cats to bat around, bite, or roll on.
The best eco-friendly cat collar
A good cat collar is one of the best purchases you can make for your cat, especially if they wander outside from time to time, or have a chance of getting out accidentally. This collar is made of soy fibers, which makes is soft to the touch, non-irritating, anti-bacterial, and odor-fighting. Like any good collar, this is designed with a breakaway clip for safety in case your cat gets caught on something, and can adjust between 8 inches and 12 inches in length.
The best sustainable cat grooming wipes
Most cats don't love baths, but if you need to wipe yours down, these plant-based, compostable wipes are a good solution. These wipes are sold in packs of 200, 300, and 400 wipes, and are free of alcohol, sulfates, parabens, and fragrance for a good clean that won't irritate the skin. The wipes are hypoallergenic and thick so they won't break down easily during use, but are still soft and gentle enough for even the most sensitive cats.