Looking for the purrfect way to score points with a cat lover? Bring a cat-themed board game over for game night! It offers something a little different, and because you basically get to look at cats all night it ends up feeling like everyone's a winner, no matter how the game pans out. Cat-themed games come in a variety of game styles, including tabletop board games, card games, trick-taking games, memory games, and more. We've come up with a list of some of the best board games, and other types of games, that are made for cat lovers.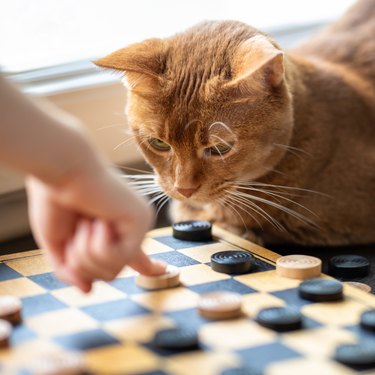 What to consider when purchasing a cat-themed board game
‌Suggested Ages:‌ The recommended age ranges on board games measure how difficult a game might be for some players to master, or even enjoy. The suggested ages are guidelines, so don't feel like you have to stick to them too strictly, but they can help guide you, especially if you're buying a game as a gift for a cat lover.
‌Number of Players:‌ The number of players isn't a guideline, and almost all games require at least two players to play. This is another good thing to keep in mind when shopping for someone else.
‌Types of Games:‌ While this is a list of board games for a cat person, there is some variety in the types of games featured to, hopefully, appeal to all players. Card games, mystery games, and memory games can all be fun to play, especially when they're feline-themed.
The best overall cat-themed board game
If you're hosting a big game night, or if you're looking to gift the cat-loving gamer in your life with something well-liked and already popular, consider Exploding Kittens, which combines everyone's favorite loves of kittens and explosions. This game is great because it can support up to 10 players in a game. The game takes most people about two minutes to learn, and the whole game takes about 15 minutes to play, so no one's going to get bored and call it a night early, and, you can keep playing it over and over. This is recommended for users aged 7+, and this party pack is a family game that can also be enjoyed with friends.
The best tabletop cat-themed board game
For the classic game that people either love or hate—only cat-themed, so there's less of a chance of hating it—Catopoly! This game is based on the game Monopoly and does include some cat-centric twists to give it a fresh feel that's fun for the whole family. This game can support between two and six players, and is best used among people ages 8 and up.
The best cat-themed card game
If you're a meme maker or just a meme appreciator, this game could provide hours of fun for you and your friends and family. The idea of the game is to match the faces of internet-famous cats with the funniest caption possible to create the ultimate meme, no editing software required. This game is recommended for players ages 13 and up, and is best played with three to eight players. It comes with 300 cat cards, and can be played with kids, adults, or a mix of both.
The best cat-themed game for young kids
Like the idea of looking at tons of cat faces but not so keen on the competition? This memory game is like Guess Who for cats, except there's no guessing, and you don't need more than just one player to "play" this game—all you have to do is look at pictures of cats and learn their breed type. It comes with 12 pairs of birch plywood wooden tiles that are imposed with images of cats and their breeds, like Maine Coon, calico, and exotic shorthair. You can choose between two sizes for tiles, and all of the tiles are sent to you in a cotton carrying bag for safekeeping. This game is recommended for players aged 3+, and can be a great activity for homeschooling.
The best arcade-style cat-themed game
If you love Exploding Kittens but want to change it up with a tabletop game that doesn't use playing cards, this game couldn't be more different from a card game as it's basically pinball in a box. The box is part of the game and opens up to reveal a giant cat's mouth in the center, which you use little kitty paws to shoot balls through (See? It is like pinball in a box.) Because this game does use small balls, it's not recommended for anyone under three years old, and is best used among people over 7. This is a great game for older kids to have fun with, and it's best with two players, although you can play solo as well.
The best cat-themed game for large groups
Need a game that will keep a lot of people entertained, but don't have the time or the patience to teach everyone the rules? Look no further than bingo in a box, and this one is cat-themed, making it perfect for a kid's party or the cat lady in your life. What makes this game different from the other games on this list is that it doesn't arrive on your doorstep, but comes as a download file right to your computer. This costs only $5, and the file is sent to you to print at your leisure. You can create up to 15 cards with a single purchase.
The best trick-taking cat-themed game
This game may exist, and may not exist; it is essentially both, and you won't know for sure until you open the box. Based on the thought experiment known as Schrodinger's cat, this is game is much easier to learn and understand than quantum physics, and is just as fun to explore. You can have up to five players in a game, and it's a trick-taking card game that keeps you in the dark until you play your hand, creating endless possibilities. This relatively new game is an adult game intended for users ages 14 and up, and is, what we consider, one of the best board games for small gatherings or one-on-one play.
The best cat-themed game for older kids and tweens
This isn't exactly a board game, but it is a game that multiple players can enjoy for hours, and it brings something a little different to game night for kids. It's recommended for ages 7-14, and can be enjoyed by two to six players at a time. Everything you need to solve the mystery of who kidnapped the cat is included in the box: a battery-powered timer, a case folder with necessary details, notebooks, pencils, folders, and way more. All you need is one "host" to hide the items around the room, then let your kids follow the instructions and solve this mystery on their own.
The best single-player cat-themed game
If you love rescuing cats, you can play an entire game dedicated to doing just that with The Isle of Cats. This is a game designed for one to four players, and is recommended for ages 8+, so it's a good option for those smaller gatherings or as a way for two people to pass the time together. This is a competitive, card-drafting game where the goal is to use your resources to rescue as many cats as possible before an evil lord arrives. It's a tabletop game that comes with a lot of miniature pieces, including cat figurines, tokes, and cards.
The best cat-themed pocket game
Looking for a little pocket game to keep in your bag or car, or for something that can make a great small gift for a cat lover? This mint tin game is pocket-sized, is designed for two to four players, and is best used among players age 8+. It takes about 45 minutes to play a single game, and it is competitive—the goal is to steal as many cat toys as possible! Inside the tin, you'll find everything you need to play this game, including dice, various sets of cards, tokens, and more.