What better way to unwind after a day in the high desert than with some comfortable digs, your dog, and maybe a nice, green chile-covered dinner? Santa Fe, New Mexico has long been a vacation destination for art lovers, desert-dwellers, and anyone looking to feel the sunshine on their skin. At almost 7,200 feet in elevation, this microclimate boasts four distinct seasons, it's in proximity to two ski resorts, has history lessons everywhere you look, and hosts countless festivals throughout the year.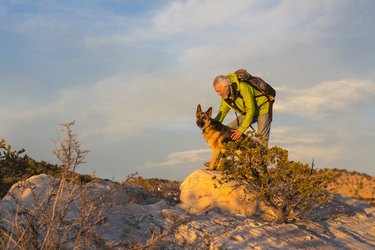 If you've always wanted to check out Santa Fe, you can keep your dog in tow thanks to these pet-friendly vacation rentals for every style, budget, and game plan. While you're there, be sure to visit local dining spots and food trucks for the best chile, check the calendar for fests and other events, and shop with Native vendors outside the Palace of the Governors for the best handmade wares.
The best couples casita rental
Casitas are the name of the game in New Mexico, and these cozy little guest houses are all you need if it's just you, your partner (or pal), and your furry friend. This two-person casita is just up Bishops Lodge Road, which is near the historic Santa Fe plaza but still a little ways away to provide a quiet, private enclave in the trees to retreat to at the end of a long day. The space is furnished with a queen-sized bed and memory foam mattress, along with a pull-out futon. It's air-conditioned to stay comfortable in the summer months and heated with a split pump to provide warmth when the temps drop every fall and winter. It does come with fast Wi-Fi in case you need to keep up with work or just want to stream a show, and also has a washer and dryer to keep you clean and comfortable throughout your stay. Pets are welcome with a $65 pet fee, and the space does come with off-street parking and room outside for your pup to play in.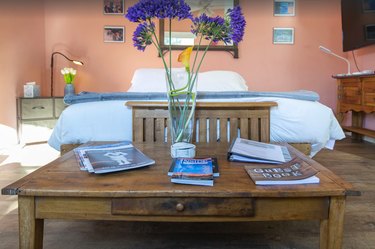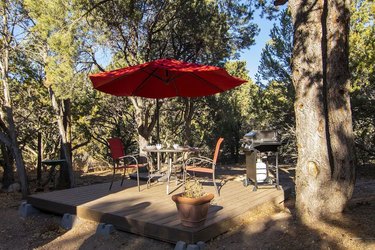 The best colorful casita rental
If you'd like to be near the plaza but want more of a neighborhood feel, this studio casita off Alameda is a great way to have it both ways. Located just on the other side of the Railyard District, home of the Santa Fe farmers' market, and several newer galleries, like SITE, this studio sleeps two and is just a stone's throw from Frenchy's Park, and the Santa Fe River trail. The space provides off-street parking on a quiet, dead-end street, including A/C, toiletries, a kitchen ready for you to cook in, and a private (shared) courtyard. With this space, however, the interior is what people keep coming back for—it's colorful, tiled with Talavera, and extremely photogenic to make your stay fun and memorable. One dog is allowed with a $75 pet fee, and there is Wi-Fi in the home for you to use during your visit.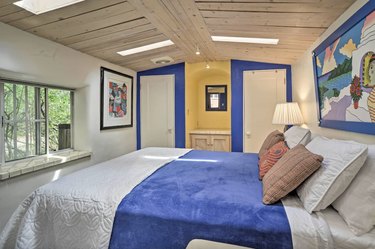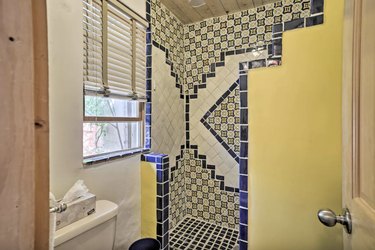 The best house rental for proximity to the highway
Maybe you came to Santa Fe to take advantage of the countless hiking trail in the area, or perhaps you want to learn about New Mexico's history and venture a little outside of the capital. If that's the case, staying in a spot close to the highway will likely be your best bet, and because this town is so small, it won't take you more than 15 minutes to get to the Plaza or Canyon Road from here. This rental is a full house measuring 2,600 square feet. It has three bedrooms and can sleep up to six people, and comes with a fully enclosed backyard for your canine pals to enjoy (there is a $250 pet fee for this rental). The home is located off Old Pecos Trail, very close to the highway but tucked into a quiet neighborhood, making it an easy skip to the Santa Fe ski basin, up to Taos, or down to Albuquerque. It's completely furnished and hooked up with everything you'll need for an enjoyable stay, including a wood-burning fireplace, a community park right down the street, and stunning mountain views of the Sangre de Cristos.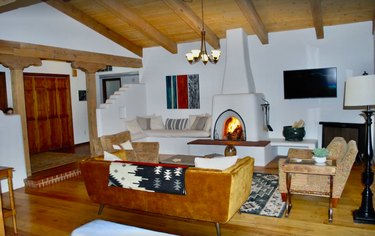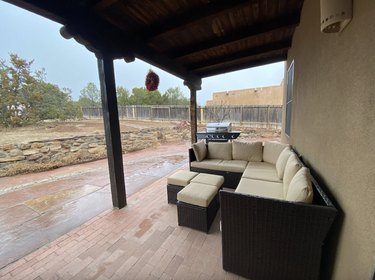 The best Railyard District apartment rental
For a private apartment in the Railyard District, this 563 square foot space sleeps two and does welcome dogs with a $100 pet fee. This location is great for anyone visiting the area who wants to see a little bit of everything as it's in close proximity to just about all of it, including Frank Ortiz dog park for your pup, which is a short six-minute drive from the apartment. The Railrunner train station is also located nearby for anyone looking to take a day trip down to Albuquerque and back for just a few bucks. Free parking for one car is included in the rental, which is located about a two-minute walk from the unit, and the apartment is located on the first floor. The apartment is furnished to sleep four with a queen bed and a pull-out sofa, is fitted with Wi-Fi, and comes with heating and air conditioning. Like many studios and casitas on this list, the bedroom and living room are essentially the same room here, so be sure to keep that in mind when renting around Santa Fe if you're traveling with a group.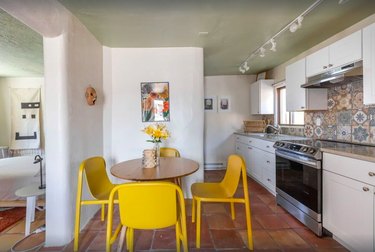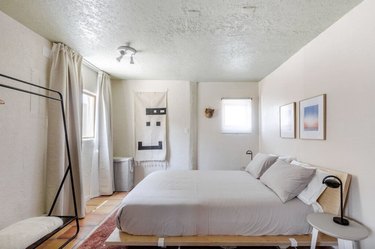 The best chalet rental for proximity to the Santa Fe Ski Basin
Looking for some outdoor space with an enclave in the woods? This two-bedroom is perfectly located right on the edge of the Santa Fe National Forest. It's in close proximity to the ski basin, 10,000 Waves Japanese-style soaking pools, and just a short drive away from anything in town, including downtown Santa Fe and all the museums that come with it. This viga-lined rental home sleeps four and is pet-friendly with a $100 pet rental fee. At 1,600 square feet, it also offers two bathrooms, a hot tub nestled in Aspens, a washer and dryer, and a fireplace, which is the perfect amenity to have in the cooler months if not for the smell of burning piñon alone.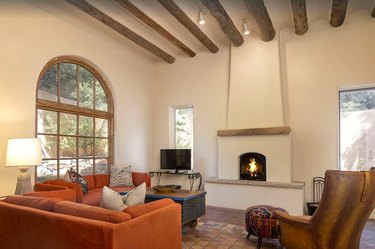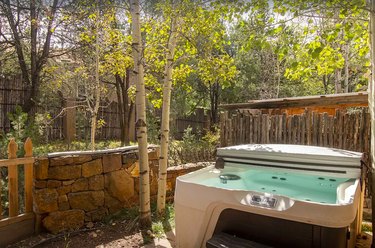 The best casita rental in walking distance of The Plaza
Is everything you want to see either on the Plaza or up Canyon Road? This adobe home-style getaway is just blocks from either, which makes walking or biking super easy, and takes the hassle out of parking (one off-street parking spot is included). Within a nine-minute walk to the Santa Fe Plaza, this rental has two bedrooms, three beds, and can sleep up to four people. It also has two full bathrooms, so it could be the perfect option for a family, a pair of couples, or a small group of friends traveling together. Perhaps the most attractive thing about this space is the pet fee—it's only $20, which is far lower than anything else on this list. Everything is ready for use, including a fully functional kitchen, a smart TV in the living room, a washer and dryer, a wood-burning fireplace, and a covered patio with a grill outside of the home.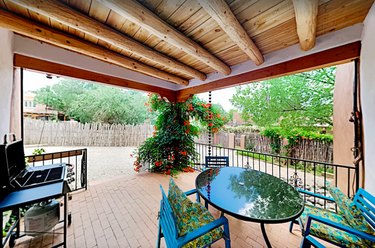 The best pet-friendly private room rental
Maybe you don't need all that much space during your stay in Santa Fe, or maybe you're hoping to find a spot that's designed to not only host your furry friend but look after them while you do some exploring on your own. If that's the case, this rental is a private room in a one-story home on the city's south side with a $100 pet fee that covers the length of your entire stay. It overlooks a golf course, and the room has its own private entrance from the backyard, which is limited to those with an access code. The room comes with a queen bed that sleeps two, a private bathroom, and a small kitchenette to get your day going, but isn't fitted with a full kitchen, so you won't be able to cook in this one—this is mostly for people who just need a clean, safe space to rest their head while they travel. The biggest perk about this rental is the pet-sitting service, which is offered as it's available, so you'll want to coordinate with the host if you think you'll need to take advantage of it. There is also access to both the front and back yards, which are shared with the host's two chihuahuas.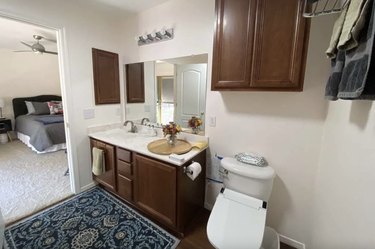 The best rental house on the outskirts of Santa Fe
For anyone hoping to explore the high desert but who wants something a little different and doesn't mind being outside of town, consider this unique rental in Madrid, NM. Once a mining town that was abandoned, this tiny town in the mountains is more like a strip of shops, small restaurants, and bars. This rental is a 1,000-square-foot house with one lofted bedroom and sleeps four thanks to a pullout couch in the living room (more than two guests will incur an extra guest fee, so be sure to check with the host if booking for more than two). It comes with a fenced yard for your pup to play in and asks for a $25 pet rental fee. The most fun thing about it? The penny details throughout the home, like the penny-tiled backsplash in the kitchen, and the penny-lined stairs leading to the loft. There is off-street parking behind a gate, and the home comes with Wi-Fi, air conditioning, heat, and a wrap-around deck outside with a grill and picnic table. You can see the stars on a clear night, and enjoy endless hiking in Madrid, which is just a 20-minute drive from Santa Fe.