Have you noticed that your cat loves to pounce on or stalk things around the house? Maybe they look out the window for hours, or snag a shoelace when someone walks by? If so, that's because your cat is keeping themselves mentally and physically stimulated, which is especially important for indoor cats, as it can alleviate stress and boredom.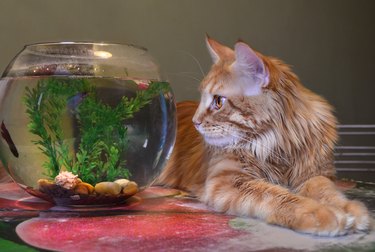 As a cat parent, providing enriching activities for your feline friend is an important aspect of pet care, and toys are a great way to enrich a cat's life! Sure, a wand toy teaser, a string of yarn, or a catnip ball toy can keep cats busy, but these days, cat toys are going above and beyond to offer our feline friends entertainment and enrichment. A great example is the swimming robot fish toys that are taking over TikTok.
Swimming fish cat toys, like the Robo Alive Robotic Swimming Fish, swim around in a small pool of water for your cat to fixate on (in the best way), bat at, or even catch if that's what they're so inclined to do. These water toys come in packs of two and are realistic in how they look and move thanks to their automatic swimming feature—each fish can swim in five different directions and dive up to six feet! These robotic pets do require batteries to operate (two LR44 batteries are included) but can keep your cat entertained for hours at a time.
The Zuru Robo Fish are currently in stock and can be purchased in packs of two on Amazon and Walmart. The collectibles come in multiple colors including blue, teal, lilac, orange, and red. The interactive fish have the ability to color change when dropped in water—a feature that your cat might not fully appreciate, but maybe your kids will! (Tip: The robo fish make great kids' bath toys if your cat doesn't show any interest. They're suitable for children three years old and up.) To return a fish to its original color, simply warm it up in your palm after your kitties are done playing with it.
You can go the DIY route and fill a clear container with water to use as your vessel—just be sure to place a towel underneath to keep your floors dry! If you don't have anything large enough, filling up a bathtub, sink, or unused fish tank works just as well.
There's also the Robo Alive Robo Fish Swim'n Fish Bowl Playset, a best-seller that includes a fishbowl, one robo fish, a packet of never-wet sand, a sand squeezer, and two spare batteries. At the time of publishing, the playset was slightly less expensive than the two-pack of robo fish, so it might be a smarter buy if you're in need of a container, too.
If your cats love water, be it running water from the faucet or a fountain water bowl, perhaps the robo fish toy is what their lives have been missing. These little fish can provide hours of exercise and mental stimulation to our furry friends by offering them an interactive option. As with any pet toy, supervising your cat while they play with the Zuru Robo Alive fish toy will ensure the utmost safety, especially for kittens or cats with limited mobility.