Barring the unprecedented winter storm occurring at the time of writing, Southern California is known for its pleasant, sunny weather, in addition to its popular beaches and tourist attractions. While Los Angeles, renowned for its high density of famous locales (Beverly Hills 90210, anyone?) and diversity, attracts the lion's share of first-time visitors to California, if you head just 35 miles south, Orange County offers the same (if not marginally better) temperate weather as the City of Angels, as well as a worthy list of tourist destinations (albeit a bit more spread out).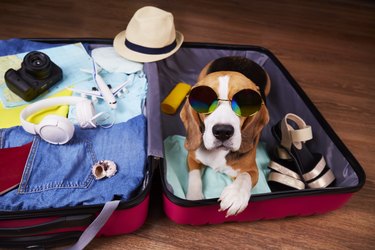 While Anaheim, CA might not immediately come to mind when you think about Southern California, it's got a lot to offer. Its biggest claim to fame undoubtedly is being the home of the world-famous Disneyland Resort, but it's got other worthwhile, family-friendly attractions, too, like Angel Stadium, the Flightdeck Flight Simulation Center, the Honda Center sports arena, the Museum of Make Believe, and Yorba Regional Park, plus the Anaheim Convention Center and proximity to a number of beautiful beaches, like Huntington Beach, Seal Beach, and Newport Beach. Anaheim also is home to a number of dog parks and public parks, some of which may be mere minutes from wherever you're staying.
Whether you're hitting up Anaheim specifically for Disneyland, planning a group retreat, or just making the stop on your Grand Southern California Tour, there are plenty of VRBO rentals conveniently located near all the action—and if you're bringing your best dog friend on your trip, you're in luck: There's a wide variety of pet-friendly vacation rentals and multiple property types in the area.
We've rounded up a list of eight pet-friendly Vrbo rentals in Anaheim for all types of budgets and group sizes. And if you're struggling to find friends or relatives in the area to look after your dog during the day, you can easily find a local pet sitter through Rover.
Explore our list of dog-friendly VRBO vacation rentals in Anaheim below: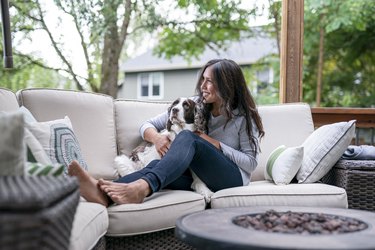 The best for small groups on a budget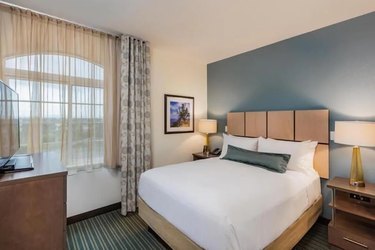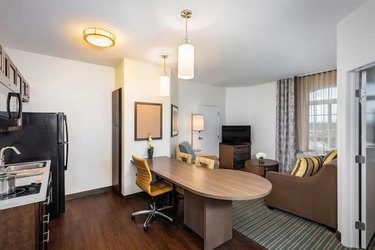 For small groups of three or four people, this one-bedroom, one-bathroom suite is an affordable option that includes several amenities and conveniences. It's part of Candlewood Suites Anaheim Resort Area, which means in addition to the room accommodations, you have access to a heated outdoor therapy pool, an outdoor patio area with Weber grills, an on-site 24/7 fitness area, a lending library for CDs and DVDs, and complimentary laundry services and dry cleaning on the premises.
As for the suite itself, it fits quite a lot into its 450 square feet—yet you won't feel too cramped. It includes a bedroom with a queen-size bed and a separate living area with a pull-out sofa bed, so the suite sleeps four adults. There's a full bathroom with a combined bathtub and shower, as well as a kitchenette and dual eating/desk area for extra convenience.
The fee for bringing pets isn't baked in—but it's pretty affordable, especially if you stay more than two nights. Pets are allowed for a surcharge of $75 for single-night stays, or $150 for an entire stay of two or more nights. While there aren't any dog parks just around the corner, there are pet-friendly patio areas on site, and it's a reasonable walk to both Stoddard Park and Poinciana Park, and just a five-minute drive. Candlewood Suites has a reputation for their reasonable pet policy, and their employees are even known for giving out a dog treat or two.
Parking costs $10 per night (plus tax) and doesn't require a parking slot reservation in advance. There's also a convenient shuttle service going to Disneyland that costs $2.50 to $6 per person. Overall, this is an affordable option for small groups and close to the Anaheim Convention Center and Disneyland Resort.
The best for mid-sized groups on a budget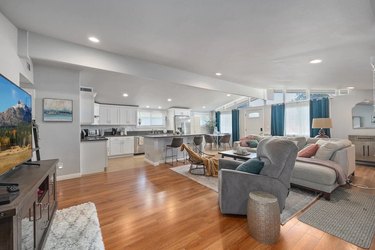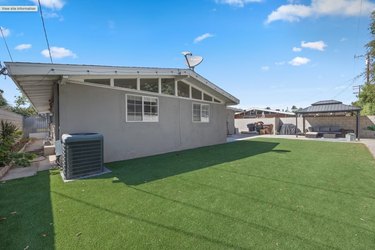 Located in Northwest Anaheim less than three miles from Disneyland and 2.5 miles from Knott's Berry Farm in Buena Park, this budget-friendly family vacation home sleeps up to eight people across its four bedrooms. Plus, with three bathrooms, your group will easily be able to coordinate getting ready in the morning.
The home features a large living room and dining area, a gourmet kitchen with center island, and even an office if someone needs to take a phone call or squeeze in some remote work. It's just 4.5 miles from the Angels' baseball stadium, 10 miles from the beach, and minutes away from plenty of restaurants and shopping. As for pets, up to two cats or dogs under 50 pounds are allowed at no extra charge. There's a large, grassy area in the backyard for dogs to get some breathing room. Sage Park is also just a few blocks away, if you want to give Fido some extra exercise.
The best for singles/couples on a budget (#1)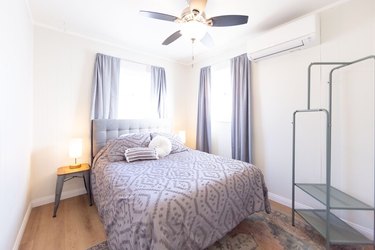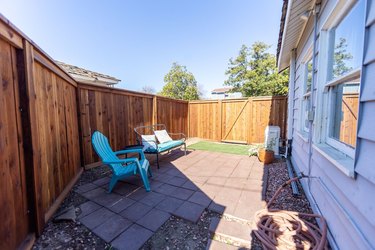 Situated in the lovely Anaheim Colony Historic District neighborhood, this charming 555-square-foot single-story home is compact, yet complete. It offers a bedroom, a bathroom, a full-size kitchen, a living room, and an outdoor patio. It's furnished with two beds (sleeping up to four adults), a couch, a TV, linens, and essential kitchen supplies.
Up to two dogs under 50 pounds each are allowed at no extra cost, and the small home is equipped with internet, air conditioning and heating, and a place to park. The peaceful neighborhood is ideal for taking your dog on a morning or evening stroll. On top of that, it's just two miles from the Disneyland Resort, and even closer to Pearson Park and La Palma Park and Dog Park.
The best for singles/couples on a budget (#2)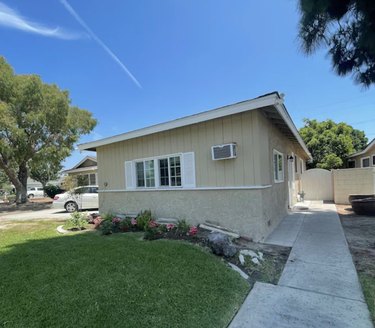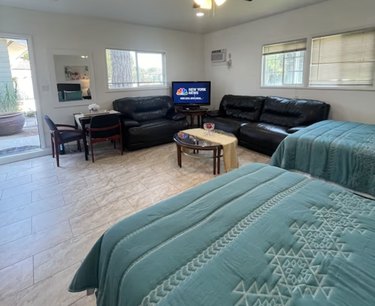 Also located in Anaheim's Colony District, this great studio suite is a fine choice among pet-friendly apartments and is ideal for budget-conscious couples or solo travels—plus up to two dogs less than 50 pounds each. It's just a 25-minute drive to the beach and two miles from the Disneyland Resort.
If you do want to bring up to two dogs with you, there is, unfortunately, a separate $120 charge, but it appears to be for the duration of your stay and not per night, so it still comes out to be pretty affordable. The studio apartment itself features two queen-sized beds, a full sofa, a loveseat, a small dining table, one bathroom with a shower, and a full kitchen. There's also wireless internet and a smart TV.
Enjoy a private entry and plenty of peace and quiet in this tranquil neighborhood that's dog walk-friendly. It's just a short walk to Pearson Park and around a 5-minute drive to La Palma Dog Park.
The best for proximity to Disneyland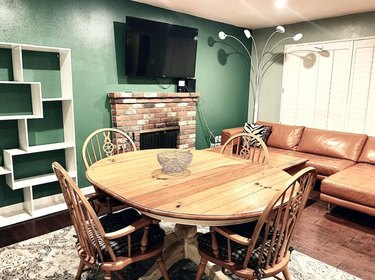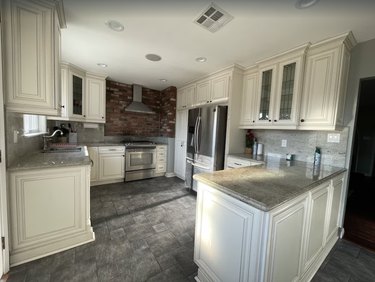 If you're hitting up Disney and looking for a house and not a hotel, it doesn't get much closer than this! Situated just 0.7 miles from Disneyland Park and the Downtown Disney district, and 0.5 miles from Disney's California Adventure, you can easily walk to the resort in 10-15 minutes.
The charming home features four bedrooms, two full baths, and includes six beds, sleeping up to eight adults. There's a living/family area with a comfortable sectional sofa, fireplace, and smart TV, a dining area, and best of all, a spacious remodeled kitchen.
Two dogs less than 50 pounds each are allowed, and for their benefit, there's a large backyard for them to play in. Conveniently, Energy Field, Poinciana Park, and Stoddard Park are all a short walking distance, and Maxwell Park and Dog Park and Jacaranda Park and Dog Park are about 15 minutes away by car.
There's driveway parking for three compact vehicles, plus additional free parking on the street, fast internet, and central AC and heat. While there aren't as many amenities as some of the more luxury rentals in the area, if you're mainly looking for a super easy walking distance to Disneyland and a comfortable amount of space to return home to, this is a smart option for families.
The best affordable staycation home for larger groups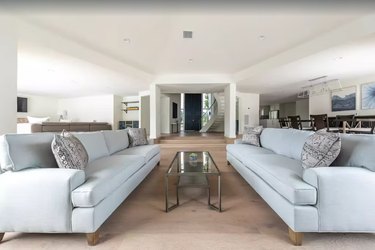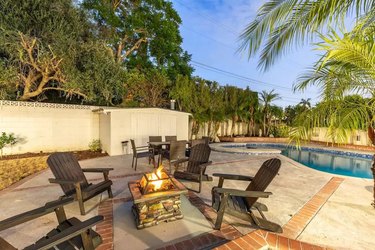 This beautiful five-bedroom, five-bathroom luxury home is such an incredible deal, we almost categorized it as a budget option. Now, an average of $449 per night might not sound super budget-friendly to some, but considering all the amenities, it's a steal. Plus, it's close to Disneyland and the Anaheim Convention Center. For the dogs (up to three pets of any size are welcome), Sage Park is a short walking distance away, and it's about a 13-minute drive to Maxwell Dog Park.
The two-story luxury home has been well-maintained, with updated materials throughout and high-end appliances. There's lots of congregating/entertaining space indoors and out, including a gorgeous pool and spa area surrounded by lots of mature trees and palms, plus a fire pit and al fresco dining area. The home includes six beds and sleeps up to 12 people. No events are allowed and smoking is permitted in outside areas only. Check-in and check-out are faceless and straightforward.
The best staycation home for retreats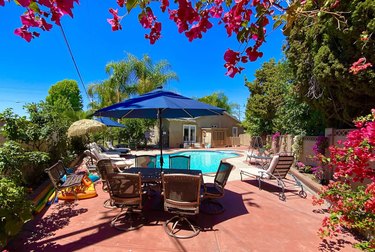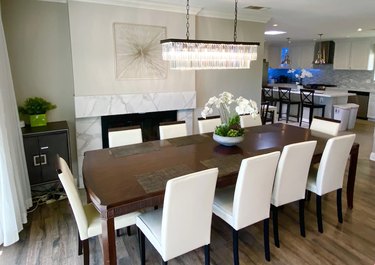 For large groups with a flexible budget, this luxury home rental that's just minutes from Disneyland is the perfect option for college student or group retreats, family reunions, or fitting in a staycation day or two while on your SoCal trip. It's a spacious 3,300-square-foot one-story home that boasts seven bedrooms, four remodeled bathrooms, and two game rooms, with sleeping accommodations for up to 16 people—including five king-bed suites. The home is equipped with a full gourmet kitchen complete with center island with breakfast bar and updated appliances.
What seals the deal, though, is the backyard. It's an oasis of relaxation, complete with a large free-form saltwater pool, in-ground spa, lounge chairs and covered patios, all surrounded by lush greenery and tropical trees for privacy.
Up to two dogs under 20 pounds each are allowed for an additional fee of $300 each which is per stay, not per night, luckily. However, if you've got large dogs, this might not work out. If it does, the wraparound yard includes a good-sized lawn separated from the pool area by a gate—a great spot for dogs to stretch their legs. To give them more exercise, you can take them to the nearby Modjeska Park or Willow Park, which are a reasonable walking distance, or drive about 15 minutes to Maxwell Park and Dog Park.
The home is also equipped with technologies like high-speed Wi-Fi and smart TVs. Between the theme park and the beach, or whatever else you've got planned, you'll definitely want to reserve some downtime to fully enjoy this convenient staycation home.
The ultimate splurge-worthy staycation home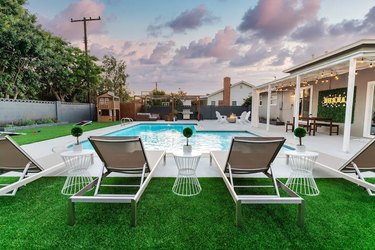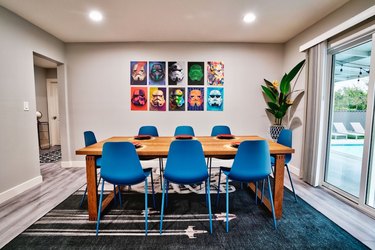 OK, that price tag might look a little scary or simply out of the question for most people, but for large groups who have the budget and are seeking the ultimate among pet-friendly vacation rentals in Anaheim, this single-family home is a true staycation experience. It's got the space and entertainment goodies to keep you content for days on end. When you do decide to venture out with your dogs, consider spending time at Jacaranda Park and Dog Park, which is about a 10-minute drive.
The home features three large bedrooms and eight beds that sleep up to 16 people, including a California king, a king-sized bed, two queen-sized bunk beds with trundle beds, a couch with a pull-out queen-sized bed, and a large couch. There are two finely-updated full bathrooms, a full kitchen with a breakfast bar, a large dining area, a roomy living/family room, and plenty of glass sliding doors for that perfect SoCal indoor-outdoor living.
Up to two pets of any size are allowed, and they'll enjoy the ample space in the resort-style backyard, which boasts an oversized swimming pool, grassy lawns, a covered patio with dining, outdoor seating, a propane grill, a fire pit, a mini-golf putting green, and outdoor games like a giant Connect Four, cornhole, and bocce ball. Back inside, you'll find Nintendo Switch and smart TVs to keep older kids and teens happy.
One of the best things about this rental, besides the numerous amenities, is its attention to detail—to Disney, especially. They don't call themselves the Hakuna Matata Resort for nothing! You'll find lots of artwork and decor inspired by Disney-owned brands like Star Wars and movies like "Beauty and the Beast," and yes, "The Lion King" itself. You can tell the owners are huge Disney fans, and for large families visiting the Disneyland Resort, the home provides a subtle extension of that Disney magic that's sure to be a hit.