For the past five months, I have been fostering an Italian greyhound/chihuahua mix named Everest. He was abandoned near a golf course and was being attacked by coyotes when a good samaritan heard his cries and took him to an emergency vet. He has come a long way since—Everest is truly the cuddliest dog I have ever known—but has some unresolved housebreaking issues.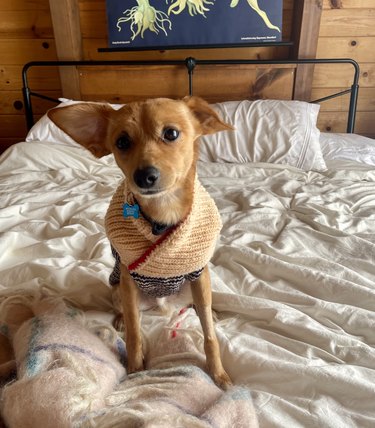 He goes potty outside most of the time and uses pee pads when the weather is poor or he's (understandably) too nervous to spend much time in the yard after dark. His aim is good, but not great, and I often turn to pet stain removers to clean up the residual messes.
I have tried several brands of pet odor and stain remover in my three years of fostering including Nature's Miracle, Arm & Hammer, Resolve, and Woolite. Some that claimed to deodorize just made unpleasant odors worse, while others had poorly designed nozzles that over-saturated the carpet with solution. So when ZOOP asked me to write an honest review of its Pet Stain + Odor Pro Eliminator, I felt uniquely qualified to judge it against a slew of competitors.
The 32-ounce bottle size impressed me right off the bat—the amount of product is substantial and the cylindrical shape doesn't take up a lot of cabinet space. Priced just under $18 on Amazon at the time of publishing, it's not the most affordable cleaner spray on the market but it's comparable to best-seller Rocco & Roxie Stain and Odor Eliminator, which was the top pick in our roundup of The Best Pet Stain Removers.
ZOOP's sprayer nozzle has a twist tip with multiple options—no spray, wide spray, and concentrated spray. The pomegranate scent is light and fresh; it successfully eliminates odors without creating an overpowering scent in the room. I'm a big fan of Mrs. Myer's Clean Day, and I would say the scent of ZOOP's Pet Stain + Odor Pro Eliminator is on-par with it in terms of pleasantness.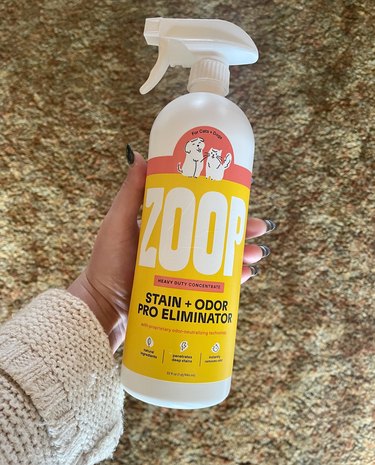 ZOOP's pet stain and odor remover can be used to clean up dog and cat urine, feces, vomit, and diarrhea, and has an enzymatic formula that breaks down waste molecules quickly. Enzyme-based cleaners are more environmentally friendly than chemical cleaners and are safe to use around kids and pets. The spray contains natural ingredients and can be used on a variety of surfaces including carpet, treated hardwood, tile, linoleum, upholstery, car interiors, bedding, mattresses, and litter boxes. However, it's not safe to use on untreated hardwood, leather, suede, silk, or wool specialty fabrics.
My house has shag carpeting from the '70s (it's a vibe) in shades of burnt orange, so I can't attest to how well the pet stain and odor eliminator spray tackles stains on light-colored carpet or area rugs. As an experiment, I dumped some hot sauce on a white and green striped kitchen towel, saturated the stain with ZOOP enzyme cleaner, and let the solution work its magic for the recommended 15 minutes.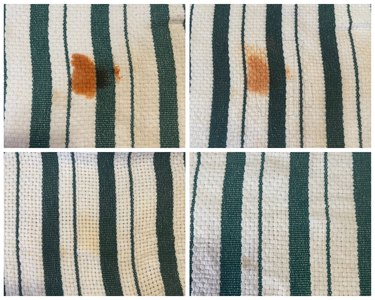 When the 15 minutes were up, the stain was noticeably lighter, and rinsing the towel under warm water helped to remove it even more. I treated the stain with ZOOP once again, and after the second application and rinsing, it was nowhere to be found. If I had used the product with my portable carpet cleaner, the stain would have probably disappeared on the first pass.
ZOOP's Pet Stain + Odor Pro Eliminator is a great product that gets my Shopping Editor seal of approval—I reach for it far more often than the other shan't-be-named bottle of pet stain remover in my pet supplies cabinet. I like that it's safe and toxin-free, smells nice, and tackles tough stains in minutes. While it's pricier than other options I've used in the past, knowing that my carpet has been deep cleaned with plant-based enzymes (and not just surface-level cleaned with chemicals) makes it worth the extra dollars.