Known as the City of Angels, or by some estimations, the "Entertainment Capital of the World," Los Angeles is globally renowned for its near-perfect weather, expensive zip codes straight out of Hollywood (and, um, Hollywood itself!), top-tier universities, famous museums, dazzling entertainment venues, and close proximity to beaches and hiking. In short, L.A. is a prime vacation destination—especially the Westside, with its affluent neighborhoods like Westwood, Brentwood, Pacific Palisades, Santa Monica, and Venice Beach that are a short drive from the beach!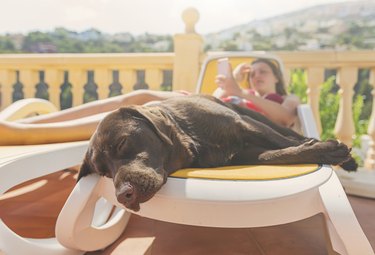 If you're planning a mega vacation or retreat in L.A. and don't want to leave your best dog friends out of the fun, the great news is there are plenty of dog-friendly vacation rentals on the Westside to choose from. Whether you're traveling on a more modest budget or have the means to book a luxurious vacation home to truly experience that fabled SoCal lifestyle, there's a pet-friendly VRBO rental for you, including options just steps from the beach or close to shopping, dining, and entertainment. Plus, if you're venturing somewhere that's not a good fit for Fido, you can easily book a dog sitter through Rover while you hit up the museums, the boutiques on Rodeo Drive, or what have you.
Check out our list of dog-friendly VRBO rentals in the heart of the Westside, and get excited for your SoCal trip of a lifetime!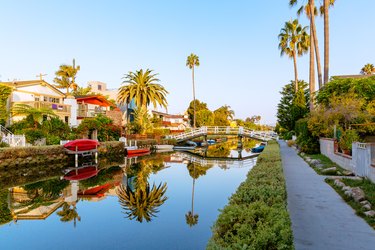 The best affordable beach apartment: Venice Beach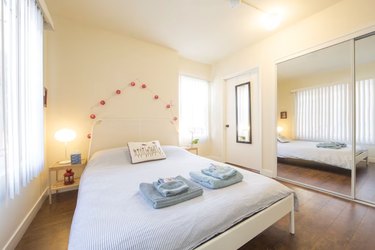 For couples or groups up to four people on a modest budget, this apartment is about as close to the beach as it gets without paying top dollar for it. It's located in a small, three-story condominium that's less than 0.1 miles from the Venice Beach Boardwalk. In approximately 650 square feet, the apartment comprises one bedroom with a queen bed, a living area with a roll-out bed, a full bathroom, a dining area, and a fully-equipped kitchen.
While it's not luxury living, it's clean, comfortable, and boasts an amazing location, with all of Venice Beach's hotspots within walking distance, including the boardwalk, Gold's Gym, Rose Avenue, Main Street, Muscle Beach, the canals, shopping, and restaurants. The unit comes with one off-site parking space that's a four-minute walk away. The host does note that the sound insulation isn't the best, so it's not ideal for light sleepers.
As for pets, up to two pets of any size are allowed. While the unit doesn't come with outdoor entertaining space, your real backyard is the beach! Your dog can get some exercise walking along the beach strand, and in nearby Playa Vista, there are two dog parks, Oberrieder Dog Park and Bluff Creek Dog Park, that are about a 15-minute drive.
The best for singles/couples on a budget (#1): Venice Beach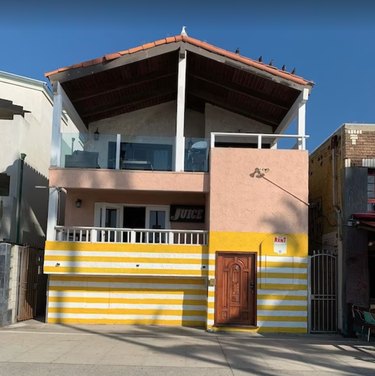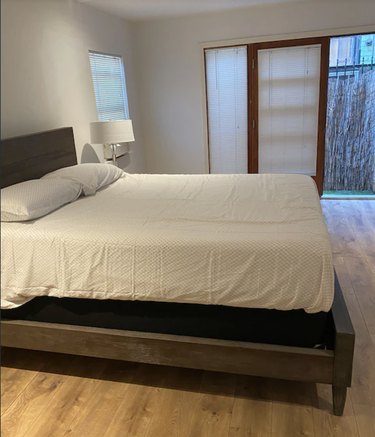 If you thought affordable vacation rentals right by the beach were out of the question, you're in luck. This roomy studio with a queen-size bed is located just 90 feet from the sand and is in easy walking distance to restaurants, shopping, and more. While there's no ocean view, you're literally one minute from the beach! The unit includes a full bathroom and a kitchenette (sorry, home chefs!) in approximately 550 square feet of living space. All utilities, including gas, water, electric, internet, and cable TV are included. The rental also includes one parking spot. Be aware that there is a $75 cleaning fee.
Pets are allowed, and while there's not much room on-site for them to stretch their legs, the whole beach and neighborhood are essentially your yard (but be respectful, of course!). If you'd like to take your pooch to a dog park, there are two over in nearby Playa Vista, Bluff Creek Dog Park and Oberrieder Dog Park, that are around 15 minutes away by car.
The best for singles/couples on a budget (#2): Venice Beach
Another affordable option for couples or solo travelers, this charming bungalow is located in a quiet private bungalow courtyard that's just 0.6 miles from the boardwalk. It's a comfortable, updated studio with a queen-size bed, a small but full kitchen, a full bathroom, an outdoor fire pit, and a spacious front porch/veranda for lounging. The unit is a short walking distance to the beach and to Abbot Kinney Boulevard, a mile-long strip of restaurants and shopping, dubbed the "Coolest Block in America" by GQ Magazine.
One dog of any size is allowed, and though there isn't a grassy backyard to play in, they'll enjoy basking in the sun on the patio or cooling under the shade of the veranda. And again, the beach and neighborhood are dog walk-friendly—although you may feel a little claustrophobic walking on the main shopping streets on crowded days. To give your dog room to safely run around, consider driving over to the nearby Playa Vista neighborhood to visit one of its two dog parks.
The best affordable rental home by the beach: Venice Beach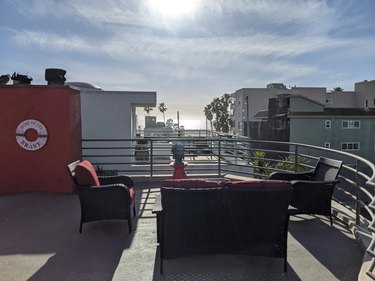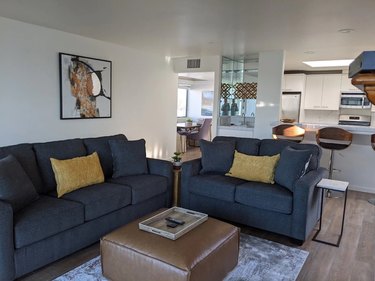 Here's where it really starts to feel like SoCal living at home. This spacious, nearly 1,900-square-foot unit is located in a secure contemporary duplex building merely 75 yards from Venice Beach and the boardwalk. It features two bedrooms, including a primary bedroom with a Tempur-Pedic king bed and a guest room with an oversized California king bed. The host says the unit can sleep six people, and that's probably true if people don't mind snuggling, but you should probably think of it more as sleeping four adults comfortably. Only up to four adults and two children 17 years of age or younger are permitted.
Besides its killer location next to the beach, shopping, and dining, the apartment includes an open living area with floor-to-ceiling windows, two full bathrooms, a full kitchen with a breakfast bar, a dining area, in-unit laundry and—best of all—a furnished 500 square-foot rooftop sun deck boasting 360-degree views. Now we're talking.
Up to two dogs less than 20 pounds each are allowed for a $125 pet fee. While there's no backyard to speak of, this is one of the roomiest vacation rentals for this price point, so there's plenty of indoor space for small dogs to meander. As with the other Venice Beach locations, it's approximately a 15-minute drive to two dog parks in Playa Vista, and the beach is practically your oyster. The unit also includes an attached two-car tandem garage and is located just one block away from the beautiful Venice Canals, which are definitely worth a look.
The best affordable rental home for pets: Venice Beach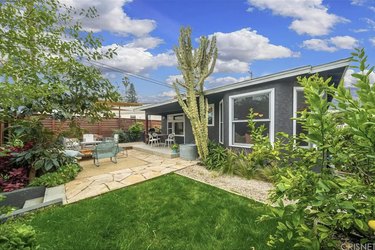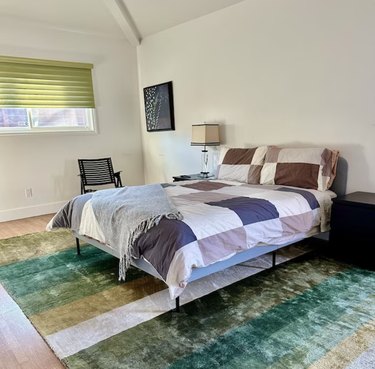 In exchange for moving just a little bit farther from the beach (but still only 0.7 miles away), a group of up to eight people can enjoy serene Venice living and an actual yard—with grass, too! This stylish Venice bungalow features two bedrooms and three beds (plus two long couches, sleeping up to eight), two full bathrooms, a kitchen with high-end appliances, an open concept main room, a one-car garage with private laundry, and an incredible outdoor living space that includes a patio with seating, a small grassy area, a hammock, and a small playground.
Up to four pets of any size are allowed for a $100 pet fee, which is worth it considering the amount of safe outdoor space they have to stretch their legs. The home is just a few blocks from the Venice Canals, which aren't the most pet-friendly, but they do include surrounding walkways and bridges (the space can be tight), so visiting them with your dogs is still an option if they're generally well-behaved. This bungalow is also slightly closer to the two dog parks in Playa Vista and is just a few blocks from the photo-worthy Marina del Rey, which has dog-friendly areas and parks for dogs on a leash.
The best luxury vacation rental: Venice Beach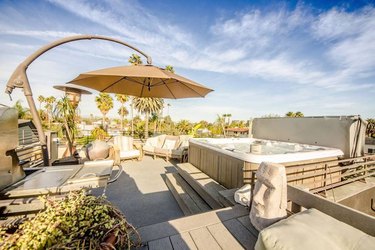 If you're coming to West L.A. intent on experiencing SoCal indulgence, this luxurious vacation rental overlooking the historic Venice Canals fits the bill. It's a 2,100-square-foot modern home featuring three large bedrooms and five beds (sleeping six to eight people), two full baths and a powder room, a spacious living room, a dining area with views, a sleek full kitchen, and garage parking. It's just a five-minute walk to the beach and Abbot Kinney, a five-minute stroll to the marina, and a 10-minute bike ride to Santa Monica and Third Street Promenade.
The best selling point is probably its fabulous rooftop sun deck, however, which offers 360-degree views and is set up with a barbecue grill, lounge furniture, an umbrella, a heater, and a large hot tub by Sundance Spa. Just imagine winding down in the evening after a day of sight-seeing and beach-going, watching the orange sunset while relaxing in the spa and catching those cool L.A. vibes.
Pets are allowed for a one-time cleaning fee of $40 (be aware that there's an additional $175 cleaning fee and a $40 fee for an additional guest), and while there's no grassy yard for them, there are many dog-friendly (on a leash) spots for them within walking distance, and it's a relatively short drive to the dog parks in Playa Vista. For mid-sized families (and their furry friends) looking for a taste of that boujee beach city lifestyle, this is a surprisingly affordable find.
The best for singles/couples on a budget: Sawtelle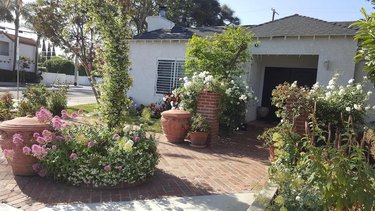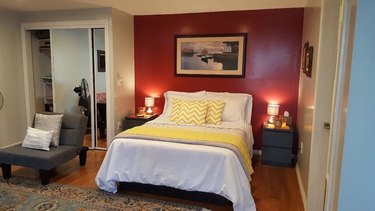 Foodies, rejoice! If you're a sucker for trendy comfort food, and in particular, for East Asian (primarily Japanese and Korean) cuisine, the Sawtelle district of West Los Angeles contains numerous delicious spots to eat—especially if you're a big fan of ramen or udon. And this affordable studio cottage for singles or couples is less than a 15-minute walk from the tastiest stuff. It's a bit more of a drive to the beach (around 20 minutes), but it's also closer to Westwood, West Hollywood, museums, and shopping.
Even though the Sawtelle Japantown can be pretty bustling at night, this cozy, free-standing cottage is located in a quieter neighborhood a few blocks away. It's a small (but not cramped) studio apartment with two beds that's ideal for budget-conscious couples or solo travelers and their dogs. There's a living area with a futon bed, a small dining area, a fully-equipped kitchenette with an oven and stove, two full bathrooms, and a charming, private outdoor patio and backyard area.
Pets are welcome for no additional charge (although there is a general $95 cleaning fee), and there's enclosed outdoor space for dogs to sniff around, but keep in mind: The yard, which includes some covered umbrella seating, is mostly gravel, so you may want to pack some booties for your pups so they can traverse the yard more comfortably.
The best affordable rental home with a yard: Santa Monica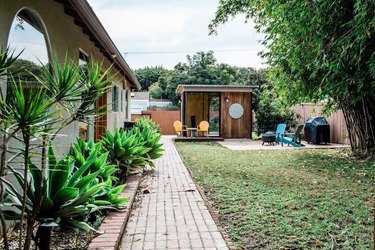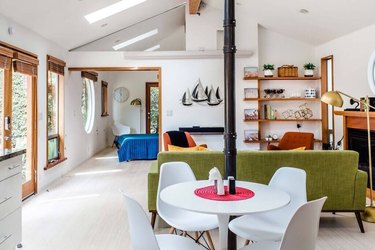 For a decidedly more dog-friendly yard, consider this quiet two-bedroom home rental in Santa Monica. It's just around two miles from Westwood Village, Third Street Promenade, and Main Street Santa Monica, and less than 2.5 miles from the beach and Santa Monica Pier, but nestled in a peaceful neighborhood that's more conducive to nighttime rest. The small home includes two bedrooms (sleeping four people), two full bathrooms, a full kitchen with an eating area, a living room with a full home theater setup, a high-end workstation, a small home gym, and a yard with a grill, patio, fire pit, and grassy lawn for dogs to play on. The unit also includes secure, gated parking for two cars.
Pets are welcome, but there's a $100 pet fee. Dogs will enjoy the grassy yard, and you'll enjoy the privacy and noise protection provided by the surrounding 30-foot hedge. Overall, the home is clean, updated, affordable, and in a great location. Ishihara Park, a newly-developed linear community park with grass, walkways, a playground, and citrus trees (which you're free to pick fruit from!) is just across the street and a great place to take dogs and young children.
The best luxury rental near the beach: Santa Monica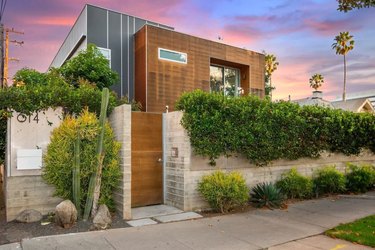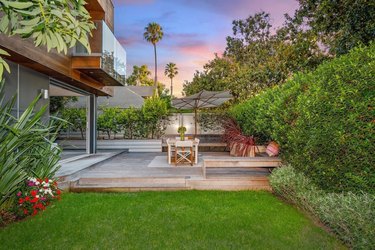 You want luxury? We'll show you luxury. This beautiful modern estate in an upscale Santa Monica neighborhood is just half a mile from Santa Monica Beach and 0.8 miles from Santa Monica Pier. Inside, you'll find five bedrooms and seven beds (sleeping up to 10), four full bathrooms and a powder room, a gourmet kitchen, and ample living areas with retractable sliding glass doors for seamless indoor-outdoor living.
The private, secluded wraparound yard includes an expansive deck with dining, cafe umbrellas, a built-in grill, and an immaculate lawn for dogs to enjoy. There's also an enormous rooftop deck spanning the entire structure, with seating and great neighborhood views. Back inside, you'll be impressed by state-of-the-art appliances, impeccably-designed interiors, and more living space than anyone really needs.
Up to two dogs less than 50 pounds each are allowed for a mere $10 pet fee, and children are also allowed. This luxury rental comes with two-car garage parking, plus extra gated parking for a total of four secure spots. If you've got a larger family or a mid-sized group retreat in the works, this luxury rental provides a classy, private space to enjoy modern SoCal living.
The best rental home with a pool: Santa Monica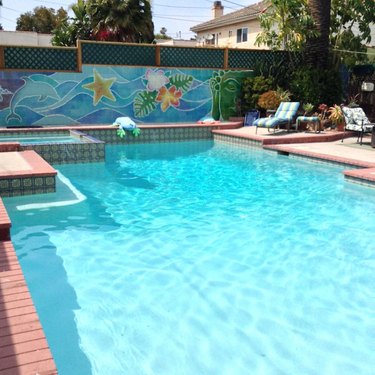 Did somebody say "pool?" If you've been surprised by the shortage of pool homes on this list, just know that plenty of neighborhoods near the beach don't have a ton of extra room for backyard pools. Plus, they have the beach! But if the thought of renting a vacation home in L.A. without a pool sounds like madness to you, this one's for you.
Located on the northeast side of Santa Monica, this vacation home isn't in easy walking distance to the beach (a 10-minute drive is doable), but it's got a great private backyard with a pool, spa, fire pit, outdoor seating, covered dining, and wooden deck. Back inside, you'll find three bedrooms (sleeping six), two full baths, a well-equipped kitchen with eating area, a dining room, and a large living room.
Pets are welcome for a small fee of $15, and there's both permitted street parking and a private driveway that fits two cars. Muscle Beach, Westwood Village, Santa Monica Pier, Third Street Promenade, and the Riviera Country Club are all 2.5 miles away or less. For your dogs, it's just a five- to 10-minute drive to Westwoof Dog Park located near Westwood Village.
The best modern luxury rental home: Brentwood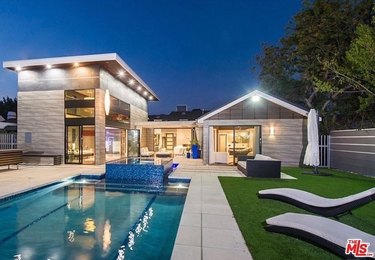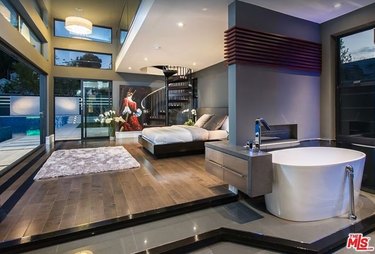 If you can extend your budget, this modern luxury pool home in the heart of Brentwood is an even better deal for the amenities it offers. Beyond its four bedrooms (sleeping eight) and five stylish bathrooms, this 4,200-square-foot modern marvel boasts grand skylights, vaulted ceilings, bi-fold glass walls for seamless indoor-outdoor living, expansive interiors and exteriors, and an entertainer's dream of a backyard, complete with a pool, spa, outdoor seating and lounging, a grassy lawn, an outdoor shower, and a cabana. The home is just minutes away from Westwood Village and UCLA and a 15- to 20-minute drive to the Santa Monica Pier and Pacific Palisades Park.
Pets are welcome for an additional $250 fee, and if you want to give your dogs extra exercise beyond what they can get in the backyard, you're only about 10 minutes away from Will Rogers Historic State Park, which is full of hiking and walking trails and commands unbeatable views of the coastline and Pacific Palisades canyon. Just be careful!
The best luxury rental with a dog-friendly yard: Brentwood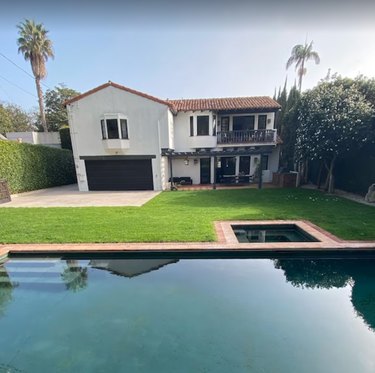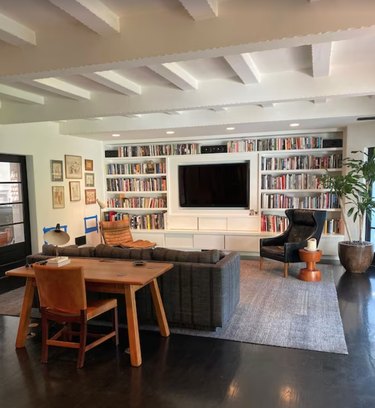 For vacationers with deep pockets looking for an even more dog-friendly yard in a luxury rental, this Spanish-style home in Brentwood has it all—the pool, the grassy lawn, the privacy, the space, and the location. Its four bedrooms sleep six people, and with three full bathrooms, nobody will be bumping into each other in the morning getting ready. The home is located just off the famous Sunset Boulevard, about a mile from Bel-Air, less than four miles from beaches, and three miles from Palisades Park, which features grassy areas, walkways, and killer views—the perfect place to take your dog for some moderate exercise. Westwood Village and the historic Getty Center Museum are even closer.
Something to keep in mind: Only one dog under 50 pounds is allowed for a $150 pet fee, and they must be pre-approved. If you're traveling with multiple dogs, unfortunately, this spot isn't for you. For families with just one furry friend, there's much to enjoy on-site, though, with plenty of outdoor space and grass for your dog to explore, and even more worthwhile outdoor spots are just minutes away, including multiple state parks.