Planning a sunny, beach-filled SoCal vacation? Whether you're looking to catch some waves, work on your tan, visit charming ports and tourist-friendly locales, or do all of those things on a trip that also includes Disneyland (why not?), the beach cities of south Orange County, CA have plenty of comfy vacation rentals to return to after a fun, productive day. And if you're hoping to bring your best dog friends with you, this coastal region has many pet-friendly vacation rentals, too!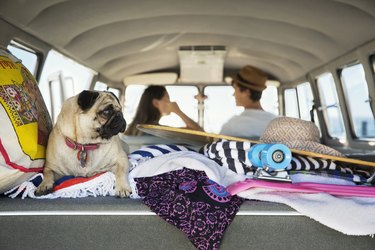 While you should know beforehand that typically, the closer you get to the beach, the less room your dog will have to run around at home (that's beach towns for ya), don't fret! None of you will stay cooped up all day, anyway; there's too much fun to have outdoors! The beach, hiking trails, public parks, and dog-friendly tourist spots will be your dog's backyard if you can't find a place with a roomy yard. That said, we've scouted out some dog-friendly VRBO rentals in Orange County's beach cities that boast some amazing yards and outdoor spaces everyone can enjoy.
Check out our list of dog-friendly vacation rentals—covering a mix of affordable to splurge-worthy abodes—in some of Southern California's most popular beach cities like Huntington Beach, Newport Beach, Laguna Beach, Dana Point, and San Clemente, all of which are a drivable distance from the Disneyland Resort in Anaheim. Most house rentals involve easy, faceless check-in and check-out to keep things as stress-free as possible.
The best affordable beachfront rental: Newport Beach
It doesn't get any closer to the beach than this! Located right on the boardwalk on the Balboa Peninsula with lovely views of Newport Harbor and just steps from the sand, this three-bedroom apartment is the second-story unit of a larger beach house. There's a full kitchen with beautiful countertops, a dining area, a living room with a fireplace and flat screen TV, two full baths with double vanities, in-unit washer and dryer, air conditioning, and a covered patio with outdoor dining and seating.
One dog up to 50 pounds (contact the owner about additional pets) is allowed for an additional pet fee of $100; there's also a general $185 cleaning fee. The three bedrooms and four beds sleep up to six people, making this an affordable beachfront rental for pairs of couples or mid-sized families. The apartment is mere steps from the Balboa Fun Zone (Ferris wheel and all), Balboa Pier, Newport Harbor Nautical Museum, a short ferry ride to Balboa Island, walking distance to Newport Pier, and driving distance to Newport Beach Dog Park and Villas Fashion Island Dog Park. On-leash dogs are welcome in most public areas in the Balboa and Newport Beach Pier neighborhoods in the mornings and evenings.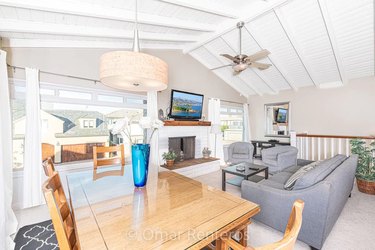 The best affordable rental on Balboa Island: Newport Beach
Whether this is a couple's trip or you've got your kids with you, staying on Balboa Island itself is a treat. This harborside community in Newport Beach is a popular tourist destination that comprises three artificial islands with residential homes, a paved boardwalk, shops, restaurants, and more, all accessible by car or a family-owned ferry. This charming two-bedroom, one-bathroom cottage close to Marine Avenue sleeps five people. There's a full kitchen and dining area, living room, in-unit laundry, an outdoor patio with seating, and outdoor parking for one car. Be aware that the unit is part of a duplex and that during the summer, rentals usually require a seven-night minimum, with arrivals and departures on Saturday.
Dogs are allowed for a $100 pet fee, and while there's no grassy lawn for them, the perimeter of Balboa Island features a paved boardwalk perfect for dog walks, and dogs on leashes are welcome in most nearby public areas like Balboa Pier, Newport Beach Pier, and parks in the morning and evening. Plus, Balboa Beach is just half a mile away (although you will either need to take the ferry or drive off the island. The Newport Beach area is also home to two dog parks, Newport Beach Dog Park and Villas Fashion Island Dog Park, if you want to give your dog some off-the-leash fun time. Plus, Irvine, with its numerous parks, safe neighborhoods, and plethora of restaurants and eateries (especially if you crave East Asian food), is just about 15 minutes from Newport Beach.
The best affordable luxury rental: Newport Beach
Chances are, if you're planning a beachside SoCal trip, you're aware of how affluent the neighborhoods in Newport Beach are. If you're looking less for "quaint beach cottage" and more "modern luxury with a pool," this listing might be for you. And it's surprisingly affordable for what you get. This luxuriously remodeled pool home boasts four bedrooms (sleeping eight), three-and-a-half bathrooms, a gourmet kitchen, and a fantastic private backyard with a pool with waterfalls, a spa, a large fire pit, a built-in barbecue, outdoor seating, and a koi pond, surrounded by lush landscaping.
Up to three cats or dogs less than 50 pounds each are welcome for a $150 pet fee (there's also a separate $300 cleaning fee), and while the yard doesn't feature a gigantic lawn, there are grassy areas and plenty of space for your dogs to sniff around, even if they can't exactly break into a sprint. Corona del Mar State Beach is 0.7 miles away and Little Corona del Mar Beach is just half a mile away. The famous Fashion Island outdoor shopping mall is just a five-minute drive away. Spanning 2,500 acres of backcountry wilderness and 3.4 miles of beach, the nearby Crystal Cove State Park offers stunning coastal vantage points; however, dogs are permitted on paved walkways only and not on the beach.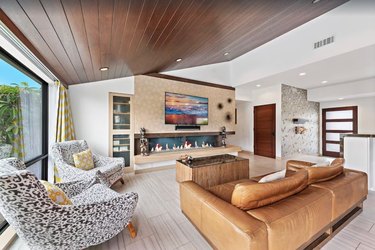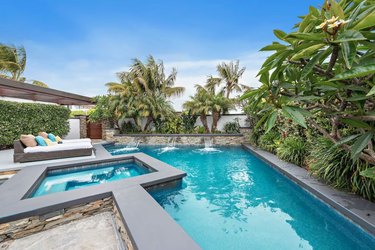 The best luxury rental for larger groups: Huntington Beach
Roughly five miles north of Newport Beach, Huntington Beach and its namesake beach represent another affluent beach city that's worth a stay. This ritzy, modern rental home just steps from the beach sits at the top of our list's price range, so it's best for travelers with deep pockets and a taste for luxury. It's a multi-story contemporary home with four bedrooms (sleeping ten), four full bathrooms, an entertainer's kitchen, lavish upgrades throughout, a rooftop deck with 180-degree views, and a great outdoor entertaining area with a pool, a 14-person spa, a grassy area (for the dogs!), and an outdoor kitchen. There's even a third-floor outdoor seating area equipped with a Peloton. You have access to the entire home minus the garage and closets (clothing racks are provided).
Pets are allowed for a small $25 fee (there's also a separate $400 cleaning fee), and there's ample space indoors and out for them to walk around, including a private lawn. The home is ideally situated just about two blocks from Huntington Beach Pier, 0.1 miles from Main Street, less than half a mile from the Huntington Beach Art Center, and 0.2 miles from the immaculate Huntington City Beach. Better yet, the home is just over a mile from Huntington Dog Beach, a dog-friendly beach with hourly parking. If you're looking for a combination of luxurious accommodations and perfect location, this is it.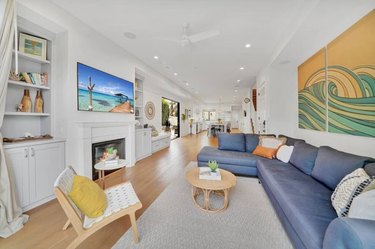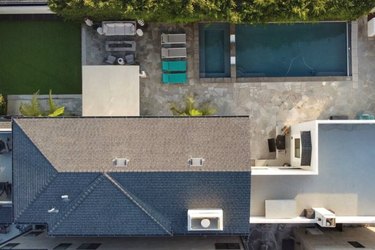 The best for couples/small groups on a budget: Laguna Beach
For couples or groups of three or four people, this charming two-bedroom, one-bathroom condo is clean, affordable, and a three-minute walk from the beach. What more could you want? The completely remodeled beach cottage features a primary bedroom with a new king bed, and a guest bedroom with two twin beds, sleeping four adults. There's a full kitchen with new appliances and quartz countertops, a dining area, and a living room with a flat screen TV. Everything is light, bright, and airy. The rental comes with one on-property parking spot. Note: the minimum age of the primary renter is 30.
Dogs and pets are allowed for a modest $45 pet fee (there's also a separate $235 cleaning fee), and while the cottage itself doesn't have much of a yard, it's ideally located less than 0.2 miles from Heisler Park (stunning views) and Main Beach Park (part of the beach itself), both of which are dog-friendly. For even more space for your dogs to play, Laguna Beach Dog Park is roughly a 10-minute drive away.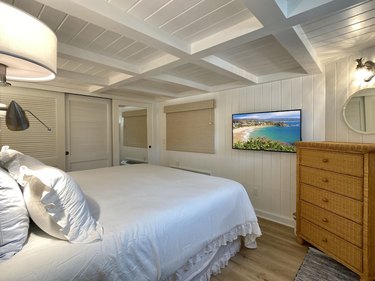 The best for quiet getaways: Laguna Beach
If you prefer something more tranquil but still close to the beach, this cozy and historic cottage in the Diamond Crestview neighborhood of Laguna Hills is the perfect place for a respite. The nearly 100-year-old home that's still owned by its original family is nestled on a half acre of wooded hillside six blocks from the beach, one mile south of downtown Laguna Beach, and near Bluebird Canyon. Made with pine walls and floors and surrounded by eucalyptus trees, the private home features three bedrooms (sleeping six), two full baths, and balconies with outdoor seating.
Pets (including dogs) are allowed for a small $25 pet fee (there's also a separate $100 cleaning fee), and there's a good amount of natural landscape for dogs to explore (under your supervision). The cottage is located less than one mile from Main Beach Park, Victoria Beach, and Moss Point Beach, and between one and three miles from more than three other beaches and parks. It's about a 15-minute drive to Laguna Beach Dog Park. Overall, this spot is close to some of the best Laguna Beach has to offer, while offering some much-needed peace and quiet at the end of the day.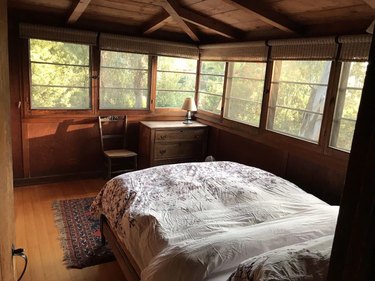 The best for mid-sized groups: Laguna Beach
If you stay at this three-story townhome in the Blue Lagoon community, you get access to a private beach! How cool is that? The beach in question is also just a seven-minute walk away. As for the home itself, it features three bedrooms and three bathrooms spread out over three floors, including a first-floor bedroom with an infrared sauna and a hot tub that's cleaned weekly. You'll also enjoy a remodeled kitchen, high-speed internet and a host of streaming options, panoramic ocean views, and access to the private community's two pools, tennis courts, oceanfront community room, and oceanfront cabana with full kitchen (available for reservation). The rental also includes two covered parking spots.
Pets, including dogs, are allowed for a nominal pet fee (be aware of the separate $450 cleaning fee), and there are lots of nearby outdoor spaces for them to enjoy that are just minutes away by car. If you prefer to take them to a place specifically for dogs, Laguna Beach Dog Park is still a commutable distance, but will be a longer drive than from our other Laguna Beach picks. All in all, for mid-sized groups, this spot is an affordable vacation come true.
The best for couples/small groups on a budget: Dana Point
Roughly eight miles south of Laguna Beach, Dana Point is a harbor community that's charming in its own right. For solo travelers, couples, or small groups on a budget, this one-story rental home in the lovely Lantern District offers some serious bang for your buck. It's been completely remodeled and is just over a half-mile walk from Dana Point Harbor and Doheny State Beach. The cozy home features three bedrooms (sleeping six), one full bathroom, a full kitchen, a living room with a large flat screen TV, and a private backyard with a patio, outdoor dining, and a grassy area with lounge chairs for relaxing.
For pet parents, you can bring your dogs for a $150 pet fee (there's also a general $300 cleaning fee). The yard has plenty of space for them to trot around or even bask in the sun. The home is also conveniently located less than one mile from a number of parks, including Crystal Cove Dog Park, Lantern Bay County Park, Harbor Point Park, Dana Cove Park, and Salt Creek Beach Park. In the evening, you can enjoy a stroll with your furry friend along Dana Wharf, and for dinner, the humans in your group can dine at a number of seafood restaurants near the harbor.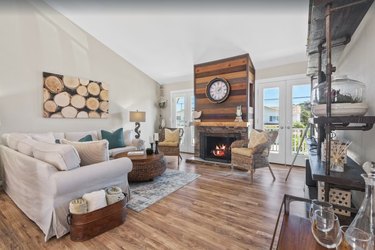 The ultimate staycation home for retreats: Dana Point
Though you surely aren't traveling to SoCal just to stay at home, once you arrive at this beautiful "Villa Catalia" beach home in Dana Point, you may just call off the rest of your plans for the day. The over 3,000-square-foot Italian villa-style home features four bedrooms and six beds (sleeping ten people), three full bathrooms plus a powder room, an entertainer's Tuscan-style kitchen, and an oasis of a backyard for the ultimate staycation vibes. The private yard includes a saltwater pool and spa, a Baja shelf with in-pool seating, LED color-changing pool lights, an outdoor fireplace, a patio, a built-in barbecue, and plenty of outdoor seating.
Up to two dogs less than 50 pounds each are allowed for a $200 pet fee. While the backyard doesn't feature a giant lawn for dog play, there are still some grassy areas and plenty of space to sniff around. For some roomier outdoor exercise, a number of parks, including Crystal Cove Dog Park, are just minutes away. Roughly a 10-minute drive from Dana Point, you may also enjoy strolling through the Los Ríos Historic District of San Juan Capistrano, which includes restaurants, antique shops and small businesses, and the beautiful Mission San Juan Capistrano.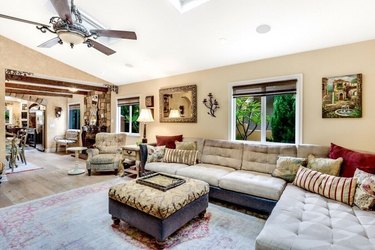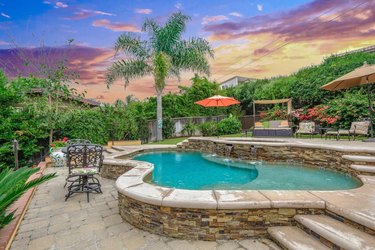 The best for couples/small groups on a budget: San Clemente
The southernmost beach city in Orange County, San Clemente draws lots of surfers, and tourists and locals alike enjoy its clean (but narrow) beaches and beach town small businesses and restaurants. For couples or small groups on a budget, this beautiful ocean view cottage will be a comfortable and affordable place to stay. It includes one bedroom and a living room with a sleeper sofa (sleeping up to four), a full bathroom, a full kitchen with updated appliances and countertops, and a large outdoor balcony with patio furniture and a barbecue grill. There's also on-site coin-operated laundry and garage parking available.
Pets are allowed for a $100 fee, and although there isn't really a yard for them to play in, there are a number of nearby parks, including Linda Lane Park and Max Berg Plaza Park. San Clemente Dog Park is also a dog-friendly park to check out, but it's situated more inland and will take at least 10 minutes to get there by car.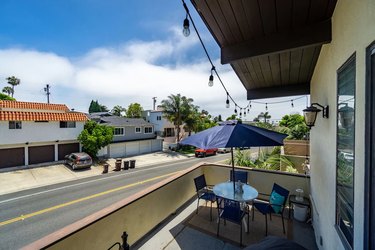 The ultimate staycation home for retreats: San Clemente
Our personal favorite family-friendly vacation home on this list, this entertainer's dream home boasts a resort-style backyard with a to-die-for pool area and panoramic ocean views. The warm and inviting home features five bedrooms and eight beds (sleeping up to 12 people), and three full bathrooms, making it an excellent choice for family reunions or group retreats. There's a huge kitchen and multiple spacious living areas for gathering.
Besides the amazing backyard, which boasts the best pool area on this list (complete with a grotto-style slide and waterfall) and glass screens for optimal ocean views, one of our favorite things about this rental is its discounts offered to those in service jobs: Throughout all of 2023, first responders, teachers, military service people, doctors, and nurses all receive 50% off. The only caveat is that you must book a stay of 10 days or longer, which we know isn't feasible for everyone. Still, it's a great bonus if your group can make it work.
As for pets, up to two dogs of any size are allowed for a $250 pet fee, and the home is just minutes away by car from a number of public parks, including San Clemente Dog Park, as well as T-Street Beach and Riviera Beach. The home is situated on a quiet cul-de-sac ideal for family getaways, but no parties or events are allowed.