If you and your dog spend time at the beach or pool, it's important to have a life jacket to keep your dog safe while they're on or near the water. Dog life jackets are specifically designed to fit a dog's body, keeping them buoyant (with their head above water) as they swim and play.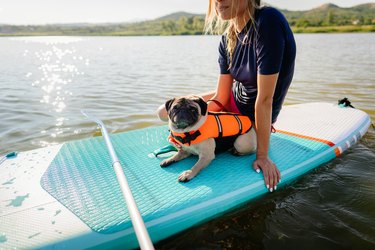 Even if your dog is a strong swimmer, they should still wear a life jacket anytime they're swimming in deep water or on a boat, including kayaks, canoes, and paddle boards. For brachycephalic breeds (AKA dogs with flat faces like French bulldogs and pugs), a life jacket is a must as their body shapes make it difficult or impossible for them to hold their heads above water while swimming. Life jackets can also be helpful when teaching your puppy or dog to swim as the sensation of being held up in the water can make them feel more comfortable and secure while participating in water activities.
What to consider when purchasing a dog life jacket
‌Fit:‌ The best dog life jackets are ones that fit securely without limiting your dog's mobility. When purchasing a life vest for your dog, be sure to measure their girth (the widest part of their rib cage), neck, and body length before consulting the brand's sizing chart. An improperly fitted life jacket won't be comfortable for your dog to wear, or safely hold them above the water. When your life vest arrives, adjust the straps to your dog's unique size so it fits properly before they get into the water.
‌Weight Limit:‌ Before clicking 'add to cart,' make sure the life jacket you are considering is approved for your dog's weight. If your dog is too heavy for the life jacket you've purchased, it will not have an appropriate level of buoyancy to keep your dog above water. This will be uncomfortable for your dog and can be a safety hazard.
‌Supervision:‌ Even if your dog is wearing an appropriately fitted life jacket and is a strong swimmer, be sure to supervise them while they are near water. Supervising in and near the water means that dog owners can intervene if their dog starts to get tired or becomes stressed. By staying close to your dog, you'll be able to grab the flotation device's handle and get them to safety. Supervision is also important to make sure the life vest stays on your dog and they don't get tangled up in it. If you notice that your dog seems uncomfortable, it's a good idea to remove the life vest and take a break from water activities for a little while.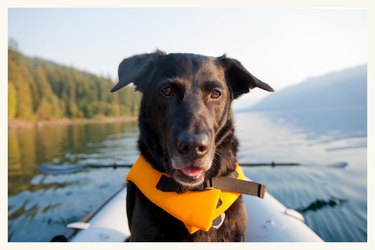 The best overall dog life jacket
The simple design of this life jacket makes it a great choice to have on hand whenever you are near the water. It's affordably priced, too, so boaters may want to purchase a couple of extras if they ever welcome their friends' dogs on board. The life vest is available in sizes extra-small to extra-large to fit most sized dogs weighing between 0 and 150 pounds. It's bright orange with four reflective strips to make your dog more visible, even at nighttime.
This Frisco life jacket is made with 20-millimeter thick foam panels for buoyancy, and there's a front flotation flap to help keep your dog's head above water while swimming. The vest features three adjustable side-release buckles to ensure the perfect fit for your dog. The larger sizes feature dual grab handles along the back to make it easier to pull your dog out of the water in the event of an emergency.
The best novelty dog life jacket
With this mermaid-inspired life vest, your dog will be highly complimented and highly visible. Available in sizes extra-small to extra-extra-large, the mermaid scales design is sold in pink or blue—the bright colors and reflective material make it easy to spot in the water. It's made from polyester and polyethylene foam that is tear-resistant and quick-drying. There are adjustable nylon straps to ensure a proper fit, a front float to keep your dog's head above water, and an easy-grab rubber handle for added safety. In addition to buckles around the neck and belly, there's hook-and-loop fastener to act as a fail-safe.
The best dog life jacket with neck float
Available in yellow, orange, pink, and camo, this dog life vest is as bright as it is comfortable. It comes in sizes extra-small through extra-large to fit most breeds (sizing is based on chest circumference, not weight). The life jacket is made with ripstop material to maximize buoyancy while providing freedom of movement on land. It also has a neoprene belly band for added support to the chest and belly. The front neck float assists in keeping your dog's head above water while they are swimming, and the adjustable straps ensure a secure fit. This life vest also has two built-in top handles for lifting your dog out of the water.
The best reflective dog life jacket
Even if you've never seen "Finding Nemo," this life jacket is worth purchasing due to the built-in reflective strips along the back and grab handles, which make your dog more visible in low-light conditions. The vest is sold in sizes extra-small to extra-large, suitable for dogs weighing up to 100 pounds. Part of Chewy's Disney collection, it features "Finding Nemo" characters like Nemo, Dory, Squirt, Pearl, and Mr. Ray. The life vest touts both buckles and hook-and-loop fasteners to keep your pup secure, and there's a small front flap to keep their head above water. Sizes extra-small and small have a single grab handle, while sizes medium through extra-large have dual grab handles to help pet parents lift their dogs out of the water.
The best size-inclusive dog life jacket
This KONG floatation vest comes in six sizes—extra-extra-small through extra-large. Designed for active swimmers, this high-quality nylon life jacket helps keep your dog safe while they're playing in the water. It's constructed with multiple layers of foam to provide maximum buoyancy and make swimming feel more natural and comfortable for your dog. There's a D-ring leash attachment, so you can even use the vest as a harness while walking near the water with your dog.
The vest has a heavy-duty rescue handle on the top for pulling your dog out of the water in an emergency, high visibility reflective strip binding, and an underbelly made of mesh fabric that allows the vest to drain and dry quickly. An adjustable fuzzy fastener for the belly closure also provides a comfortable yet snug fit. Choose from a bright green or bright pink color.
The best quick-drying dog life jacket
If you own a lake or beach house and your dog spends a lot of time in the water, you might want to look for a quick-drying life jacket like this one by Outward Hound. It's made with ripstop nylon and quilted polyester and has a mesh belly band that lets water drain quickly and improves ventilation. The life vest has adjustable straps and quick-release buckles along the belly and neck area to get the right fit for your dog without limiting their mobility. Plus, the bright green and turquoise colors and reflective accents make it easy to spot your dog in the water. There's also a metal D-ring should you need to use the life jacket as a harness while walking along the shore.
The best dog life jacket for beginner swimmers
Dogs who are new to swimming—whether they be puppies or adult dogs who only swim a few times a year—can all benefit from this Vivaglory life jacket that's built with extra padding for up to 50% more flotation. It's got a removable front float and a unique sternum design to hold a dog's head up. There's a strong grab handle on the top, as well as a leash clasp, so it can function as a harness while you're out on water adventures. The life jacket comes in a variety of bright colors and is paired with reflective detailing for enhanced visibility. Adjustable nylon straps ensure the perfect fit, and sturdy quick-release buttons and hook-and-loop fasteners provide added security. Choose from multiple sizes ranging from extra-extra-small to large.
The best dog life jacket with dual grab handles
With this shark-inspired life jacket, your dog is sure to be the life of the pool party! It features a removable shark fin attachment and comes in sizes extra-small to extra-large. Not only is it hilarious to look at, but this life vest also has dual grab handles (sizes medium and up) that are sturdy enough to help you pull your dog out of the water. It's got 20-millimeter foam panels for improved buoyancy, plus a flotation flap on the front to keep your pup's head out of the water. There are three adjustable straps—two belly straps, and another at the neck to help you get just the right fit for your dog in their new life vest. All of the straps have quick-release buckles, making the vest super easy to put on and take off your dog.
The best dog life jacket for comfort
This Ruffwear float coat is made with PVC-free GAIA foam panels, which are soft and comfortable for dogs to wear. The foam wraps around your dog's body and allows them to move freely in the water or on land. Its shape also provides a more natural and comfortable swimming position for dogs. The swim vest has an adjustable neck closure (bonus: it slips right over your dog's head) and buckles across the belly that are sheltered by the exterior fabric for protection.
This life jacket also has supportive webbing that stays stable, even when wet, without stretching out. Other notable features include a low-profile handle, reflective accents, and a loop for an LED light (sold separately). This bright, color-blocked flotation device is available in blue, red, and orange. It's sold in sizes extra-extra-small to extra-large.