When people get in your car, is it obvious that you have a dog? Most dogs shed, and if you and your dog go places together often, chances are, your car is full of dog hair and nose prints on the windows. If you're looking to give your car a deep clean and at-home detailing, here are some great cleaning products to help you clean your car and keep your car looking its best.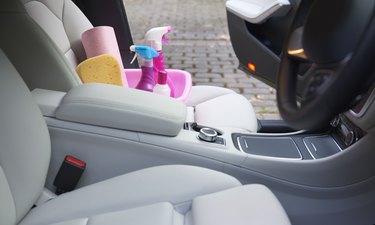 What to consider before purchasing car interior cleaning products
‌Interior Type:‌ When purchasing supplies for cleaning your car, make sure to consider your car's interior to make sure the cleaning products will work for you. If you have upholstered seats, you'll need to have hair removers, but if you have leather seats, you'll be able to wipe away more of the pet hair.
‌Instructions:‌ To get your car properly cleaned, make sure to follow all instructions for each of the cleaning products that you select. Using the cleaning products properly will help you to get your car as clean as possible and remove drool and pet fur from inside your car.
‌Supervision:‌ Make sure to keep your cleaning supplies away from your dog before, after, and while cleaning the car. While you give your car a spa day, give your dog a toy or chew to occupy them. With your dog busy doing their own thing, you'll be able to get your car clean and ready for your next adventure with your dog.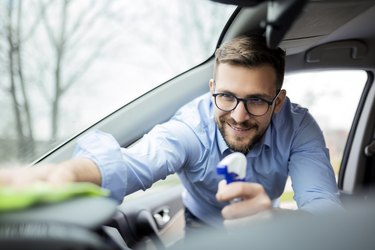 1. Lilly Brush Pro Pet Hair Tool Kit
If you have dog hair trapped in between your seat cushions, this pet hair remover tool is made specifically to help you clean your car. The device is extra useful for removing trapped dog hair from cargo areas and seats, as well as car mats. The soft blades are safe to use on plastic, glass, chrome and wood. You can even get dog fur that has become matted and woven into your car interior. To use, just use quick strokes in different directions to remove dog hair from the fabric, then pick it up and throw it away.
2. Bissell Pet Hair Eraser Lithium Ion Cordless Hand Vacuum
Give your vehicle a complete clean with this cordless handheld vacuum cleaner. The pet hair extension is specifically designed for removing stubborn and hard-to-reach dog hair, and being cordless, you can easily access all areas of your car. The vacuum cleaner runs on a 14-volt lithium-ion battery that is easy to recharge between cleanings. This vacuum cleaner comes with specialized pet tools including motorized brushes, upholstery tools, and crevice tools to help you get every area of your car clean. This vacuum also has an easy-to-empty bin, making it easy to clean out after your car is clean.
3. Carbona Oxy-Powered Pet Stain and Odor Remover
This pet and odor remover can help you to remove any stains you might have on your upholstery or car mats. It's a two-in-one stain remover that is easy to use with the built-in stain-fighting applicator head. While you are cleaning, the sponge and bristles get deep into the fabric fibers to lift any pet stains and leave your car looking good as new. This cleaner uses an oxy-powered formula with activated foam technology that penetrates and lifts out stains. In addition to making your car look clean, this cleaner is also an odor eliminator to leave your car both looking and smelling its best.
4. Lilly Brush Mini Pet Hair Detailer Pet Hair Remover
Small enough to keep in your glove compartment, this pet hair detailing brush is made to easily remove dog hair from car mats and seats. The cleaning blade on this pet hair remover is safe to use on all your car surfaces and can even remove hair from windshields. The hair remover tool is reusable and can be easily cleaned with soap and water. This pet hair remover tool will gather up pet hair as you brush it against the surfaces, and then you can vacuum up the piles of pet hair from your car once it is gathered up.
5. Seventh Generation Multi-Surface Wipes, Garden Mint Scent
Made with natural plant-based ingredients, these multi-surface cleaner wipes are perfect for keeping all areas of your car clean. The wipes come in recycled packaging and are scented with 100% essential oils. These multipurpose wipes can help remove nose prints from your mirrors, as well as wipe down other hard surfaces in your vehicle to remove dog hair and other dirt. These wipes have a garden mint scent to help your car smell as clean as it looks. The wipes come in three 70-count packages to keep your car fresh and clean for a while. Plus, the wipes containers are easy to open and store, making them perfect to reach between car cleaning sessions to wipe up dog messes on the spot.
6. Nature's Miracle Mountain Fresh 3-in-1 Odor Destroyer, 24-oz Bottle
For removing dog odors and leaving your car smelling fresh, it's a good idea to spray your car down with the cleaner dog lovers swear by, Nature's Miracle. This bio-enzymatic formula removes odors and can be sprayed inside your house to clean litter boxes and carpets, but can also be used on fabric and hard surfaces in your car while you are cleaning. This cleaner is pet-friendly and pet-safe, making it ideal to use around pets. The cleaner also leaves a clean fragrance behind. This cleaner doesn't just mask smells; it neutralizes them, so the fresh smell lasts.
7. Pet Odor Exterminator Pineapple-Coconut Air Freshener, 7-oz Spray
If your car is both dirty and has a bit of a doggy smell, you'll want to add an air freshener to your cleaning routine. This enzyme-formulated air freshener spray specifically removes pet odors, leaving the area smelling fresh. This air freshener has a natural tropical scent bringing together the scent of creamy coconut and juicy pineapple. This spray can help your car smell fresh after you clean, and is helpful to keep in the car to spray after an especially messy outing like taking your dog out swimming.
8. Analan Mini Pet Hair Remover for Car Detailing
This professional auto detailing hair remover is designed to get your car looking its best. This hair remover can be used on car mats, cargo areas and seats. The detailer has pet hair remover brush ends to help remove embedded pet fur from your car. The detailer has three levels of edges for getting into tight areas of your car and is ergonomic and comfortable to hold while using. This lightweight detailer has replaceable blades when the original ones wear down. To use, just drag the detailer across your upholstery and gather the pet hair into a pile that can be picked up or vacuumed up.
9. Reusable Cat and Dog Pet Hair Remover
For some light cleaning in your car, this lint roller is designed to easily pull up pet hair and keep it from building up on the floor mats and upholstery. This pet hair roller has a non-slip handle, making it comfortable to hold and use. The roller uniquely has reusable lint rollers that pick-up pet hair with electrostatic adsorption that takes place on the surface. This lint roller is reusable—no need for purchasing sticky rolls!—so you can use this one over and over again to pick up dog hair from your vehicle. The rollers can be cleaned by using a soft towel soaked in water to remove the pet fur and prepare the roller to be ready to use again.