Not all cats are into catnip, but the ones that do get a ton of enjoyment from it. Catnip is usually sold dried and loose, when it's sprinkled on the floor, a bed, or another surface, or it comes in toys, which cats can pounce on, chew, and bat around. Even with all of these options, not all cats are satisfied with their catnip carrier, and for these picky felines, we have catnip spray. Catnip spray is a great way to offer catnip to cats who love a potent product, and it's a good choice for pet parents who don't appreciate cleaning up loose herbs or purchasing new catnip toys every few months. Sprays can be used with your cat's favorite play things and can be an affordable way to offer your cat an experience in one easy motion.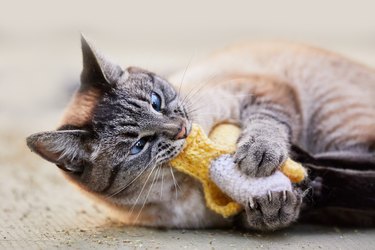 What to consider when purchasing catnip spray
‌Price:‌ Let's be honest—catnip sprays are not that much different from one another. The main things that will affect the price point of a catnip spray include the quality of the catnip, the packaging, and the size of the container. So, if you're working with a smaller budget, it's most likely fine to pick up a spray for a few dollars and opt out of the $18 variety. As with any pet product, consistently offering your pet what they enjoy is the best way to build healthy routines, so if the price of something isn't manageable in the long run, you can always find something more sustainable for you.
‌Potency:‌ One thing that will affect the price of a catnip spray is the quality of the catnip, and this will often affect how potent the product is. This will also depend on the amount of catnip that's being used in a spray. Often, organic catnip is beloved by pet parents because it's the safest option for their feline friends, but non-organic varieties also work for many cats, and usually won't affect the potency of a spray.
‌Staining:‌ Most, if not all, sprays will not stain fabric surfaces in your home, like your furniture, bedding, or blankets. However, some sprays that contain a large amount of carrier oils may leave a mark from the oil if too much of it is applied in one area. To avoid staining your belongings, always spray catnip on your cat's toys, or on surfaces that you aren't worried about staining, like old towels or blankets that are reserved specifically for your cats.
1. SmartyKat Catnip Mist Spray
If you're just looking to try a catnip spray, this is a great option to consider, as the price point is pretty low. Despite being under $2, it's a good spray that's infused with catnip oil that's strong enough to get your cats rolling and playing in no time! Like all catnip sprays, this one is meant to be used on your cat's favorite toys, like a scratching post, a cat tree, or even on a cat bed if your feline friend is the type to roll around in the herb. If you want more of this spray, which is half an ounce, you can opt for the larger 7-ounce size, or purchase it in packs of two or six.
2. From the Field Catnip Spray Rejuvenator, Pack of 3
This option is also made with catnip oil that's mixed with water, making it easy to spray on cat toys and cat scratchers. You can purchase this as a single bottle or as a three-pack. Catnip sprays like this one are a great way to rejuvenate old catnip toys, like catnip balls or toy mice, and just a pump or two is enough to keep your cat engaged and having a great time. It's made with catnip grown in the U.S. and is safe for use with cats and kittens.
3. Pet MasterMind I Love Catnip! Cat Spray
For a larger spray option, this one is sold in 4-ounce bottles. The catnip used is 100% premium Canadian catnip that's strong enough for even the pickiest cat to enjoy. One great thing about catnip sprays like this one is that there's no cleanup involved—it's a no-mess way to deliver catnip to your cat and won't leave little crumbs of dried catnip leaves on the surfaces of your home, or on your cat's belongings. You can spray this variety on a number of areas that your cat frequents, like a cat condo, a cat bed, or even their favorite blanket.
4. Smokey's Stash Catnip Spray for Cats
Looking for a catnip spray that resembles something you might pick up at your local dispensary? This spray bottle is fitted with a fun label that's still marked clearly enough that you won't mistake it for other spray bottles you might have. It's made with 100% organic catnip and mixed with distilled water for an even spritz that will enhance any surface. Many people like to use catnip sprays like this one to train their cats to only scratch approved surfaces, like scratching posts. This bottle holds two fluid ounces of spray, and because it's in a darker bottle, the catnip oil won't go bad if you keep it around for a while.
5. KONG Naturals Catnip Spray
If you'd prefer to opt for a catnip spray from a name you trust, it doesn't get much more familiar than KONG. Best known for the durable dog and cat toys they make, the company now offers a cat treat in spray form that's made with highly potent premium North American catnip. These catnip buds are harvested and field-dried to lock in the most enhanced flavor for your cat, and stay fresh in the amber-colored bottle. Catnip spray like this one isn't just great for keeping your cat entertained—it can also help soothe your cat before and during potentially stressful events, like trips to the veterinarian's office, or visits to the groomer.
6. Meowijuana Catnip Spray
A best-seller, this is one of the most trusted names in catnip and catnip sprays for felines. It's sold in two sizes and is offered in two flavors—original or honeysuckle. The catnip oil is extracted from premium catnip buds grown in the U.S., and is collected at its most potent growth point to deliver the best experience for your feline friend. Although potent, this spray is safe for kittens and cats, even seniors, and the convenient pump bottle makes it easy to cover your surface of choice with catnip.
7. Petlinks Bliss Mist Spray
The biggest bottle yet, this spray is sold in a 7-ounce container that's filled with natural, organic catnip essential oil that's free from pesticides and other harsh chemicals. You can use it to bring new life to old catnip toys that have since lost their potency, or attract your indoor cat to areas you want them to spend more time in, like their bed, condo, or any other enrichment item in the home that's just for them, such as a scratching post or window perch.
8. Pet Winery Wine Meowsling Cat Lickable Treat
Do you enjoy unwinding at the end of the day with a nice glass of wine? You can enjoy a relaxing moment with your feline pal thanks to this unique cat treat. Styled like a tiny bottle of wine, this product is mostly water that's infused with salmon oil and potent catnip to keep your cat entertained and enjoying life. The resealable package (you should not give your cat this entire bottle of fake cat wine in one sitting,) is just a cute way to offer catnip to your pal. Thanks to the packaging, this can also make a great gift for any of your pet parent friends.
9. Whisker City® Catnip Spray
Back to the simple, smaller bottles of catnip sprays: This option is a no-fuss spray that only contains the good stuff—distilled water and catnip oil. It's available in two sizes, and with the largest bottle ringing in at under $7, this variety is a great option for cat parents on a budget, or for cats who might go through a lot of sprays. Like all catnip sprays, this is safe to spray on any surface or toy reserved for your cat to enjoy, and is suitable for cats and kittens of all ages.
10. SmartyKat Catnip Mist Spray
Finally, another low-cost catnip spray that's sold in smaller sizes, this option is an excellent choice for anyone looking to add a spray to their cat's routine. It contains premium catnip oil that your cat can enjoy without the usual mess that comes with dried, loose catnip. This spray is a great item to offer any indoor cats who are looking for a little bit of fun and entertainment in their lives, and can be used on a number of surfaces, from bedding to toys to play areas around the house.