The land is thawing out and warming up, and if the hot heat isn't your thing, you can always head north to these spots and get away from it. Whitefish, Montana is a tiny town nestled right along Whitefish Lake, and not too far from Glacier National Park, one of the most gorgeous in the country. People love Whitefish for its proximity to outdoor activities, like skiing, snowboarding, kayaking, hiking, and fishing, and if you're thinking of making a summer trip with your pup, the long days and green scenery will provide endless opportunities for fun. If you're ready to head way north and eat your weight in huckleberries, take a look at these dog-friendly rentals for every length, size, and budget to make your trip comfortable and complete.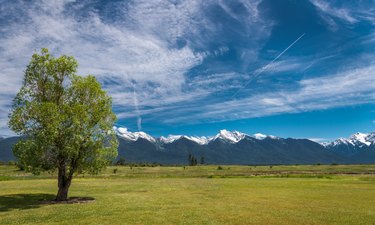 Starting off with something modest, centrally located, and budget-friendly, this one-bedroom rental home is just two walking blocks from downtown Whitefish, where you'll find tons of places to eat and shop. It sleeps two people and comes with a queen bed in the bedroom and a sleeper sofa in the living room. It's also got one full bathroom, a kitchen stocked with all the amenities you'll need, and a private outdoor patio area for you, your guest, and your dog to hang out on. You'll also find a fireplace inside, and a washer and dryer free for you to use.
Getting around the area to see the sights is easy from this space as well, with Whitefish Mountain just a 10-minute drive, or shuttle away, Glacier National Park a scenic 45-minute drive away, and the beach at Whitefish Lake within a 10-minute walk. The host does allow up to two pets to stay with guests, and the pet fee is $100 for both, and there are two additional fees to consider as well—a $100 cleaning fee and a $59 damage insurance fee.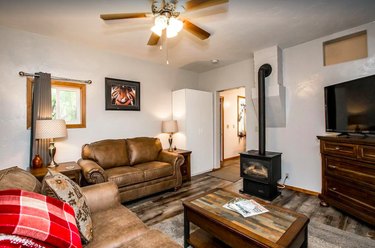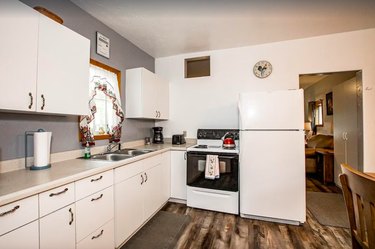 The best for on-site amenities
If you're looking to house a few more people and possibly spend a bit less between you, this stunning 900-square-foot condo is a great option to consider. It's part of Crestwood Condos, which offers an outdoor pool to guests, two hot tubs, and a great location—it's just 10 minutes to the mountain and 45 minutes to Glacier. This rental only allows one pet at a time and charges an additional fee of $25 per night for the furry friend, and the cleaning fee (with or without a pet) is $194.
The space can sleep six people between two bedrooms (head's up—one bedroom has a king bed, the other has two twins, so plan accordingly), and a sleeper sofa in the living room. The condo is also equipped with two bathrooms for everyone to share. This is a ground-level getaway with a bit of yard space for you and your canine companion to hang out in.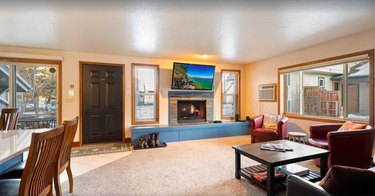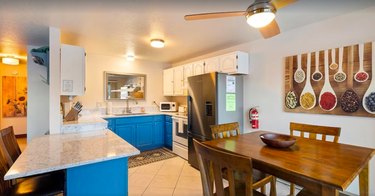 The best for proximity to downtown
Bear Den, $275 avg/night (+$300 pet fee)
For all fans of sleep and ultra-modern living spaces, it doesn't get much more enticing than this brand-new pet-friendly vacation rental that was built in 2021. The space is fitted with a fireplace, one king bed, one queen pullout, a full bathroom with a private hot tub, a beautiful kitchen that's ready to use, and a balcony for catching those cotton candy sunsets in the evening. This rental does sleep four people, so it's perfect for a pair of couples, or a small family looking for a townhouse to call home while they're vacationing in Whitefish.
Guests of this property will need to be on the low-key side, as the profile strictly prohibits parties of any kind, as well as smoking and vaping on the property. Up to two dogs are permitted, but the pet fee for this one is steep at $300, plus there's an additional $135 cleaning fee. That said, if you're looking for something right in the heart of downtown Whitefish, it really doesn't get any closer than this. And, depending on the time of year you're looking to book, the rental rates per night are on the lower end for the area.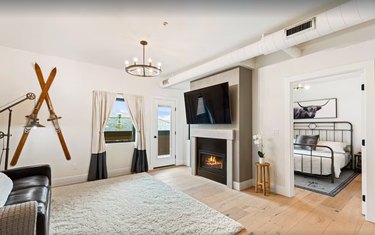 The best for large groups
Anyone with a large group in need of a large space should take a look at this 1,457-square-foot house—it sleeps eight people across six beds, and has tons of space in and around the property for you and your fellow guests to enjoy. This roomy home is fitted with everything you need to enjoy yourself indoors—a huge living room with comfortable couches and a large flat-screen TV, two full bathrooms, a large kitchen that's ready to use, and a sizeable dining table for fun group dinners.
The outside of the house is even more spectacular, with a huge yard for you and your dog to romp in, a grill and outdoor gas fire pit, and a stunning mountain view of the Big Mountain. All of your favorite activities are close by, including the ski resort and Glacier Park. Plus, the neighboring towns of Kalispell, Flathead Lake, and Columbia Falls are all within an hour's drive of the front door. Pets are allowed with a $150 fee and the host also charges a $230 cleaning fee. Like all of the listings here, it also comes with free Wi-Fi, a washer and dryer, and a driveway to park in (you can even rent their vehicle if that's what you need).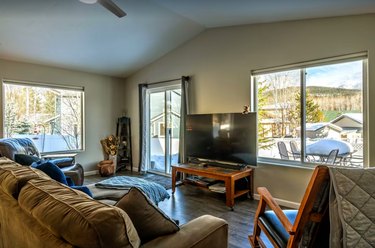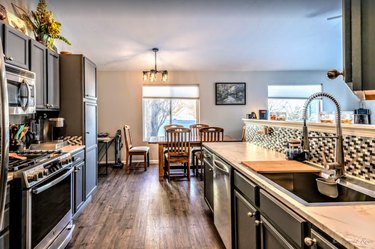 The best for dog-friendly amenities
Looking for your own little log cabin in Montana? We love this rental option for a number of reasons and think you might too. For starters, the pet fee is way lower than most in the area at only $40. Second, it's just outside of town, so it offers a little privacy, less traffic (not that there really is much in town), and a great view of those starry Montana skies once the sun goes down (which can be as late as 10 p.m. in the summer months!).
While it looks like a log cabin on the outside, the space is updated with new amenities to keep everything bright, comfortable, and functional. This pet-friendly property sleeps four and is fitted with one queen bed and one pullout couch. It also comes with a full bath, a kitchen that's ready to use, free Wi-Fi, and a deck that faces a large yard and a 3-acre field that you and your dog are welcome to explore. One thing to keep in mind about this property is that it does neighbor a working business, so there may be other people and animals nearby during the day.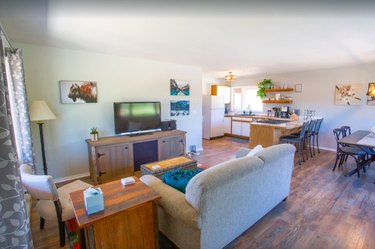 The best for ski vacations
If you're in search of a ski cabin to remember, this rental might be the one for you. Nestled in Ptarmigan Village on the slope of the Big Mountain, this two-bedroom condo is super close to the ski resort, and 15 minutes from downtown Whitefish. The location of this one is definitely more suited for people who want to get the most out of their outdoor time, and may not need to be in walking distance of restaurants or downtown shops. That said, there are a ton of amenities that come with staying in this little patch of forest on the mountain.
You'll have access to a private beach, tennis courts, a pond, 52 acres of gorgeous hiking, an indoor saltwater pool, hot tubs, and saunas. The inside of the home is fitted with two bedrooms, each with its own bed and TV, two full bathrooms, and a kitchen, living room area, and everything else you'll need to be comfortable during your stay. The pet fee for this spot is $200 per pet, and the host allows up to two dogs to stay at a time.
The best for budget travelers
OK, folks—you wanted Montana, we found you some Montana! This Montana pet-friendly rental is listed as rustic and that's no joke. This is technically a dry cabin as there is no plumbing, so that means no running water or toilet; it's essentially a very elevated camping setup that's clean, comfortable, and safe. There is, however, a restroom just a short walk away, and the place is fitted with heating and air conditioning, so you'll still be comfortable no matter what the weather is doing that day. There is also a small kitchenette, and a pellet grill out back for you to use. This rental is just minutes from Glacier National Park as it's located at the base of Columbia Mountain in Columbia Falls. Pets are welcome, and as far as we can tell, there is no pet fee for bringing your dog along. However, it's a good idea to check with the host before you book.