Get stoked, because Wayfair's Way Day Sale is live now! The two-day mega online sale has actually been ‌extended‌ through ‌11:59 p.m. ET, Friday, April 28‌. So now, you get a whole extra day to shop! "But wait!" you may be wondering. "What does Wayfair have to do with dogs and pets?" It might surprise you, but Wayfair offers a huge selection of pet furniture and pet essentials, including dog beds, dog sofas, pet feeders, cat trees, pet cages, and more!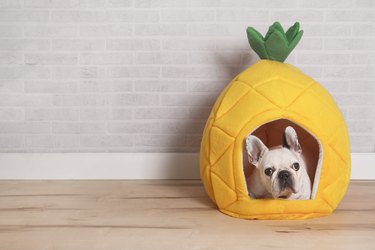 When it comes to pet essentials, the Way Day Sale is admittedly heavy on dog furniture and dog products, but there are also great deals on cat furniture and other pet essentials—so if you've got quite the menagerie at home, Wayfair has plenty of pet deals to keep you covered. We've rounded up some of the best Way Day deals on pet essentials that you can shop now.
Oates Anti-Anxiety Design Dog Sofa
The perfect spot for small and medium-sized dogs to relax, this stylish faux leather dog sofa boasts an orthopedic memory foam and measures 25 1/2 inches wide, 40 1/2 inches long, and 13 3/4 inches tall. It features a removable micro velvet cushion and a back pocket; the cushion cover is removable and machine-washable for convenience.
This unique hooded dog bed resembles a sleeping bag made just for dogs, but it's even sturdier. It's comprised of a soft, round mattress made of orthopedic memory foam that's attached to a soft polyester hood that can be used with or without a flexible plastic hoop to provide more structure (similar to a sloping roof). It's perfect for dogs to burrow themselves under the blanket to get snuggly. The bed is available in four sizes ranging from 26 inches to 44 inches in diameter and comes in six colors, including blue, espresso, and gray.
Minky Faux Fur and Velvet Calming Hug Bed
Designed for dogs and cats who love to nest and hide, this super comfy FurHaven hug bed helps your furry friends feel snug and secure. It's made with soft faux fur and plush velvet with a polyester fill material that's both soft and sturdy. The non-skid base keeps the bed from sliding around on the floor. The bed is even machine-washable for convenience. Choose from three colors (aquamarine, gray, and soft pink) and two sizes: the small bed is 18 inches in diameter, while the medium-sized bed is 24 inches in diameter.
Minky Plush Velvet Luxe Lounger Dog Contour Pillow
This jumbo-sized lounging pillow for dogs rivals the comfort of the very best furniture for humans, and your dog will love chilling or napping on its soft surface. Choose from four different colors (camel, gray, spruce blue, and espresso) and three different fill materials (cooling gel foam, memory foam, and orthopedic foam) to best match your home's style and your dog's needs. The contour pillow measures 30 inches wide, 45 inches long, and 6 inches tall in its jumbo size, but is available in five other sizes (both larger and smaller) as well.
Sheard Seat Belt Compatible Travel Pet Bed
This travel pet bed is a godsend for whenever you bring your dog on a road trip (or even when just running errands). Made with an extra tough and durable polyester fabric with a PU coating that is still comfy for your dog, it features a two-point safety system that keeps pets safe and secure when using an adjustable leash strap. The bed is made using eco-friendly materials like recycled plastic bottles and it's water-resistant, chew-resistant, odor-resistant, and machine-washable. It's available in three sizes ranging from 20 inches long and 14 inches wide to 30 inches long and 22 inches wide.
Tucker Murphy Pet Corner Dog Crate Furniture
This beautifully-designed dog kennel is meant to look just like another piece of elegant furniture in your home. It's intended to be used in corners and can double as both a crate for your dog (or cat!) and a corner table that you can dress up with decor pieces like flower vases or picture frames. The kennel is made from manufactured wood with laminate and a wide mesh locking door and mesh walls on the front-facing sides to provide ventilation. The sturdy top (roof) can accommodate up to 200 pounds (helpful in a moving a truck!). The crate is available in brown and white color schemes and two sizes, up to 52 inches wide, 27.6 inches deep, and 29.1 inches tall. Assembly is required.
Aunyae Plastic Insulated Dog House
This roomy dog house is suitable for both indoor and outdoor use. It's made of a tough and durable polypropylene material that's leak-proof, nontoxic, and odorless. It features an integrated ventilation system at the top that helps circulate fresh air and innovative thermal balancing properties that keep it cool in hot conditions and warm in cold conditions. Its high arched doorway makes it comfortable for your dog to enter and exit. Choose from three finishes (red, blue, or gray) and three sizes up to 42 inches long, 38 inches wide, and 39 inches tall. Assembly is required.
This cozy dog house is ideal for small dogs 25 pounds and under. It's made from solid fir wood that's water-resistant and weather-resistant and provides ventilation. It features a small step ladder leading up to a small rooftop balcony with lattice railing for your small pooch to enjoy a slightly elevated view of the backyard. The roof is removable for easy access to the interior for cleaning, and the entire structure measures 29 inches long, 21 inches wide, and 26 inches tall.
Athey Easy 4-Step Pet Stairs
These stylish pet stairs have earned Wayfair's seal of approval for good reason! For small or aging dogs (or cats) who need a bit of help climbing onto sofas or beds, this set of four steps will make things easier for them, all while blending in with most decor styles. The stairs are made with a high-density comfort foam and they're wrapped in a removable and washable comfort cover. The stairs stand 22 inches tall and measure 18 inches wide and 28 inches deep altogether. The stairs boast a non-slip base to avoid accidents. Some assembly is required.
Polston Petwalk Folding 61" Pet Ramp
If a pet ramp sounds more practical, this 61-inch pet ramp can help in multiple situations, such as when your small or aging dog needs to climb into and out of the trunk of your SUV, or when they need to get onto an elevated platform like a raised bed. It's not glamorous-looking, but the sturdy plastic and non-slip coating hold up well to extended use. Plus, the ramp easily folds in half for easy storage or portability. It comes fully assembled so your pet can begin using it right away.
Ian ECOFLEX Piedmont Elevated Dog Feeder
Traditional pet food bowls that require your dog (or cat) to crane their neck downwards can be uncomfortable for them at best, and at worst, can lead to your pet developing joint and muscle issues over time. Elevated food and water bowls, like this elevated feeder model, can help mitigate this issue by better aligning the bowls with the natural position of your dog's head. It's made with ECOFLEX®, a durable and long-lasting wood plastic composite, and includes two 32-ounce stainless steel bowls. There's also a hidden storage compartment that can accommodate 15 to 20 pounds of dry pet food in a resealable bag. The elevated dog feeder measures 21.3 inches long and stands 15.6 inches high, making it suitable for most average-sized dogs.
Ideal for smaller dogs, this luxurious dog sofa is available in six upmarket colors and boasts a comfortable memory foam in the cushion. The sofa features a curved back and contoured design to keep your pup feeling secure and protected, while the sofa stands on refined, tapered, and angled 3-inch legs made of real wood. The cushion cover is removable and machine-washable for convenience. The sofa measures 16 inches in diameter, 26 1/2 inches long, and 12 inches tall.
This bagel bolster bed looks like a bean bag chair designed just for dogs. It's available in ten upscale colors, including apple, aubergine, fern, and marine, and four sizes ranging from 24 inches to 52 inches in diameter, accommodating dogs of most sizes. The comfy nest design provides slightly raised edges to keep your dog feeling cozy and secure, and the cover and fill both contain polyester material.
Boissoneault Felt Pet Cave
Suitable for both dogs and cats, this cone-shaped pet cave makes for a cute and comfortable hideaway for your furry friend when they just want to relax in a space that's just for them. The cover and fill material both use a polyester felt fabric, and the cone cave comes with a removable striped cushion that provides extra padding. The cone and pillow are both machine-washable, but the cone should not be placed in the dryer. The pet cave is available in four sizes ranging from 21 inches to 32 inches in diameter to accommodate multiple pet sizes. Best of all, you can even roll up the pet cave to take with you on trips.
Littell ECOFLEX Cat Litter Box Enclosure
Gone are the days of cat litter boxes being left out in the open—quite unsightly, even to most cat-lovers! This stylish litter box enclosure from Archie & Oscar can pass itself off as a side table or small nightstand, all while providing odor control. It's made from Ecoflex®, a proprietary composite of recycled polymers and reclaimed wood fiber by-products that's nontoxic, eco-friendly, and impervious to moisture and odor. It measures 18 1/2 inches wide, 23 5/8 inches deep, and 22 inches tall, and is available in four classy colors: espresso, antique white, gray, and russet.
Kells Paperboard Litter Box Enclosure
Another of our Way Day favorites, this larger litter box enclosure provides extra room to tuck away your kitty's litter box while giving them even more privacy while they do their "business." It looks great and inconspicuous, too! It's made from lightweight yet sturdy paperboard and features a wide entryway that's nearly floor-level—ideal for kittens and aging cats alike. The enclosure is available in five muted colors that will fit most decor schemes and measures approximately 36 inches wide, 20 1/2 inches deep, and 17 inches tall.
Cat trees are a great way to give your cats their own space while subtly dissuading them from scratching up your furniture, and this elaborate cat tree includes all the features your cat could want: plush material, four different levels, two cat perches, two cat caves, a cat hammock, and two dangling cat toy balls. The cat tree stands over 62 inches tall and occupies just 3.25 square feet of living space.
This 40-inch cat tree is slightly smaller in scale, but still provides plenty of fun and comfort for your feline friend. It features two main levels, plus a cat nest, a cat perch, a cat hammock, a cat cave, and a cat scratching ramp. The cat tree is encased in a soft carpet material and is built to be tip-resistant and has a non-skid base. Some assembly is required.
Kells Cat Scratching Post
If you've got a cat who likes to scratch your nice furniture, this cat scratching ramp may help keep them occupied. It's made using an eco-friendly, nontoxic recycled paperboard and is easy to assemble without any tools required. The scratching board measures 10.6 inches wide, 17.3 inches in diameter, and 7.7 inches tall. You can stand the board two different ways, at a 24-degree angle or a steeper 66-degree angle, to serve as either a horizontal scratcher for lazy scratching or a vertical full-body scratcher that also facilitates stretching. Plus, the scratching post comes with silvervine catnip, which you can place below the removable scratching board to make it even more irresistible to your cat.
Deals on Other Pet Essentials
Bremer Steel Play Top Floor Bird Cage With Wheels
This elegant standing bird cage gives your pet birds plenty of room to stretch their wings and hop around. Plus, it features a rooftop area with a step ladder, a perch, and two food cups. The cage also comes with an additional interior wood perch, two more food cups, a tray, and a grille/grate. The cage has been built onto four multi-directional wheels so you can move or transfer the cage easily. It's available in six neutral colors and four sizes, up to 66 inches tall, 22 inches wide, and 30 inches deep. The cage is ideal for the following bird species: African grey parrot, Amazon parrot, dove, Eclectus parrot, parrot and conure, Senegal parrot, and Indian Ringneck. Assembly is required.
Achilles 12.2-Square Foot Chicken Coop
For whatever reason, chicken coops are becoming trendier, and if you've got some friendly fowl to house in your backyard, this ventilated wire mesh chicken coop may do the trick. It provides enough space for up to four chickens and includes a door, a lock, and a roof. However, it doesn't come with nesting boxes or a chicken run. The roof is removable for easier access to your hens, and the ECOFLEX frame is rot-resistant. Assembly is required.
Caspian Weather-Resistant Cage With Ramp
Perfect for small, furry pets like hamsters, guinea pigs, pet rats, hedgehogs, or chinchillas, this spacious pet cage features a ramp and shelf/platform for resting. It's water- and rust-resistant and includes a door lock so your little pets don't accidentally escape. There are 617 1/2 square inches of usable space for your small pet to enjoy, and there's enough room for an 11-inch hamster wheel (not included).