Amazon Pet Day is back and better than ever! The second annual Amazon Pet Day ‌kicked off on Tuesday, May 2 at 12 a.m. PDT and wraps up at 11:59 p.m. PDT on Wednesday, May 3‌. The 48-hour shopping event features thousands of deals for dogs, cats, birds, rabbits, and other small pets. Think food, toys, electronics, personal care products for pets, and so much more.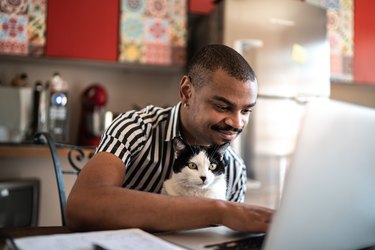 Amazon Pet Day coincides with National Pet Month, and to celebrate, Amazon Pets is donating over $100,000 to several nonprofits that support animal welfare. They're also teaming up with PetIQ, a pet medication and wellness company, to offer free vaccinations for dogs during Amazon Pet Day in Seattle, San Jose, and Chicago.
Dolly Parton, who released an aww-inducing pet line last year, will be featured on Amazon Live with her god-dog, a Frenchie named Billy the Kid. Together, they'll be promoting their favorite Pet Day deals, including the Doggy Parton line of apparel, toys, and accessories.
All U.S. customers—even those who don't have a Prime membership—can participate in Amazon Pet Day. While Prime members get free shipping on every order, non-Prime members can score fast, free shipping on qualifying pet supply orders over $25 that are shipped by Amazon. There are even Prime Video movie deals of up to 50% on "iconic pet movies and shows."
Now that Amazon Pet Day 2023 has arrived, here are some of the best deals on dog and cat supplies that you can shop for right now.
Amazon Pet Day 2023 Deals for Dogs: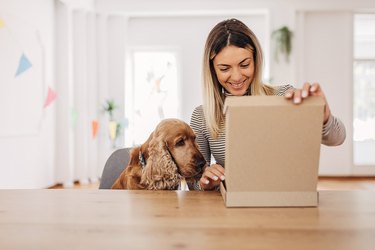 Tractive GPS Trackers for Dogs
Gain peace of mind about your dog's whereabouts by tracking their activity with these advanced GPS trackers that are waterproof, fit any collar, and sync with your smartphone. The GPS tracking features include live tracking and location history, so you can know where your dog is at any time while using the Tractive app. A subscription plan is needed (choose from one year, two years, or five year plans), which start at $5 per month, and you can try risk-free for 30 days with a money back guarantee. The device is available in a few colors like white, coffee, and black and attaches to your dog's existing collar comfortably.
Wag Freeze-Dried Raw Single Ingredient Dog Treats
These single-ingredient raw freeze-dried dog treats come in chicken, beef, or lamb. Each resealable, 3.3-ounce bag contains protein that was sourced and freeze-dried in the U.S. The treats don't have any added grain, corn, wheat, soy, potato, or egg, and they're free from artificial colors, flavors, and preservatives. They're suitable for dogs of all ages and come with a money-back guarantee within a year of purchase. Right now, there's also a 15% off coupon that can be applied to this purchase.
Wisdom Panel Essential Dog DNA Test Kit
Do you respond with "mystery terrier" when someone asks you what breed your dog is? Get to the bottom of their ancestry with a dog DNA test kit. Wisdom Panel screens for more than 350 breeds and runs 25-plus genetic health tests. You can also get to know your dog's relatives through photos and DNA test results. All you have to do is swab the inside of your dog's cheek, send the sample back, and you'll get the test results back via email in two to three weeks!
Zesty Paws Mobility Bites, Bison Flavor, 90-Count
If your senior dog isn't as active as they used to be, adding a hip and joint supplement to their diet can help support healthy cartilage, connective tissue, and joint function. These bison-flavored soft chews are made with quinoa, millet, amaranth, and sorghum, plus OptiMSM, Glucosamine HCl, and Chondroitin Sulfate. There are also added vitamins and superfoods including flaxseed, kelp, vitamin C, and vitamin E. All Zesty Paws products are 20% off for Amazon Pet Day, so there are plenty of other options to choose from, whether your pet has allergies, gut issues, or a dull coat.
Hill's Science Diet Adult 7+ Senior Vitality Dry Dog Food, 12.5 lb. Bag
If your dog has specific health concerns related to a sensitive stomach, weight loss, dental care, mobility, age, and more, Hill's Science Diet is one of the best brands of dog food to consider. Right now, the company's dry foods for cats and dogs are up to 29% off, including this specialty blend for senior vitality. The first two ingredients are chicken and brewers rice, and the formula supports brain, mobility, and coat health. Designed for dogs ages 7 and up, it's packed with antioxidants and vitamins C and E.
Wonder Bound Wild Alaskan Salmon Oil for Dogs and Cats
If your pet has itchy skin or a dull coat, adding salmon oil to their diet can help resolve those issues. Made from 100% wild Alaskan salmon oil, this liquid supplement comes in a 16- or 32-ounce bottle. It's suitable for dogs or cats and is rich in Omega-3 fatty acids EPA and DHA, which support brain function, a healthy immune system, and joint health. The oil is sourced and packaged in the U.S. and doesn't contain any artificial flavors or colors. You can use the salmon oil as a food topper or mix it with your pet's kibble, using 1 pump per 25 pounds of body weight. There's also a 15% off coupon that can be applied to the 16-ounce size.
Amazon Basics Cooling Elevated Pet Bed
With temperatures rising, now is the time to get your pup a cooling dog bed. Designed for indoor or outdoor use, this elevated bed promotes proper airflow and reduces pressure on your dog's joints. Your pet will remain more than 7 inches off the hard ground or wet grass. The dog bed has a durable iron frame and breathable mesh fabric that comes in light gray or green. Choose from sizes extra-small to extra-large. If the dog bed gets dirty, the mesh fabric is easy to hose down or clean in the washing machine on a gentle cycle.
neabot P1 Pro Pet Grooming Kit and Vacuum
You may have come across this handy grooming kit on TikTok. It comes with five grooming tools: a grooming brush, a deshedding brush, electric clippers, and a nozzle head and cleaning brush for collecting pet hair. The vacuum claims to collect 99% of pet hair as you groom, creating less mess and reducing allergies. It also emits very little noise to make pets feel more comfortable. It gets rave reviews from pet owners with long-haired, constantly shedding cats and dogs.
KASSELY Anti-Slip Memory Foam Dog Stairs
If your senior pet is having a hard time climbing onto the couch or bed, purchasing a set of pet stairs can help ease their joint pain. Choose from 3, 4, or 5 steps made from high-density foam and covered in a corduroy cover that's removable and machine-washable. Despite their softness, the stairs are sturdy and have an anti-slip rubber bottom.
Amazon Pet Day 2023 Deals for Cats: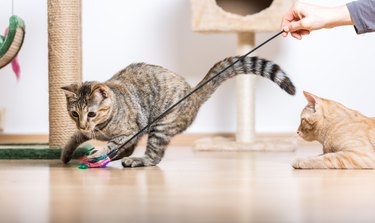 Kitty City Large Stackable Cat Condo
This stylish cat condo (or cat cave, if you will) is made from comfortable yet sturdy fabric material with plush cushioning atop two cat perch platforms, complete with circular holes for your kitties to slip through. You can even stack a maximum of two cat condos together to form a tri-level condo (sold separately) to give multiple cats plenty of space to hang out. The condo measures 32 1/2 inches long at its widest, 17 inches deep, and 36 inches high at its tallest. It's available in gray, mansion, or tan colors.
Tractive GPS Tracker for Cats
Cats tend to be more independent than dogs, but if heir frequent coming and going worries you, the good news is that there's a Tractive GPS tracker designed for cats. The tracker is waterproof, fits most cat collars (ideal for cats 9 pounds and above), and syncs to the Tractive app on your smartphone, giving you 24/7 analytics on your cat's activity and location. A subscription plan is needed (choose from one year, two years, or five year plans), which start at $5 per month, and you can try risk-free for 30 days with a money back guarantee. The tracker comes in the color midnight blue.
Amazon Basics Less-Mess Cat Litter Box Mat
Stop litter tracking in its tracks with this textured mat made of durable PVC material. Measuring 35 inches long and 24 inches wide, the cat litter mat traps litter in its crisscross pattern grooves and deep border. It's soft on sensitive cat paws and can be cleaned using a vacuum cleaner attachment. The litter mat is backed by a one-year limited warranty and comes in gray or brown.
Omega Paw Elite Self Cleaning Litter Box Large EL-RA20-1
In the market for a self-cleaning litter box that doesn't cost an arm and a leg? This Omega Paw litter box is super easy to use—all you have to do is roll it over to separate waste from the clean clumping cat litter. There's a grill inside that acts as a filter; waste ends up in a pull-out tray that's easy to empty. The so-called 'cat-step' also allows your feline friend to clean their paws as they exit the litter box to prevent tracking.
ChomChom Pet Hair Remover
The TikTok-famous ChomChom is super easy to use—you just roll it back and forth along your furniture, rugs, clothes, and bedding to remove pet hair and trap it inside the waste receptacle. When you're done, simply press the release button to pop open the chamber and remove the pet hair. Unlike adhesive lint rollers, this one is reusable while still being travel-sized.
Wonder Creature Cat Water Fountain with Stainless Steel Lid, 81-oz.
An automatic water fountain can encourage your cat to drink more water, as cats are attracted to flowing water, which they perceive to be cleaner. Cats who aren't properly hydrated can develop kidney problems over time. This cat water fountain has a stainless steel bowl that's dishwasher-safe and a circulating filtration system that uses a replaceable round filter to keep the water clean. The pump is very quiet, staying below 40 decibels, and powers multi-directional streams for added oxygen and freshness. There are three different drinking modes and a transparent water level window with an LED Light, so you'll always know when it's time to refill the reservoir.
VOLUAS Automatic Pet Feeder for Cats and Dogs
Have a cat who meows at you if dinner is five minutes late? Then you need this automatic pet feeder with programming that allows you to set one to four meals with up to 40 portion choices, which is helpful if your cat tends to scarf down their meal and you want to feed them smaller meals throughout the day. You can also record a custom voice message for your cat, and there's a dual power supply (wall-powered and/or battery-powered) in case of a power outage. The reservoir holds up to 4 liters or 6 liters of kibble, depending on which size you choose.
HOOBRO Cat Litter Box Enclosure
Looking for a stylish way to conceal your cat's litter box? This enclosure is made of engineered wood and comes in three finishes: white, rustic brown, and greige. There are two sizes to choose from as well, the large size measuring 31.5 inches long, 20.2 inches wide, and 21.3 inches high, and the small size measuring 23.6 inches long, 20.2 inches wide, and 21.3 inches high. The black matte knobs and latch are nice touches, and the tabletop can be used for displaying books, decor, or a reed diffuser for masking litter box odors.
PETPAWJOY Cat Window Perch
Let your cat take in the outside world safely with this sturdy cat hammock that uses four heavy-duty suction cups to support up to 50 pounds. The bed is made of breathable Teslin mesh to prevent your cat from overheating and the frame is constructed out of ABS tubes. During the colder months, you could always add a blanket to make the perch a litter cozier. It's super easy to assemble and measures 23 inches long, 15 inches wide, and 24.8 inches high.
Catit Creamy Lickable Cat Treats, Chicken and Liver Flavor, 50-Count
If you've got a cat who will do anything for a lickable treat, get them this pack of 50 tubes flavored with chicken and liver. Made from fresh, all-natural ingredients, the lickable treats do not contain any corn, grain, wheat, or soy. They're also free from artificial flavors, colors, and preservatives. Rich in amino acids, including taurine, these Catit Creamy treats may be suitable for cats with specific allergies or food sensitivities.
PAWZ Road Cactus Cat Tree, 32-in.
Spoil your cat this Amazon Pet Day by purchasing an adorable cat tree, like this one that resembles a desert cactus. Standing 32 inches tall, the cat tower boasts a sisal-wrapped scratching post, three rest spots (including a comfy condo), and two pompoms—one on a dangling string and the other on a bouncy spring. It's designed for kittens and small cats under 10 pounds, although you could always anchor it to make the tree more secure for larger cats.