Sometimes, cats can lose their appetite, which can be a scary thing for pet parents to navigate. Some cats will have a smaller appetite due to old age, gastrointestinal issues, or even allergies, while others may have a hard time eating because of more serious underlying issues, like kidney disease, liver disease, or hyperthyroidism. Whatever the case, you and your veterinarian can get your cat's health back in better working order with the help of an appetite stimulant. These can come in the form of medication, which often provides anti-nausea benefits, an antihistamine, a supplement, or even a tasty food topper that makes eating fun and enjoyable again.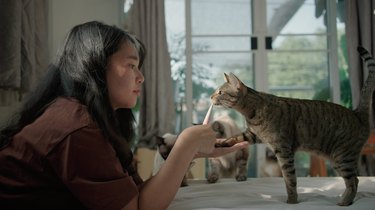 What to Consider When Purchasing an Appetite Stimulant for Your Cat
‌Causes:‌ The right appetite stimulant for your cat will depend entirely on why they aren't eating. For some cats, an upset stomach might have them refusing food, which usually passes in a day or two. For others, a serious illness like liver failure or kidney disease might have them unwilling or unable to eat, hold, or digest their food. Whatever the reason, you'll need to work with your veterinarian to determine if you should treat the symptom (lack of appetite) or the underlying condition.
‌Preference:‌ Appetite stimulants come in various forms, including pills, transdermal gels, dietary powders, cat food toppers, and more. Whatever the reason for your cat's weight loss, you'll likely have some choices about how to deliver an appetite stimulant. Like any medication, figuring out what your cat prefers is the best way to ensure that they're taking all of their appetite stimulants.
‌Length of Treatment:‌ If your cat needs medication to get their appetite back on track, be sure to get clear instructions from your veterinarian about how long you can expect to give your cat meds. Some medications work in 14 days, but they all vary. Adding a food supplement or calorie-dense weight gainer can usually be given without medical supervision, but always consult your cat's veterinarian before adding anything to their diet.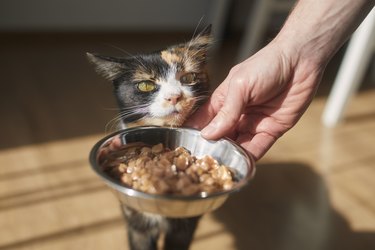 1. Mirtazapine (Generic) Tablets
If your cat has been diagnosed with chronic kidney disease, renal failure, or stomach disease, their vet will likely prescribe them medication to treat the symptoms of nausea and loss of appetite. This medication is the most commonly prescribed medication for such conditions and works by blocking signals between the stomach and intestines to the brain, essentially tricking your cat's body into thinking it's still hungry. This is a prescription medication so your veterinarian will need to sign off on it, and you can purchase it as a single tablet, or in a bottle of 30.
2. Mirataz (mirtazapine transdermal ointment) for Cats
If your veterinarian recommends mirtazapine for your cat's appetite but your feline friend isn't really appreciating taking a pill every day, you can deliver the same medication through their skin with a medicated gel like this one. This is usually prescribed to cats diagnosed with diseases of the thyroid, kidney, or bowels. To administer this medication, simply squeeze the tube to release about 1.5 inches of medicine, then apply it to the inside of your cat's ear.
3. Felimazole 2.5 mg., 100-Count
Sometimes, a serious underlying cause can be the reason for a cat's weight loss, lack of appetite, or other health issues. This medication is designed to treat hyperthyroidism in cats. While hyperthyroidism doesn't usually result in a lack of appetite, (in fact, it might make your cat eat even more than normal), it does usually result in weight loss. Hyperthyroidism is treatable with the help of medications like this one, which won't cure the disease but will make your cat more comfortable while they're undergoing treatment. This is a coated tablet that should be given whole and not crushed, as the main ingredient, methimazole, is bitter-tasting without the coating.
4. Methimazole Compounded Transdermal for Cats
Another methimazole treatment, this one is transdermal, meaning your cat will never have to taste it as it isn't administered orally. To give your cat this medication, squeeze your veterinarian's recommended dose from the tube, then apply it to the inside of your cat's ear. This medicine is sold in eight strength options and three sizes, and because it is a prescription medication, it will need to be signed off on by your veterinarian at checkout. Like the medication above, it's intended for sick cats struggling to keep their weight on because of their illness.
5. Pet Wellbeing Kidney Support Gold for Cats
The first non-prescription medicine on this list, this is a natural appetite stimulant for cats with kidney disease and weak renal function. This formula uses herbs and principles of Traditional Chinese Medicine to help balance electrolytes and fluids, assist with the maintenance of normal protein excrement in the urine, give the kidneys support needed to filter blood, increase the appetite and assist with weight gain, and boost the body's immune system. This veterinarian-formulated product uses human-grade ingredients and is easy to administer—just apply it to your cat's wet or dry food.
6. Tomlyn High Calorie Nutritional Gel for Cats, 4.25-oz. Tube
If your cat is experiencing a loss of appetite, regardless of the underlying cause, they'll likely need help keeping weight on. This is easily done with a high-calorie supplement, like this one, which can be given in addition to cat food and any other treats your cat is willing and able to scarf down. Veterinarian recommended, this nutritional gel is packed with calories, as well as vitamins A, D, and E, and other minerals, as well as omegas 3 and 6. To administer this gel, simply squeeze out the amount recommended by your veterinarian, and offer it to your cat straight from the tube, or mix it in with their dry or wet food.
7. Lexelium Hip and Joint Support Dog and Cat Supplement, 7-oz. Bag
Older cats often lose their appetite for a variety of reasons, be it liver disease, kidney malfunction, or just due to regular old age. This cat appetite stimulant comes in powder form and mixes well with dry kibble or wet cat food. Because it's made with all-natural ingredients, not prescription medication, it's safe to feed your cat once daily at mealtime and works to improve liver function, brain function, and joint health in older cats or picky eaters. This is more of a preventative supplement than veterinary medicine and will not treat any underlying medical disorders, however, it may aid with digestion and increase your cat's appetite if they are struggling to eat or keep weight on.
8. Delectables Bisque Senior Cat Treat Variety Pack, 1.4-oz., 12-Count
This is another option designed specifically for senior cats to gain weight or keep weight on, and it works because, well, it tastes good and it's easy to eat. It's a lickable treat that you can give to your cat on its own, or you can serve it as a topper over their usual meals. This particular item is sold in a variety pack of flavors including tuna and chicken, and tuna and shrimp, but the company offers a huge assortment of flavors and formulas to choose from, including gravy, broth, bisque, stew, and chowder, so you can find the best one to suit your cat's taste.
9. StrellaLab Probiotics for Cats and Dogs, 4-oz. Container
Sometimes, cats will have trouble eating because they have an upset stomach, or because of digestion issues that can cause bloating, indigestion, or other uncomfortable issues. Probiotics are a great thing to add to your cat's diet in these cases because it naturally helps to create a healthy gut microbiome so your cat can enjoy their favorite foods again without so much discomfort. This probiotic comes in powder form so it's easy to administer—just sprinkle it on your cat's food once or twice a day, depending on what your veterinarian recommends. It's safe for cats of all ages, from kittens to seniors, and contains zero soy, corn, dairy, or preservatives, so it's easy on sensitive tummies, or for cats with food or environmental allergies.
10. Under the Weather Pet Ready Cal for Cats - 100cc
Another high-calorie supplement, this weight gainer is made with salmon oil and other ingredients to deliver calorie-dense nutrition in an easy and tasty way. To administer this treat, simply add it to your cat's food bowl alone or on top of their food, or squeeze it and allow your feline friend to lick it directly from the tube. Not only will this help your cat retain and even gain weight, but it also works to stimulate their appetite by offering an energy boost thanks to its use of vitamins, minerals, carbohydrates, and omegas.