If you've ever wished you could get your dog outside for more exercise, you're not alone—many people have busy schedules that don't allow them to take their dog on as many walks as they would like, and some may live in areas where getting a dog to a nice open space to run is just not possible. Sometimes, weather or other conditions out of our control can also keep us from walking our dogs as much as we'd like.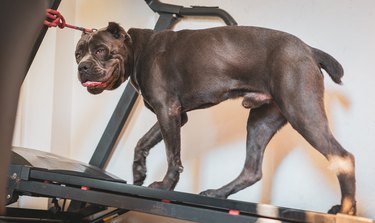 If you've ever been faced with these issues, and you have the space for it in your home, then a dog treadmill might be a great investment in your pet's health and wellbeing to consider. Pet treadmills allow dogs to walk or run indoors, any time of the day or night, regardless of outdoor conditions. They come in a variety of sizes, types, and prices, so read on for a look at a few of our favorite pet treadmills for keeping dogs exercised and enriched.
What to consider when purchasing a dog treadmill
‌Reviews:‌ We usually never list "user reviews" as criteria for finding the right product for your needs, but because this is 1. such a big investment, and 2. requires constant supervision while it's in use, we do recommend that you read about other buyers' experiences. Check for details like how easy it was to set up, whether their dog was excited or afraid to use it, and how securely their dog was attached to the machine when browsing for the perfect treadmill.
‌Size:‌ The treadmill you choose for your canine companion should be fitted to their body type and size, for safety's sake, and for product efficacy. While small dogs certainly can use a machine built for bigger canines, those machines may be too fast, or too hard to get going if it's a manual model. Needless to say, a machine that's too small is a major safety hazard, and will ultimately not be enjoyable for your dog to use.
‌Space:‌ The size of the machine is important for your dog, and the size of the space you'll keep it in will be important for you. Check the size specs of the treadmill and measure the space you think you'll keep it in to find the best fit. Remember to leave a bit of room around the sides and at the entrance of the machine as well—you'll want to make this as pleasant and comfortable of an experience for your dog as possible, and easy entry and exit are important things to consider.
‌Safety:‌ As with any piece of machinery, always be sure to supervise your dog while they're using a pet treadmill, even if it is the type that's non-motorized and will stop itself. Make sure your dog is hooked securely to the support bars, set the speeds and times to lower settings at first until you understand your dog's pace and needs, and never force your dog to use a treadmill against their will. Finally, a dog treadmill should not replace all outdoor activity for dogs but can be a great supplement or solution to time constraints or other issues.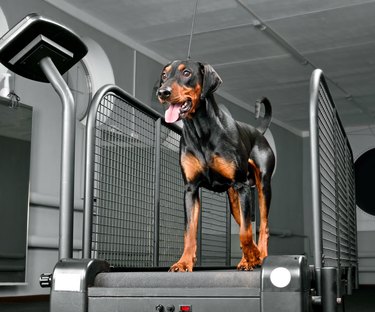 The best overall dog treadmill
The only folding treadmill on this list, and on the market, this is a great option for keeping your canine companion exercised when they can't get outdoors. It's not size-specific and can support pets up to 179 pounds, so it's suitable for small dogs, big dogs, and everyone in between. The frame of this item is made of carbon steel, and the whole thing weighs 97 pounds. The running surface of this machine measures 71 inches by 16.5 inches.
If you'd rather give your dog a little more room while they use this treadmill, you can remove the top support bar and the sides, although many pet parents like to keep the sides up as it keeps dogs on the track. To use this machine, simply use the onboard computer to set your pet's distance and speed preferences. This is a motorized machine, and you will need to stop it, so always be sure to supervise your dog when using this device.
The best non-motorized dog treadmill
A much larger machine than the first, this option is made of carbon steel, aluminum alloy, and solid wood to create a sturdy and durable treadmill that's built to support a weight capacity of up to 220 pounds. This machine is not electric, so it will start and stop with your dog's gait, although you should still supervise your dog while they're using it to prevent any possible injuries. The running surface of this treadmill is 59 inches by 23.6 inches, which is definitely enough space for smaller dogs to run, and ample room for most larger dogs to enjoy some exercise. Like all dog treadmills, this one is an excellent option for anyone with a high-energy dog who needs a lot of exercise, or for people whose dogs just don't have access to running space.
The best dog treadmill with incline
If you'd like to adjust the incline on your dog's treadmill workouts, this machine has three incline settings for you to choose from, which can create a harder or easier workout to your liking. Additionally, this treadmill comes with 12 preset programs and three countdown modes to help you further customize your dog's exercise outing, right from the comfort of your home. The running area of this treadmill measures 39 inches by 14.5 inches, and the entire machine weighs 54 pounds with a weight limit of 220 pounds. To use this treadmill, simply input your settings into the LCD display monitor, hook your dog's collar and leash to the support bar, and look on as your dog walks or runs to their heart's content.
The best dog treadmill for small dogs
If you're looking for a treadmill specifically for your small dog, this one is a great option to consider. It's made of lightweight aluminum, fitted with wheels for easy transport, and equipped with security panels on the side to keep your canine companion on their runway and focused toward the goal ahead. It comes with a computer panel LCD screen to help you set up your pet's workout to the perfect specs, including adjustable speed, and 12 preset exercise programs.
This is a great purchase for anyone looking to offer their dog exercise indoors, anyone who's currently dog training their pet, or for pets who either don't have access to dog runs or who find them overstimulating. One added thing that makes this machine great is that, unlike some other computerized machines, this one doesn't beep, so your dog won't get scared or distracted while they're getting their daily exercise in. This treadmill can support weight of up to 130 pounds and has overall measurements of 48 inches deep, 22.8 inches wide, and 41.75 inches high.
The best dog treadmill for medium dogs
For medium-sized dogs, a pet treadmill like this one, with a running surface of 41.3 inches by 14.9 inches is a good choice for a number of reasons. First, it's built with a shock-absorbing running belt so your dog will be comfortable while they use it, just like they would be on their outdoor walks. Next, although this is a motorized treadmill, it's very quiet, so it won't scare your pet, or distract you. It also comes with 12 different running settings, and a remote control to help you easily make any adjustments needs so that your pet cant have a safe, effective workout. This is also the lowest-priced machine on this list, and it's small enough to store out of the way when it's not in use.
The best dog treadmill for large dogs
Finally, for big dogs in need of a durable machine, this treadmill is built to hold their weight and allows ample room for the bigger guys and girls to walk or run. This is a self-starting and stopping treadmill, so there's no motor, preset workouts, or electricity required. A non-electric treadmill can be great for dogs who may need to stop frequently, like older dogs, or dogs who are currently working through an injury or sprain, and can also be an excellent training tool that teaches your dog to focus on you and follow your commands (which is a great way to bond). It takes about 15 minutes to set up and has a running area of 69 inches by 20 inches.