Keeping our dogs busy and entertained is all part of pet care, and learning their favorite way to pass the time is a great way to add enrichment to their daily lives. For many dogs, bully sticks are a perfect pastime, as they taste and smell great to dogs, can provide hours of chewing, and even clean their teeth while massaging their gums. Bully sticks are made of pure beef pizzle, and finding the perfect one for your dog will depend on the flavor and size of the stick. Unlike rawhide chews, which are not natural, these sticks are easy to digest, and won't lead to stomach upset or diarrhea in most cases. If you're looking to add bully sticks to your dog's regular routine, check out this list of popular bully sticks for every dog, from small pups to big dogs, and puppies or seniors.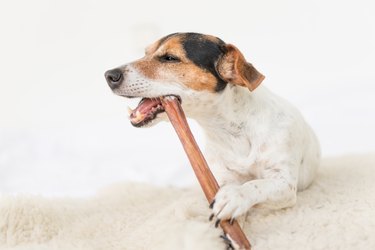 What to consider when purchasing bully sticks
‌Size:‌ Many standard bully sticks measure about 5 to 6 inches in length, but the thickness of the stick is what's really measured to fit a specific dog's size. Thinner sticks are meant for smaller dogs or dogs who chew slower and less destructively than some of their counterparts, while thicker sticks, which include braided bully sticks, are better for bigger dogs and aggressive chewers. When shopping for the right stick, be sure the stick isn't too small for your dog, as that can present a choking hazard.
‌Shape:‌ Most bully sticks are straight, but some dogs may prefer a little more shape or texture with their chews. You can find bully sticks that are braided, twisted, curled, or even shredded into bite-sized treats, so if you know that your dog has a preference, keep an eye out for these varieties as they're just as good as the standard sticks.
‌Ingredients:‌ All real bully sticks are going to be made of a single ingredient—beef pizzle (that's right, it really is a dehydrated bull's penis). You may find some varieties of bully stick-inspired treats with added ingredients, which can work for many dogs and may even be preferred by some, but if you're looking for the real thing, look for sticks made with just one ingredient.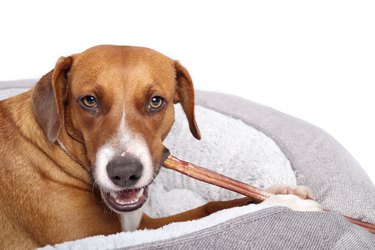 1. Bones & Chews Bully Stick Dog Treats
If you're looking for a standard, no-frills bully stick that's suitable for most dogs, this option from Bones & Chews is a great one to check out. Sold in 4-inch, 6-inch, and 12-inch sizes, these bully sticks are a protein-rich treat that's made of 100% beef pizzle.
Bones & Chews bully sticks are a great way to keep your canine companion busy while cleaning their teeth and gums, naturally. Unlike rawhides, these bully sticks are completely digestible, and tastes great to dogs, so they could be an excellent reward, or serve as a healthy way to pass the time. You can buy this bully stick as a single serving, or in packs of 2, 6, 10, or 35, if you've got multiple dogs to treat, or just one very bully stick-loving pup.
Here's an option that's perfectly sized for medium dogs who you wouldn't necessarily call aggressive chewers. These bully sticks from Jack & Pup can meet those needs minus the bully stick smell. Although odorless, these sticks are made of 100% beef that's been grass fed, and humanely raised. The premium-quality sticks undergo rigorous inspection before they make the cut for you to bring home to your dog, and the company guarantees the product's freshness or your money back. Like all bully sticks, these are great dental chews, rewarding treats, and provide an excellent way to pass the time, and they're offered in a wide variety of quantities, from three-packs to 40-packs.
3. Cadet Bully Sticks Dog Treats 5.2-oz. Value Pack
Looking for a chew that's long-lasting and tastes great? These bully sticks from Cadet are sure to satisfy you're dog's cravings. These sticks are made of a single ingredient—beef pizzle—that's been slow-roasted to bring out the excellent flavor that many dogs find irresistible. This is a high-protein snack that contains zero fillers, preservatives, or additives like artificial colors or flavors and is naturally low in fat, so it's a great option for pups who are looking to keep their caloric intake on the lower side for the time being.
4. Bully Sticks Braided 7-in. Dog Treats, 3-Count
If your dog prefers a little more texture with their chew, then a braided bully stick like this one might be a great way to help them pass the time with a tasty treat. These are sold in a three-count pack and measure 7 inches, and are made of three sticks braided together to create one extra-large treat. Made from free-range, grass-fed cattle, these beef bully sticks are easy to digest and a great way to clean tartar and other buildups from your dog's teeth while massaging and soothing their gums thanks to their soft, slow-roasted texture. This is an excellent treat for large dogs and aggressive chewers, and at only 38 calories per treat, it's a great option for dogs on a diet.
5. Greater Wild 12-in. Bully Stick All Life Stage Dog Chew Treat
These treats are on the pricier side compared to some others on this list, but you get what you pay for when it comes to quality, which is exactly what this brand delivers. Made of 100% bull pizzle that came from high-quality cows, these sticks are high in protein, fiber, and a healthy amount of fat. Additionally, they're rich in nutrients and minerals, and are made with zero artificial preservatives, chemicals, dyes, or pesticides, so all your dog gets is a quality, natural bully stick. Like all bully sticks, these are ready to eat and easy to digest, and come in packs of three, five, or 12.
6. Natural Farm Bully Sticks
If you're looking for a brand that offers various sizes, textures, and chewing thresholds, Natural Farm may have what you need! This company offers sticks for dogs of all sizes, as well as chewing strength, so you can choose from thinner, quality bully sticks for smaller dogs, thick bully sticks for heavy chewers, and everything in between. These sticks are free of preservatives, grains, chemicals, and hormones, and are never split lengthwise, which can compromise the quality of the flavor and the thickness of the stick. All of their bully sticks are made of 100% Brazilian bull pizzle, and offer a long-lasting chew that won't be hard on the stomach.
7. Barkworthies Bully Stick Bites Small Dog Grain-Free Dog Treats, 16-oz. Bag
Perhaps your pup enjoys a good chew from time to time but doesn't need a full stick to meet that need (or maybe, you simply prefer not having a half-chewed bully stick sitting out in your living room). Whatever the case, these bully stick treats are a perfect solution, combining the health benefits of a bully stick with the convenience of a small treat. Like the other full-sized sticks on this list, these treats are made with a single ingredient—100% bull pizzle. Because these are bite-sized treats, they're perfect for smaller dogs, or medium to large dogs who just appreciate a delicious natural dog treat that's gone in minutes.
8. Bones & Chews Made in USA Curly Bully Stick 6- to 9-in. Dog Chew Treats
Some dogs like to keep entertained while they enjoy their treats, and may enjoy a curly-shaped stick like this one. Not only are these yummy sticks shaped to keep dogs interested, but they're also a great way for them to remove tartar buildup from their teeth, and massage their gums naturally. These sticks are offered in four varieties of chewing levels, including light, medium, hard, and extreme, so every dog can find their perfect fit. Made in the USA using quality ingredients, these sticks are slow-roasted for excellent flavor, contain no artificial ingredients, and digest easily to deliver your pup a high-protein treat that's fun and satisfying.
9. Nylabone Power Chew Alternative Braided Bully
If you're looking to offer your dog the benefits of a bully stick without the odor or calories, then a nylon chew that's bully stick-inspired just might do the trick for both of you. Made by Nylabone, this chew stick is not made of bull pizzle, but nylon, which means that it's not edible, but will still stand up to even the most aggressive chewers. This braided stick is enhanced with beef flavor, so it offers the enjoyment and dental health benefits of a bully stick without odor, grease, or protein. This is a jumbo-sized toy intended for large dogs and strong chewers, and because it's not edible, presents less of a choking hazard than other treats (that said, always keep an eye on your dog when they're chewing anything that could fit in their mouth or throat).
10. Nature Gnaws Small Bully Sticks 5- to 6-in. Dog Treats
Finally, something made specifically for the little guys and girls out there, these small 5- to 6-inch bully sticks are narrow enough for a smaller dog to enjoy comfortably, but long-lasting enough to provide them with the same entertainment as a standard stick. Made of 100% beef pizzle, these sticks are the perfect size for puppies and small dogs and are a natural way to keep their teeth clean without upsetting their stomachs.