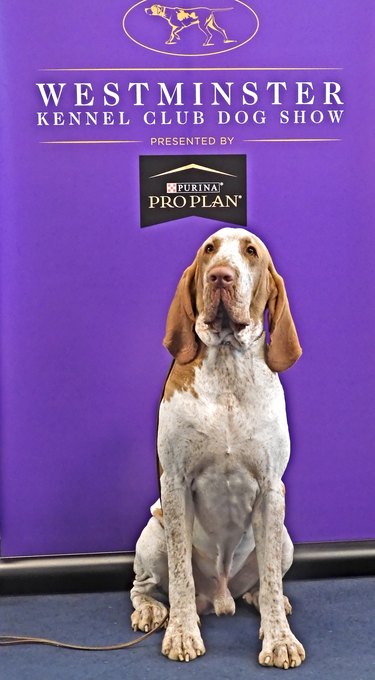 New dog breed at the Westminster Dog Show
What is the new American Kennel Club (AKC) dog breed at the 147th AKC Westminster Dog Show in 2023? The AKC officially recognized the Bracco Italiano as the newest breed added to the list of AKC-recognized dog breeds.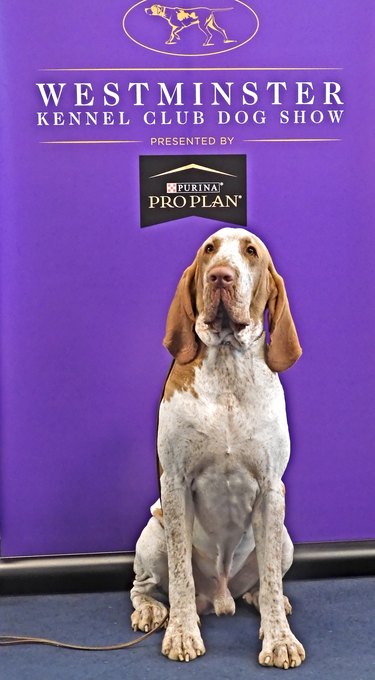 Now that the breed is recognized, the Bracco Italiano has its own official conformation standards such as specific facial features, coat quality, gait, and physical shape that will be applied in the show ring. In the ring, dog show judges evaluate each purebred animal against documented breed standards.
‌As of 2023, the Bracco Italiano can take its place in AKC show rings across North America as a member of the Sporting Group‌. The origin of this gun dog breed dates back to 4th and 5th centuries BC — which makes them not exactly new.
History of the Bracco Italiano
‌The Bracco Italiano has been bred for centuries in Italy to be hunting dogs.‌ The breed earned a reputation as a skilled game hunter, focusing primarily on birds and rabbits, and even helped out falconers during the Middle Ages. According to the AKC, this sporting dog was exported across Europe and contributed to the foundation of other hunting breeds. The Bracco Italiano is also sometimes called the Italian pointer, Italian pointing dog, or Italian hound.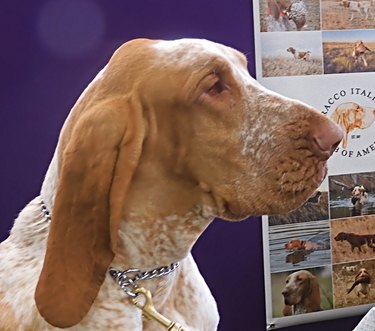 Clearly, this ancient breed is an Italian dog, yet it wasn't introduced to the United States until the mid-1990s. In 2007, the Bracco Italiano Club of America was formed. Twenty-six years later, this oldest European pointer breed (along with its North American breeders) is being recognized by the AKC.
Characteristics of the Bracco Italiano dog breed
The Bracco Italiano is a large dog weighing anywhere between 50 and 90 pounds and best suited for active people thanks to its exercise needs. A recognizable feature is the sculpted sturdy head, wrinkled forehead, and floppy long ears that extend past their chin. Jowls and bloodhound-like loose skin along the neck of this large breed are common.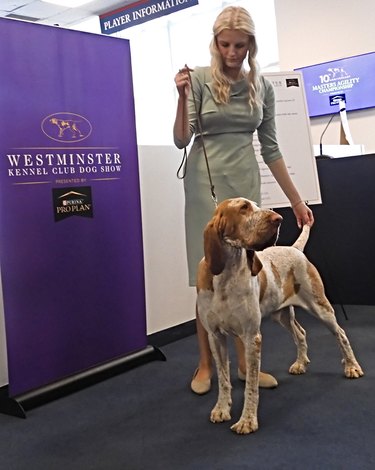 ‌These dogs have a striking regal presence and are known for their extended fast trot and high energy level.‌ "It's their gait that makes them easily recognizable as Bracco Italianos," says Izzy Eaton, Westminster Dog Show 2023 handler of a dog named Jasper, owned by Connecticut River Bracco Italiano. This canine jogs with a long extended gait that is almost horse-like.
Considerations when acquiring a Bracco Italiano
People who are considering this breed should know that they are very high energy. "They can run for hours in a field, because they are bred to be hunters," Eaton says. "But they are also people pleasers who love children making them good family pets."
‌Also, this short-coated breed appears in two distinctive color combinations:‌ chestnut brown or a white and roan blend. Grooming needs and shedding are minimal. Unfortunately, health concerns include possible hip dysplasia and ear infections. Like most dogs, the Bracco Italiano responds best to positive reinforcement training.
‌Other characteristics of this dog breed include the following:‌
Affectionate and loyal
Good with young children and other family members
Skilled at tracking competitions
Popular among sport hunters
A 10- to 12-year life span
Strong prey drive
AKC Westminster Dog Show annual new breed
‌Each year, the AKC announces a dog breed or several dog breeds that the club adds to its list of more than 300 recognized dog breeds‌. In 2023, the AKC Westminster Dog Show found a new home at the USTA Billie Jean King National Tennis Center in Flushing, Queens, New York. This is a departure from its pre-Covid pandemic home of Madison Square Gardens (since 1877) in Manhattan, and the first time the event is open to the public since 2020.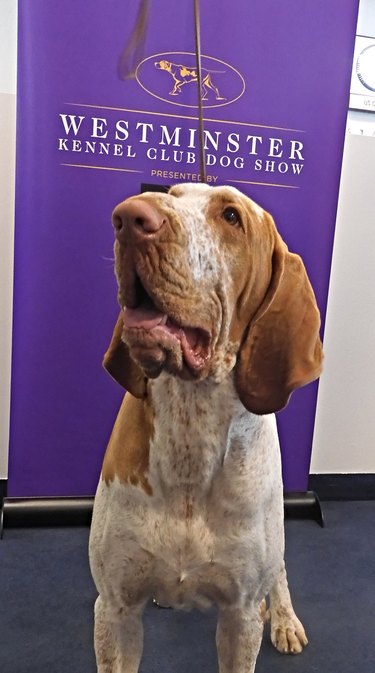 It was at this new venue that the Bracco Italiano was announced as an AKC-recognized breed, and it joins other recently added breeds including the mudi and Russian toy in 2022; the Biewer terrier in 2021; and the barbet, Belgian Laekenois, and dogo Argentino in 2020 — all members of different breed groups.
‌If you're an AKC dog show fan, you'll be seeing the Bracco Italiano in the show ring more often‌. Thanks to official recognition by the AKC, announced at the 147th AKC Westminster Dog Show in 2023, this is now a breed listed in the organization's directory of dog show dog breeds. Originally bred for hunting, the Bracco Italiano takes its place among the Sporting Group which includes breeds such as the German shorthaired pointer, the spinone Italiano, and the English springer spaniel.