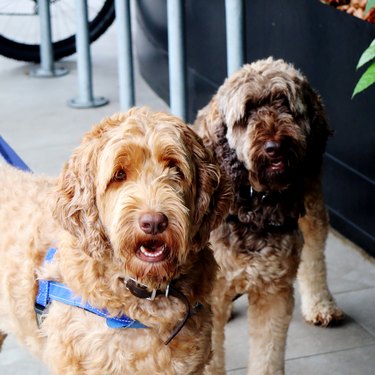 You might think that the simple question "How big do labradoodles get?" would have a simple answer, but the answer is, "It depends." Labradoodles are a cross between a Labrador retriever and a poodle, so how big labradoodles get depends on whether the poodle parent was a standard, miniature, or toy poodle. Puppies of Labs bred to standard-size poodles generally grow to be 22 to 25 inches tall and weigh 50 to 75 pounds. Also, it is important to distinguish between the American labradoodle and the Australian labradoodle, which is an entirely different breed.
American labradoodle crossbreed
Labradoodles are one of the dogs who are often called "designer dogs" because they are bred for a specific purpose by crossing two (or more) registered, pure dog breeds that have qualities they like in the hopes of creating puppies that have the best qualities of both parents. Labradoodles are a cross between two of the most popular dogs in the United States: Labrador retrievers, who consistently reign as the favorite dog in the country, and poodles, who always make the popularity list too.
History of the labradoodle
A potential customer of Royal Guide Dogs in Australia wanted a guide dog for herself but one who would not trigger her husband's allergies. Existing dogs did not fit that description, so Wally Conron bred a Labrador retriever for its temperament with a poodle, who is a largely nonshedding dog. Although no dog is truly hypoallergenic, poodles are often tolerated by allergy sufferers. The resulting crossbreed was the labradoodle. Of the 31 puppies in that original group, 29 became successful guide dogs.
However, some Australian breeders were unhappy with the inconsistency of the puppies produced. The offspring often had different appearances, including coat type, and their temperaments were not predictable. So, they experimented with adding other dogs to the mix. Most Australian labradoodles today are a mix of Labrador, poodle, and cocker spaniel. The other dogs that were introduced to the mix have mostly been bred out of the line, but occasionally, a dog's DNA will show traces of the other breeds.
Australian labradoodles are identified accordingly. Their breeders are proud of what makes their dogs different, so they advertise them as Australian labradoodles. Many such breeders are located in the U.S. However, dogs who are just referred to as labradoodles are understood to be the American labradoodle. Some breeders carry both breeds, and they may refer to them as the American labradoodle and the Australian labradoodle for the sake of clarity.
How big is a labradoodle: American
How big labradoodles get depends on the size of their poodle parent. If the poodle is a standard size, which is the largest recognized poodle, puppies will be up to 24 inches tall at the shoulders and weigh up to 75 pounds. If the poodle parent is miniature size, which means no taller than 15 inches, or toy size, which is no taller than 10 inches, their labradoodle puppies will be significantly smaller than those bred with standard poodles.
Since these smaller poodles are still bred with full-size labradors (via artificial insemination), they probably won't be as small as their miniature or toy poodle parent. Miniature labradoodles range from 10 to 15 inches tall. Puppies whose poodle parent was a toy poodle will be on the smaller end of the range, while those approaching 15 inches probably had a miniature poodle parent rather than a toy size.
How big is a labradoodle: Australian
Since Australian labradoodles are a mix of three breeds, it makes sense that their size will differ from the sizes of American labradoodles. Generally speaking, miniature Australian labradoodles range from 14 inches to 16 inches tall and cannot be taller than 17 inches. Medium-size dogs are 17 inches to 20 inches, and large (standard) dogs are 21 inches to 24 inches.
So, to answer the question, "How big does a labradoodle get?" the answer really is, "It depends."