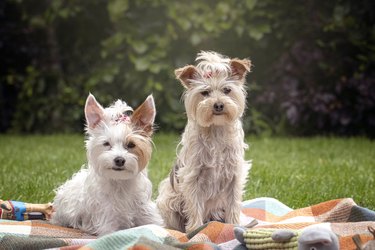 When two toy breeds collide, the result isn't a bigger toy dog but instead a still-small but oh-so-adorable pet to own and love. An example is the Maltese Yorkie, which is a mash-up of the Maltese and Yorkshire terrier breeds. These two charming and affectionate dog types have come together in one little package that's popular with city apartment dwellers and those with larger homes too. As you consider rescuing or adopting a new pet, look to the Malti Yorkie.
How big do Maltese Yorkies get?
A Malti Yorkie will typically grow within the weight and height ranges of the two combined breeds. For a Maltese, this means a height of 7 to 9 inches and a weight of under 7 pounds. A Yorkshire terrier has nearly the same size parameters, as this pup tips the scales at under 7 pounds and also grows to just 7 or 8 inches tall. Both dogs enjoy long life spans, so the Maltese Yorkie will likely be similar, living up to 15 years.
Maltese Yorkie temperament and trainability
Both the Maltese and Yorkie breeds have a rather amenable mindset when it comes to obedience training and socialization. The Yorkshire terrier is the more frequent barker and is slightly more active than the Maltese. But the Maltese Yorkie is indeed trainable and even eager to please thanks to Yorkie genes.
Starting early with this crossbreed is wise, as prompt intervention can teach your pet the basic commands as well as help her get used to new people and social situations. As with any breed, positive reinforcement is the best method for teaching your dog how to behave. Consistency and extra time plus delicious treats as rewards can add up to a dog who walks well on a leash, comes when called, and knows which items are fine to chew and which are no-nos.
Exercise and grooming for a Maltese Yorkie
Small dogs love their walks, but not every Malti Yorkie can sustain his energy for the long haul. A Maltese is known to be bouncy and energetic, but he's fine with just a few daily walks and a chance to run or bop around an enclosed yard or indoor play space, like the basement. The Yorkshire terrier, on the other hand, thrives on moderate exercise, such as a couple of short walks a day along with fun and games, like chasing a ball or squeaky toy around the lawn.
A Maltese Yorkie won't sport the long, flowing locks of a Maltese, but grooming this mixed breed is still a bit of work. Be prepared for daily brushing, as mats, tangles, and dirt can accumulate in this pup's coat. You can also expect fast-growing nails that'll need trimming (you can attempt the job yourself or farm it out to a professional groomer). Dental care comes with owning a Maltese Yorkie too, so strive to scrub your pup's teeth a couple of times a week.
Naming your Maltese Yorkie
With two breeds in the background, you can be doubly creative with the name you choose for your pet. This dog's size is probably the best inspiration for owners when it comes to thinking of the right name for a new pet. Small toy dogs could potentially sport names like Peanut, Tiny, Button, or Cutie. You can go in the opposite direction if your pet has a large personality and bestow her with a big-dog name, like Titan, Apollo, Bruiser, Buster, or Zeus.