Things You'll Need
Measuring tape

Exterior-grade plywood or corrugated tin roofing

Drill

Zip ties or heavy-gauge metal wire

Wire cutters

Lattice

Dog-safe climbing plants such as ivy or morning glory (optional)
Warning
Never leave your dog in an outdoor kennel when there are weather extremes such as temperatures below 30 degrees or above 90 degrees Fahrenheit. These temperatures can be dangerous to your dog and cause medical emergencies or death.
Tip
Give your dog a doghouse for extra protection against the elements.
Provide lots of toys and clean water for your dog.
An alternative to building a roof on a chain link dog kennel is to purchase a cover at a pet supply store.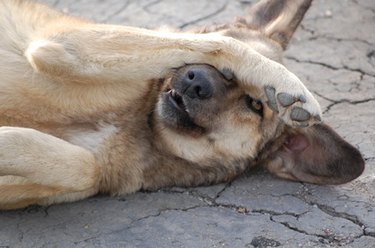 If you already have a chain link dog kennel, you know that your dog is not always very comfortable in it. Direct sun, snow and rain can lead to health problems with your dog such as heat stroke or hypothermia. You can build a roof on an existing chain link dog kennel to remedy such situations. It is not an easy task but the effort is well worth it to make sure your furry friend is safe and dry.
Step 1
Measure your chain link dog kennel on all four sides. Purchase exterior grade plywood or corrugated tin roofing in sheets that match your measurements plus 2 to 3 inches of extra width to allow for an overhang. Drill holes every 6 inches along the edge of the plywood or tin roofing sheet. Be sure the roof slopes downward so rain can run off and snow can slide off.
Step 2
Run a zip tie or 10-inch piece of heavy-gauge wire through each hole. Position the plywood or tin roofing on the top of the chain link kennel. Attach the plywood or tin roofing to the chain link by closing the zip ties or wire through the fencing.
Step 3
For a different approach to covering a chain link kennel, measure its length and width and purchase a sheet of wood lattice that size. Position the lattice on the top of the kennel and run zip ties or 10-inch pieces of heavy-gauge wire through the lattice every 6 inches along each edge. Close the zip ties or wire pieces around the chain links to attach the lattice to the kennel. Provide additional shade by planting climbing plants around the kennel.